Jonathan Gold's City of Gold was released in March, which serves as further proof that LA's status as a top-level food city is totally deserved. More proof? March's openings, which include a mall stand from one of the city's most beloved chefs, a seafood market from a Michelin star-recipient, and something involving Jessica Biel (?!), were some of the best so far this year. Start investing in more pants with elastic waistbands immediately.
Mid-Wilshire
Listen: the dude from Machete opened up a taco shop, which means you're definitely going to try it at least once. Thankfully, the ten tacos, which include everything from a fried chicken taco to a fried avocado and refried bean number, are more than reason enough to come back for a second (and third and fourth) trip. On top of that, there's house-made kombucha and horchata, and the team donates each day's leftovers to homeless shelters, so nothing goes to waste. But also, you're probably going to see the dude from Machete there.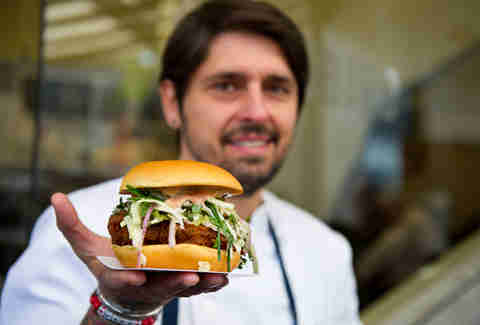 Universal City
When revered chef Ludovic Lefebvre retired his Ludo Bird truck (RIP), it seemed that his lauded buttermilk fried-chicken sandwiches -- perfectly crispy, topped with coleslaw -- were only gonna be available if you were willing to risk an event at Staples Center to eat one. No longer: now you only need to risk CityWalk to eat one, which is totally worth it, especially with the impending opening of the Harry Potter insanity at Universal Studios. Bingo.
Fairfax
Why are we telling you about a new fresh seafood market? Because it's a new fresh seafood market helmed by Michael Cimarusti -- the Michelin-star-winning chef behind Providence and Connie and Ted's, which means not only is it the best new fresh seafood market in LA, but there's an argument it may be the best one on the West Coast. Yeah, we said it. Also: they're selling gumbo, and lobster rolls, and small-batch hot sauce, and you want all of those things.
West Hollywood
The latest Top Cheftestant to open a restaurant is also one who's had it the longest-time coming: Marcel Vigneron, the molecular-gastronomy-obsessed runner up from Season 2 who may be the most love-to-hate-him character in the show's long run. Thankfully, he's much less villainous in person, and his food is much less precious than what he put out on the show. The kitchen tries to utilize every single part of each animal, which means internationally inflected dishes like Thai-inspired shrimp dumplings with pork belly and vadouvan lamb rack with Romanesco and labneh.
Silverlake
From the Bay Area's Pepples Donuts, Donut Farm first opened back in February, but took a brief hiatus after being totally slammed for its all-vegan, all-organic donuts. (Otherwise, it absolutely would've landed on our list of the best vegan restaurants in LA.) The Silverlake shop is turning its no-animal-product inventiveness into breakfast treats, like Mexican hot chocolate and whiskey tangerine fig, as well as a vegan-coffee bar.
West Hollywood
You may think that the concept's the epitome of upper-class parental privilege, or -- if you're a parent yourself -- you may think it's the savior you've been looking for, but in either case you gotta admit it's a pretty brilliant idea: Jessica Biel (and a ton of other investors) opened up this French-themed spot as a place for parents to bring their kids -- and then leave 'em in a $15-an-hour onsite babysitter-abetted "creative space" while the grown-ups eat Prime NY steak frites and drink cocktails from Adults Only-guy Billy Ray.
Downtown
Beloved downtown bar Honeycut has completely reinvented its cocktail-bar room into this space-age Tiki-ish bar with extraterrestrial blacklight accentuations and a totally new menu from one of the best drink teams in LA, including a crazy cocktail washed with ghee (essentially clarified butter). Don't worry, though: the next-door dance-room portion hasn't changed at all, which means it's still there for your sort-of-ironic-but-not-really-indie-pop-makeout-needs.
West Hollywood
Let's be honest: you may be excited about some of the restaurants above, but you're DEFINITELY excited that Shake Shack -- the beloved East Coast burger chain -- is finally in town. Sure, the line may be two hours long, but that's good, 'cause you're gonna need all that time to digest our expert guide to everything they serve.
Sign up here for our daily LA email and be the first to get all the food/drink/fun Los Angeles has to offer.
Jeff Miller is waiting for the Shake Shack line to be 30min or less. Find out when that happens at @jeffmillerla on Instagram and @ThrillistLA on Twitter.