Every LA Deli Worth Visiting
Los Angeles' deli game is super strong. Your knowledge of LA's deli game, though? Yeah, not so much, which is why we whipped this up: a list of every LA deli worth visiting, from the obvious to the wait-what-the-hell-is-this-place.
Santa Monica
What you're getting: The Godmother
If you haven't been told by somebody to eat the Godmother yet, you don't have friends/ears/both. It's repeatedly referred to as the best sandwich in the city, and for good reason. Get it spicy, with the works, and get ready to send your thank you mail to Thrillist.

Chinatown
What you're getting: Roast beef & pastrami
ROAST BEEF & PASTRAMI. ROAST BEEF & PASTRAMI. ROAST BEEF & PASTRAMI. BRING A BIB.

Pico-Robertson
What you're getting: Pastrami anything
Pastrami in your sandwich, pastrami in your bagel, hell, put pastrami in your soup 'cause Label's Table has its pastrami figured out. The nice thin cuts go really well with, well, anything else Label's Table serves. Be sure to bring a friend and force them to get the latkes with applesauce, and then create a fancy diversion, and eat all their food while they're not looking.
Glendale
What you're getting: The S.O.B.
You like spicy soppressata and oven-roasted chicken don't ya? Sure ya do, you're a human being with a heart and soul. Mario's is the ultimate haven for those who don't feel like driving all the way to Bay Cities. The soda selection is choice, and the caprese salad comes with artichokes and mushrooms. Mario's. All. Night.

Covina
What you're getting: The meatball sandwich
Covina is hiding a phenomenal meatball sandwich from you, so don't let it get away with it. Not enough meatballs in your sammy? Order some more on the side for just $1.75 each. And don't be a dingus and forget to order a root beer float.
Los Feliz
What you're getting: Il Rocco
Think you know every spot to eat on Vermont? Well you don't, 'cause you're not at Rocco's this very instant. Its masterpiece Il Rocco sports some of the best Italian cold cuts you can find as well as house-made giardiniera. This sando is, as a gentleman would say, "some good shit."

Burbank
What you're getting: Lasagna
This cafeteria-style Italian sanctuary has all the goodies you could ever want, for so much cheaper than you'd ever expect. Feast your eyes (and then your stomach) upon all the delicious salads and entrees. It may seem too good to be true, but Pinocchio's is no lie (see what we did there?).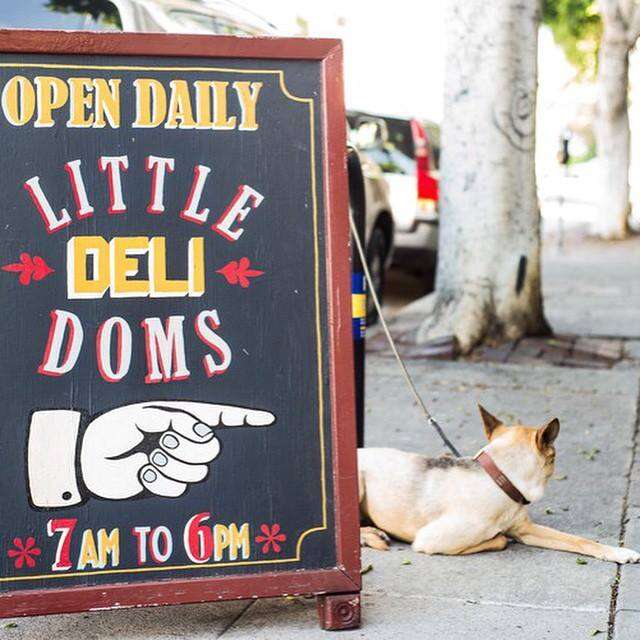 Los Feliz
What you're getting: The muffaletta
Bet you nerds didn't know there was a deli section of Little Dom's did you? Well there is. Nerds. The pastries are gold, and you can even get really great Italian meats and cheeses to go. It closes at 6pm, so ya better scoot in there early.

West Hollywood
What you're getting: Corned beef on rye. And wine. Lots of wine.
"I've grown tired of laughing at The Laugh Factory! If only there was a place I could get some really great corned beef." We assume at least one person has said this before, because nestled behind The Laugh Factory sits Greenblatt's, the first deli to sell fine wine. And it's open 'til 2am, so you best believe you'll have more than one bottle.
Playa del Rey
What you're getting: Pork Cubano
LA may have a shortage of great Cuban sandwiches, but not when you're at Del Rey Deli Co. It rocks an excellent mix of standard deli fare, as well as specialty sandwiches like Jidori pesto chicken, salmon BLTs, and three styles of pastrami.

Beverly Grove
What you're getting: Anything at all from the bakery
Oh, the rugelach! Oh, the cookies! And the danishes! Order 17 of everything they have, and eat them all at once. Canter's is one of the oldest and most storied delis in the country, let alone LA. And make sure you check out the Kibitz Room, the room where legends like the Chili Peppers got their start.
Eagle Rock
What you're getting: Pastrami Reuben
New York Jew-approved, New York Famous Deli has some of the best 'stram you can get outside of NY itself. It serves it up with a kosher dill pickle and coleslaw or potato salad, the way the Big Apple intended. Make sure you order yourself a big bowl of the matzo ball soup to dunk your entire face in, 'cause the matzo balls are your new reason for living.

Northridge
What you're getting: Lox & bagels
Brent's is a staple. Lox is a staple. Bagels are a staple. Your jeans will need to be stapled after you're done with the enormous portion sizes Brent's is pumping out.
Westlake
What you're getting: The #19
While Bay Cities might have the best Italian sandwich in the city, Langer's most certainly has the best pastrami in the city. The wonderful piece of human precision and ingenuity that is the #19 will rattle your bones in the best possible way -- ridiculous cuts of 'stram, coleslaw, Swiss cheese, and Russian dressing on rye. Long wait? Who cares. It's worth it.

Downtown
What you're getting: Egg salad sandwich
Every deli's got it, but none as good as Wexler's. Head to Grand Central Market and grab a "Ruskie" from Wexler's -- insanely tasty egg salad on a kaiser roll with a pickle. Egg Slut isn't the only egg powerhouse in the market.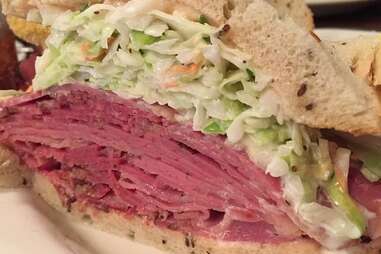 Beverly Hills
What you're getting: New York sandwich
Nate 'n Al is almost 70 years old, and the quality of the food reflects it. Grab the New York (hot pastrami, coleslaw, and Russian dressing) on rye (obviously), and maybe you'll see Larry King, since he eats there almost every day.

West LA
What you're getting: Matzo ball soup
With a surprisingly decent South of the border menu, you'll want to do that, but don't be led astray -- the matzo ball soup is a grand slam, as is the homemade turkey chili. Factor's is the perfect remedy for the Westside soul who won't drive to Brent's.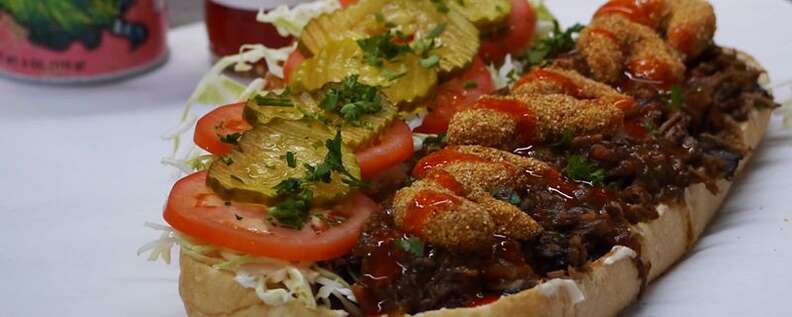 Chinatown
What you're getting: Crawfish mac n' cheese
"Alas, Orleans and York is probably the only New Orleans deli in Los Angeles!" Well, it's not. And why are you speaking in Old English? Little Jewel of New Orleans is packed to the gills with NOLA goodies like house-made andouille sausage, fresh beignets, and crawfish mac 'n cheese. Parade not included.

Northridge
What you're getting: Beef noodle soup
Why this place is called a deli is beyond us, but it is, and the food is incredible, so just relax already. It's one of those places with a menu the size of the Bible, and everything on it is a home run. The scallion pancakes are cash-money, but not nearly as cash-money as the homemade beef noodle soup. Thick chunks of beef, handmade noodles -- LEMME GET AN AMEN.
West Adams
What you're getting: Thursday night dinner
Ya know, "delicious" is derived from the Greek word "nostimo," which means "Eat at Papa Cristo's as often as you can." Grab some slow-cooked lamb gyros or some of the delicious hummus, and definitely stay for their Big Fat Greek Family-Style Dinner -- a huge set-menu feast that includes live music, entertainment, and wine tasting (and only $24!).

Windsor Hills
What you're getting: Oyster po-boy
NOLA and NY? Not a bad combo. Get your mitts on one of the golden-fried oyster po-boys (even if the month doesn't end with "R"). Too complicated to wait in line at the deli? Text POBOY to 33733 to call in your order. Yep, that's real.
Tarzana
What you're getting: Smoked turkey wrap
The meat. The house string cheese. The hummus. The tabouli. The spicy eggplant salsa. THE EVERYTHING.

East Hollywood
What you're getting: Greek salad
Walked past the Wendy's a billion times without realizing you were walking by one of the dopest Mediterranean delis in LA? You're not alone. You can't see it from the street, but sneak around to find your way into Bianca's. Pro tip: the feta cheese is the stuff of dreams.
Mid-City
What you're getting: Gravlax sandwich
This place is even better than IKEA, you guys.

Studio City
What you're getting: Matzo brei
"All day" is the best time of day, especially when it's when Art's serves breakfast. Stuff your face with the homemade matzo brei and then buy some pens 'cause you'll want to write the place a personalized thank you card. The entire breakfast menu is pretty killer, so make sure to come back for the lox, eggs, and onions. Mmmmmm.
Sign up here for our daily LA email and be the first to get all the food/drink/fun Los Angeles has to offer.
Wilder Shaw is a regular Thrillist contributor who has passionate opinions about pastrami vs. corned beef. Get into it with him on Twitter at @WilderShaw_ and Instagram at @wildershaw.