Sure, anyone can SCOOP ice cream, but it takes real talent to scoop that ice cream and then put it between two cookies. Or churros (!!!). Or funnel cakes (!!!!!!). And it takes in-between talent to eat a whole fugload of ice cream sandwiches and come up with this: a list of the 11 best ones LA has to offer.
Recommended Video
Wood-Grilled Pizza: Pizza or Flatbread?
Vanilla Custard Churro Sandwich
Churro Borough (address and info)
Los Feliz
Get your favorite flavor sandwiched between two house-made churro discs (our rec is the vanilla custard, but let's be honest, you really can't go wrong with anything there), and then weep tears of unfathomable joy until you do it again. Tomorrow. Oh, and go early, cause it usually sells out. No surprise there.
Salty Caramel w/ Smoked Almonds Ice Cream Sandwich
Jeni's Splendid Ice Creams (address and info)
Los Feliz 
Churro Borough line too long? Walk over to Hillhurst and wait in, uh, the same length of a line for Jeni's. It's past that whole dumb listeria thing and is back to scooping killer flavors like Wildberry Lavender and Salty Caramel -- best served for extra crunch in a sandwich with smoked almonds.
Fried Chicken & Waffles Sandwich
Coolhaus (address and info)
Culver City
Nope, you didn't misread that. It's a real thing. The brown butter maple ice cream with candied chicken skins and caramelized waffles goes great between two freshly baked maple flapjack cookies. Or its Cocoa Pebbles cookies. Or its classic snickerdoodle. Or...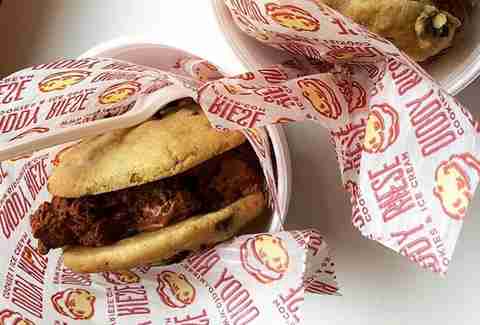 Peanut Butter Cup Cookie Sandwich
Diddy Riese (address and info)
Westwood
Diddy Riese's ice cream sandwiches made our list of 50 LA things to eat before you die, so it should come as no surprise it made this list, too; the Westwood shop's Sugar Cinnamon cookies beg to sandwich its Peanut Butter Cup ice cream, creating an ultra-refreshing Reese's. But, like, better.
The Cream Taco
Cream (address and info)
Downtown
Okay, so it's not EXACTLY a sandwich, but when you have the option to stick your ice cream in a taco, you do it. The fine people at Cream will pack three full flavor scoops into a shell for you, plus a topping. Sprinkles, FTFingW.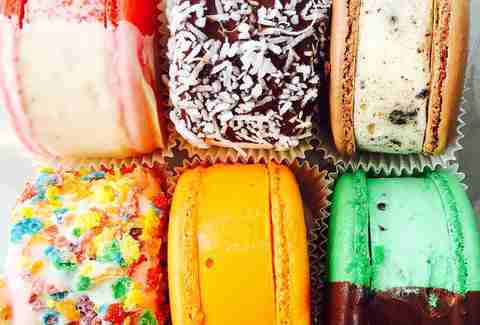 Banana Dulce de Leche Sandwich
Milk (address and info)
Fairfax
Milk does pretty much whatever it wants, since, in addition to having an ice cream parlor and bake shop, it also dishes out burgers, hot-pressed sandwiches, and chicken. Thankfully, that whatever-it-wants-ness extends to a sweet and fruity and amazing Banana Dulce de Leche Sandwich -- order it.
Funnel cake ice cream sandwich
Ice Que (address and info)
Alhambra
You've been shouting "If only someone would make an ice cream sandwich with funnel cake!!!!" for years now. Well, it's time to stop, 'cause that's super annoying and also the wizards at Ice Que done did it. They've stuck vanilla-mascarpone ice cream, strawberry jam, and St. Germain elderflower liqueur (!) between two house-made funnel cakes.  Don't start driving there yet, though -- you can only get one on Tuesdays and Thursdays. So, like, tomorrow.
 
Ice cream sandwich trio
Ace Hotel (address and info)
Downtown
Because he's a smartypants, the chef at Ace's LA chapter decided to recreate the stuff he used to get at ice cream trucks when he was a kid, which means you get a neo-choco taco, a neo-strawberry shortcake, and a straight-up It's-It. Kind of the best threesome ever. Kind of.
Classic Ice Cream Sandwich
Sweet Rose Creamery (address and info)
Multiple locations
So what if it's just a classic vanilla ice cream sandwich? You wouldn't catch George Bluth Sr. arguing about that, especially since its vanilla's got an ultra-bold, beany flavor, and perfect creaminess. It's also got a rotating seasonal flavor for its sammys, as well as ice cream pies (!), and house-made vanilla Bon Bons.
 
Ice cream sandwich
Night + Market (address and info)
West Hollywood
What we're dealing with at this critically acclaimed Thai street food favorite is house-made coconut ice cream on top of coconut rice, all "sandwiched" in a sweet bun -- a perfect palate cleanser after its unbelievably spicy-but-delicious pork stew.
 
Nestle Toll House Chocolate Chip Cookie Sandwich
7-Eleven (address and info)
Every 10ft
It may not be "artisan," but come on -- don't even pretend like you're not about to go get one of these, like, right now.
Sign up here for our daily LA email and be the first to get all the food/drink/fun Los Angeles has to offer.
Wilder Shaw is a regular Thrillist contributor who is still amazed that he got paid to do this. Chat with him about what else ice cream can be served between on Twitter at @WilderShaw_ and Instagram at @wildershaw.