An East LA Taco crawl you absolutely need to go on
East LA's myriad taco carts/ stalls/ backyard fiestas can be frightening to navigate for first-timers, so we brought in Street Gourmet LA's Bill Esparza -- who's been a judge on Top Chef Masters, curated this year's TacoLandia festival, and regularly leads groups to Tijuana to fact-check rumors about donkey shows eat their faces off at Mexico's best stands -- to make it easy for you with a six-stop East LA mini-tour sure to sate even the most intense taco-head.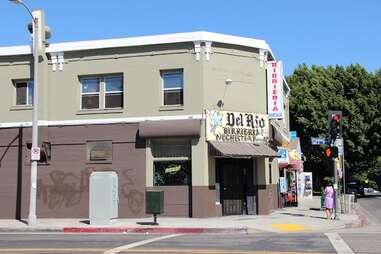 Stop #1: Birrieria Flor Del Rio
3201 E 4th St; Boyle Heights; 323.268.0319
Esparza says, "It's the U.S. branch of the family's birria stand in Nochistlan, Zacatecas; the cooking here is a source of family pride. Simply put, they serve the best goat in town." Also, it's actually the only thing they serve, so top it with onions and wrap it up in some tortillas, Billy.

Stop #2: Tacos Cuernavaca Truck
Whittier Blvd & Eastmont Ave; Montebello; 323.377.4603
"[The best thing here is the] Battleship taco -- a super-sized bite loaded with rice and condiments and topped with your meat of choice," Esparza says. Bonus: After you finish, you can say, "I sunk my battleship!" and then laugh and laugh and... moving on!
Stop #3: Mariscos Jalisco Truck
Boyle Heights; 323.528.6701
Esparza: "The shrimp taco here is at the top of everyone's list for good reason -- they consistently deliver a crisp shell filled with a comforting mash of shrimp and tomato salsa, which comes together for an unbeatable taste."

Stop #4: La Barbacha
2510 E Cesar Chavez Ave; Boyle Heights; 323.264.1451
"Delicious and legal lamb barbacoa is now a reality," says Esparza, of this clandestine roasted-meat dish.
Stop #5: Santa Rita, Jalisco, Truck
East LA; 323.261.2738
Esparza: "These guys serve a respectable version of deep-fried chicken neck tacos, made famous by the Tijuana institution [Editor's Note: And best-named place EVER] Kentucky Fried Buches."

Stop #6: Colonia Taco Lounge
13030 Valley Blvd; La Puente; 626.363.4691
Esparza says, "Chef Ricardo Diaz is taking his popular Guisados to the next level with Oaxacan moles and a full liquor license," which's especially great because, at this point, you're going to need something to wash all that possibly-illegal lamb down.

To read a ton more of Esparza's recs, check out Street Gourmet LA.