Behold: The Glorious Flambéed Truffle Penne at DTLA's Le Petit Paris
The French have long been known for adding a sexy flourish to whatever they do -- especially when it comes to food. That's why it should come as no surprise that Downtown LA's lavish Le Petit Paris, one of our favorite French spots, literally cranks up the heat with one of their most popular dishes. The flambéed truffle penne, which is prepared table-side in a giant $400 wheel of Parmesan that has been LIT ON FIRE, is a show stopper. This ain't no ordinary bowl of pasta.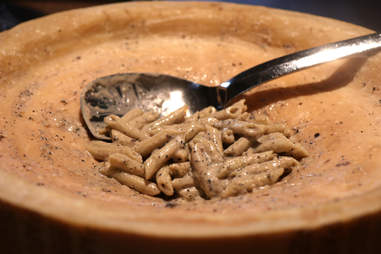 Soy Nguyen/Thrillist
The decadent dish (or pâtes flambées a la truffe dans sa meule de Parmesan, for the French majors in the house), begins with penne that has been tossed in a rich sauce of truffles, shallots, and cream. The pasta is then brought to your table with the gargantuan wheel of Parm with a crater of a bowl carved in the center. The server will then scrape a healthy dose of Parmesan from the sides of the crater, ignite a cup full of cognac, and pour the flaming liquor into the wheel to create plenty of melty, cheesy-goodness. The pasta is then added to the wheel, tossed with the melted cheese, transferred to your bowl and covered with a generous dusting of expensive black truffles. Watch the video above to see the whole drool-worthy process in action.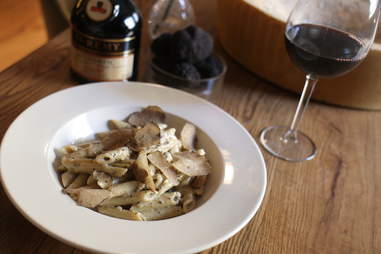 Soy Nguyen/Thrillist
Le Petit Paris' flambéed truffle penne originated at owners David and Fanny Rolland's restaurant Miramar Plage in Cannes, France (where they also have another Le Petit Paris). The restaurateurs, both huge truffle fans, insist upon offering at least one specialty truffle dish at each of their restaurants. The LA location has a few, including a mind-boggling truffle burger with foie gras, while The Miramar Plage dedicates an entire section of the menu to truffles. They opt for cognac as the fuel for the flambéed truffle penne because, well, it's French, and they feel the aromas pair perfectly with the truffles.
So while LA's Le Petit Paris is a sparkling date destination on its own -- occupying the former lobby of the historic El Dorado Hotel and gilded with twinkling crystal chandeliers, a grand staircase, and even a boutique with goodies straight from Paris -- the flambéed truffle penne really helps to stoke the flames of romance. Just be careful not to lean too close to the fire.
Sign up here for our daily LA email and be the first to get all the food/drink/fun Los Angeles has to offer.
Danny Jensen is Thrillist LA's Interim Editor and wishes more of his food was set on fire tableside in a giant bowl of cheese. Make sure he doesn't catch on fire on Twitter and Instagram.