5 awesome new BBQ joints in LA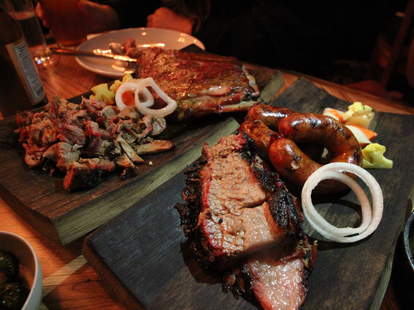 In most of the country, finding legit BBQ is super easy. In most of LA, finding legit BBQ is super, uh, not-easy. Which is why we put together this list of the latest and greatest new LA 'cue -- five joints in all, doing everything from smoked pastrami to jalapeño cheddar sausage.
Long Beach
For years, Neil Strawder -- aka Bigmista -- has been a formidable presence in the LA BBQ scene, bringing his always-smoking catering station (and crack-addictive pig candy) to farmers markets, fairs, and food events. But it's not 'til... now!... that he's had a brick-and-mortar to call his own. He and his wife're definitely running all aspects of this simple strip mall space, and he's cranking out not just the classics (though you'd be hard-pressed to find better pulled pork in town), but next-level ish as well, like superlative smoked pastrami and what he's calling Q-Buns -- which're basically dim sum buns, but with BRISKET INSIDE. If you're not making plans to go yet, something is wrong with you.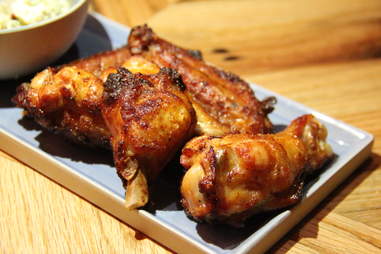 Jeff Miller
Studio City
Certainly one of the most anticipated LA openings of the fall, this Valley smokehouse just opened in the space formerly known as Spark, and brought with it chefs who carry pedigrees from fine-dining spots like Bouchon and The French Laundry. Also: the dude behind the drinks did time at Picca and The Edison, so they're clearly not fly-by-night-ing any of this. The food's reflective of that care: the chicken wings are brilliantly smoked, the jalapeño cheddar sausage is perfect, and the Texas-style brisket falls apart as your fork splits it open. And, of course, the drinks are impeccable.
Brentwood
This ultra-casual, ultra-quick, ultra-delicious BBQ spot (in a, let's face it, ultra-weird neighborhood for this to exist in) is now open for lunch, which means that on your break you can pick up a chimichurri-topped tri-tip sandwich, or a half-rack of hand-rubbed ribs. This is gonna sound weird, but trust us: their vegan chili is so shockingly awesome, you'll nearly feel bad that you're using it to abet animal consumption. Nearly.
Venice
Formerly Pork Belly's, this initially-a-sandwich-shop joint has already expanded its menu to include stuff that's not in between bread, including The Pig Out platter: 1/2 rack of ribs, pulled pork, chopped chicken, BBQ sauce, cornbread, mac & cheese, and baked beans. For $19.95. That's not a typo.
Silverlake
Okay, so this isn't EXACTLY a BBQ restaurant, but bear with us: if you're a meat eater (and if you've made it this far, you are), you're also going to want to make your way over to the Eastside for the newest spot from the dude behind Twin Sliders and The Delancey: this time he's doing skewers of meat that he's calling "shishkatori," which include beef tenderloin, chicken tawook, and, uh, house-smoked pork. They've also got Mediterranean-spiced baby back ribs, so, yeah, aren't you glad you beared?
Sign up here for our daily LA email and be the first to get all the food/drink/fun Los Angeles has to offer.
Jeff Miller's girlfriend is totally obsessed with Bigmista's. Like, totally. You can shout at him at @ThrillistLA on Twitter or @jeffmillerla on Instagram.