The definitive guide to what's on LA's 8 piers, from bars to bacon-bit pancakes
Proving once and for all that piers aren't just where you go to lose your virginity, Ryan and Marissa, we walked all eight public ones in LA and found out there's some pretty badass stuff at the end of 'em, like bars, pancakes with bacon bits (as if you didn't have enough great brunch options), and... other bars.
Here's a definitive guide to all eight, complete with parking options and what you'll find underneath every single one (other than naked characters from The O.C.).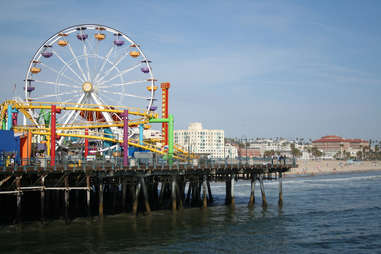 Santa Monica Pier
Parking Situation: Plenty of city lots, private lots, and, if you were somehow born blessed, street parking.
What To Expect: SO MUCH STUFF. An amusement park with an actually-fun roller coaster, and that gigantic ferris wheel (and all the funnel cake and cotton candy and amazingness that comes with it); Bars to grab some booze at; The date-/ parent-friendly restaurant The Lobster, if you wanna get all fancy; And an actually great pier burger at, um, PierBurger.
What's Underneath: Needles. Definitely needles.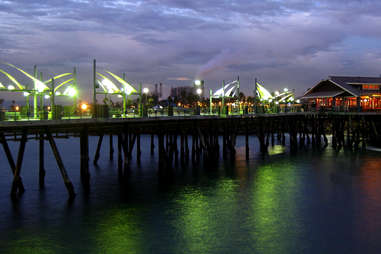 Redondo Pier
Parking Situation: A multi-story parking lot on Torrance Blvd.
What To Expect: The pier itself isn't all that exciting, but the Fisherman's Wharf right around it has bars (Barney's Beanery!), restaurants (the American seafood/steakhouse Kincaid's), and stores (Mermaid's Dowery?).
What's Underneath: It's pretty family-friendly, so there's probably not needles. Ah, who are we kidding: needles.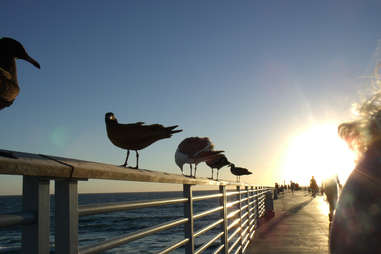 Hermosa Beach Pier
Parking Situation: Public lots and street parking.
What To Expect: The boardwalk leading up to the pier is stuffed with college-friendly bars like Hennessey's, Patrick Molloy's, and other places that don't sound vaguely Irish, but the pier itself is more of a "let's sit on a bench and look at the sunset" kind of pier. Sure, there's a building at the end of it with bathrooms, a life guard station, and a public library, but that's kinda worthless considering you can hold it/ swim/ own a Kindle.
What's Underneath: Condoms. And needles.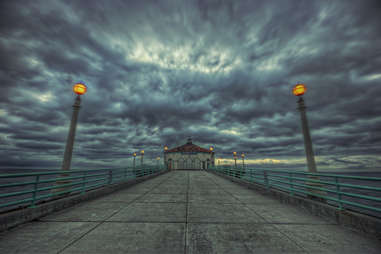 Manhattan Beach Pier
Parking Situation: Plenty of public lots up the street, as well as street parking.
What To Expect: A bunch of incredible restaurants are a close walk (Strand House/Fishing With Dynamite/Little Sister FTW), but looming at the end of the pier's an... aquarium? Can't you just look into the ocean for that?
What's Underneath: Needles. But, like, old ones.
Malibu Sport Fishing Pier
Parking Situation: It's PCH. Park on the "street", and then play live-action Frogger trying to cross.
What To Expect: Since the pier was renovated and restored a few years ago, a bunch of businesses have come and gone, but now occupying the prime real estate at the ocean-end is Malibu Farm, a date-friendly, organic-driven American breakfast/lunch spot with skirt steak sandwiches and multigrain pancakes with bacon bits (opening for dinner later this year).
What's Underneath: If someone managed to climb down the rockiness under here, they DEFINITELY were using needles. So, those.
The Green Pleasure Pier (Catalina/Avalon)
Parking Situation: Unnecessary -- once you take a boat to the island, you'll be walking.
What To Expect: Catalina Island -- officially in LA county, but a one-hour boat ride away -- is essentially one big pier, but Green Pleasure Pier is the one you'll want to hit up. It's got speedboat rentals, chum shops (for fishing!), spots to go... fishing!!!, and Eric's, a shack-like bar with stool seating literally on the water.
What's Underneath: Hmm. Probably not needles. Lots of our state fish, the orange Garibaldi. And runoff from the boats.
Venice Fishing Pier
Parking Situation: Public lots at Washington and Venice, street parking, and people hustling you for whatever's in your wallet at private lots.
What To Expect: Though the boardwalk's got whatever stuff you may want (and some stuff you probably don't... see: bongs shaped like dongs), the pier itself is kind of... barren. But that's good if you wanna watch the surfers, drop a line, or bring a girl out for a romantic walk (but only before dark).
What's Underneath: Needles, guns, condoms, and probably some sort of unidentifiable gunk. It is still the ocean in Venice, after all.
Belmont Shores Pier
Parking Situation: Lots (free after 7pm).
What To Expect: Grab a brew at Belmont Brewing Co., and then take a walk up this pier... this smelly, kinda gross, really weird pier. And don't eat at the food stand at the end. Or do, it's your life.
What's Underneath: Yeah, definitely needles here.
LA's Senior City Editor Jeff Miller has never been up on the ferris wheel in Santa Monica, but he DEFINITELY has ridden the roller coaster. Hit him up on Twitter at @thrillistla and Instagram at @jeffmillerla.