RIP: 13 LA Bars and Restaurants That Closed Their Doors in 2015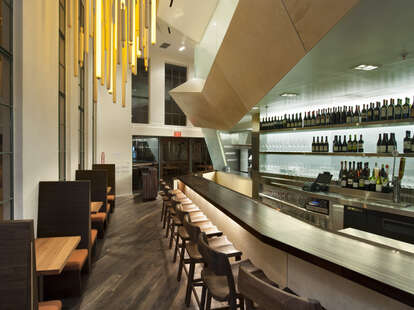 Los Angeles is experiencing a bar-and-restaurant boom, but even if the food, drink, and experience are high quality, not every spot is destined to survive. In 2015, we lost some great bars and restaurants, so let's take this time to give them a moment of silence. NO CHEWING!
Alma
Downtown
Chef Ari Taymor and Ashleigh Parsons earned national press for their avant-garde menu, but couldn't get a grip on finances in time to save their vision. Have no fear: like a Walking Dead zombie, the duo have resurfaced for a three-month stint at The Standard Hollywood, revisiting their pop-up roots.

Bar 107
Downtown
Between the closing of this spot in the Old Bank District and nearby Hank's Bar, dives are downright endangered in DTLA. Sure, there are plenty of other places to find PBR and shots, but Bar 107 was an anything-goes debauchery den (and, sure, a community hub) and its closure gives people the gentrification heebie-jeebies.
Brew/Well
Koreatown
K-Town's best bet for specialty coffee disappeared when developers took over the entire Assi Market complex. Caffeine junkies have been forced to scatter, though the Rhee sisters will likely eventually resurface with a new LA coffee bar. In the meantime, that incredible chocolate cake and carrot cake they served is still available at Quenelle.

Brilliantshine
Santa Monica
This shooting star from beloved bartenders Julian Cox and Josh Goldman ran into some unexpected snags. The duo moved on from their courtyard space, and chef Richie Lopez is now cooking at barrel-shaped Idle Hour in NoHo. Luckily, Goldman can be found right down Wilshire at Belcampo, and Cox still helps steer Sprout cocktail programs.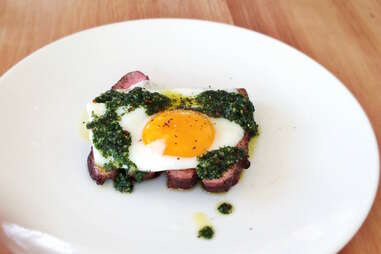 Bucato
Culver City
Irreconcilable differences apply to restaurant partnerships as well. This culinary divorce was a big blow to the Culver City dining scene, where chef Evan Funke's handmade pastas were some of the most labor-intensive, delicious pasta dishes in the US. Funke is bound to open another restaurant in LA, which is good news for pasta-lovers, aka everyone.

Burger Continental
Pasadena
This institution on South Lake wasn't as well known as nearby Pie 'n Burger, but people still frequented Burger Continental for 45 years. Sure, the burgers were popular, but the owners also offered a sprawling menu of kebabs and other Middle Eastern classics.
Dominick's
Beverly Hills
Sadly, this beloved Italian restaurant across from Cedars-Sinai Medical Center shuttered after over 60 years in business. That means you can no longer fuel up on red sauce before Botox. Chef Brandon Boudet's pig roasts and Cajun feasts will also be missed, although sister restaurant Little Dom's lives on.

Ice Que
Alhambra
John Park found he was competing with nearby Quenelle -- his other concept -- so he flipped Ice Que into Pokestuf. Thankfully, he moved a shaved-snow machine to his San Marino ice cream shop and now offers Ice Que's famed funnel cake ice cream sandwich in Burbank on Wednesday nights and in San Marino on Friday and Saturday nights.

Il Grano
West LA
After 18 years, Sal Marino closed up his seasonal, progressive Italian restaurant in West LA. The man who put crudo on the map in the city and grows more than 40 tomato varieties in his backyard may resurface with a new project, but in the meantime, his family runs old-school Marino Ristorante in Hollywood.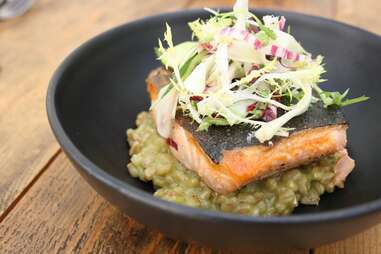 littlefork
Hollywood
Opening chef Jason Travi decamped for Seattle, but it seemed like this New England- and Quebec-inspired spot on a Hollywood side street still had a puncher's chance. Sadly, we must carry on without lobster rolls draped with smoked meat and bar manager Dino Balocchi's always-killer cocktails.

Neat
Glendale
Aidan Demarest accomplished the unthinkable, creating a drinking destination on a sleepy stretch of Glendale... until he moved on to other projects. Boom, closed.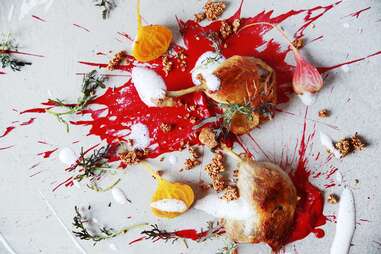 Saint Martha
Koreatown
Chef Nick Erven created masterful counter-programming in K-Town by offering eclectic, flavorful food (like steak & oyster tartare with bone marrow beignets) behind an unmarked door in a strip mall. But counter-programming only works so long... and Saint Martha's now passed on.

Short Order
Mid-City
Even red-hot Sprout Restaurant Group couldn't get this burger concept over the hump at The Original Farmers Market. The burgers and American comfort food menu had flashes of brilliance -- which burned brightly, and quickly. At least the space is pivoting in a positive direction: coming soon in the space is Moruno, a Southern Mediterranean and Northern African restaurant from talented Mozza alums Chris Feldmeier and David Rosoff.
Sign up here for our daily LA email and be the first to get all the food/drink/fun Los Angeles has to offer.
Joshua Lurie is the LA-based founder of Food GPS, a website that showcases the best-tasting food and drink in California. Follow him on Instagram and Twitter.