We've already told you about the best new restaurants in LA this year and the best new bars in LA. But now that we're in the first week of 2016, it's time to get specific so that you can start game-planning your eating and drinking escapades for the new year. Want to only drink at the best new brewery? We've got you covered. Craving a diet of the best new burgers? Well, you're going to stay well fed this year. These are the best of everything that happened last year in Los Angeles.
Best new restaurant
Baroo
Address and Info
East Hollywood
There were plenty of higher-profile openings this year, and far more approachable-and-great restaurants as well. But no one challenged Angelenos' palates -- and succeeded -- like this tiny mini-mall no-frills grain-and-fermented-vegetables-and-what-the-hell-am-I-eating-oh-my-God-it's-delicious spot. In any other food city, it'd have been overrun minutes after the first review (if not opening day), but in LA, in a bizarre neighborhood, it's been able to maintain its underdog status, not only guaranteeing quality, but that it still seems like a hidden treasure, even after being well-discovered.
Best new late-night restaurant
Aburiya Raku
Address and Info
Mid-Wilshire
If you're someone who, say, wants to catch an 8pm movie at the Grove and doesn't want to eat at 6 like a senior citizen, up until this year you'd be sort of SOL, unless you loved matzo ball soup from Canter's or the grilled cheese at Swingers (and, y'know, both of those are pretty good choices). Then Raku opened up, and suddenly the choices seemed far more interesting, since it's got insanely great izakaya-style Japanese food like skewers of pork cheeks and a bubbling, soup-like tofu topped with salmon eggs that's unbelievable, at any time of day.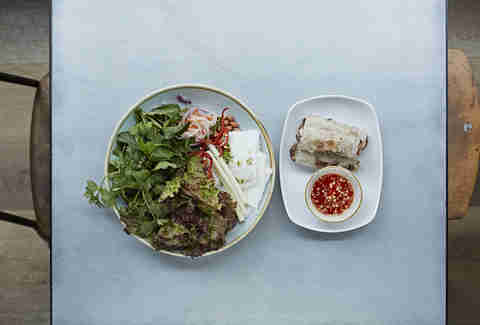 Best sequel
Little Sister DTLA
Address and Info
Downtown
Look, say what you will about The Force Awakens, but unlike the second outpost of this Manhattan Beach upscale-Vietnamese favorite, Rey and Finn didn't serve you up spring rolls filled with all the ingredients used for pho, or breakfast-ready congee dishes. And they didn't save you an hour-long drive, either. Set your phasers on stunning*.

*And all nerds, freak out in the comments section.
Best new burger
Pistola
Address and Info
Mid-Wilshire
We ate lots (and lots) (and lots) of burgers this year, but the off-menu Gold Label Burger -- a rich meatwich topped with fontina, bacon, arugula, onion, and black truffle ketchup -- had everything: meat-to-veggies-to-bun ratio, umami flavor, unique bite, everything. It ain't cheap, but it's totally worth it.
Best new pizza
Pizza Romana
Address and Info
Mid-Wilshire
It was a sad day for Italian-loving Angelenos when Cube closed, but the owners of that beloved restaurant did one better with their new Neapolitan pizza concept, keeping the beloved fried chicken from Cube and replacing their good-not-great pastas with superlative pizzas -- the best of which is this spicy broccolini and sausage pie, a perfectly balanced carne and veggie extravaganza. Benisimo! Is that a thing?
Best new brewery
Arts District Brewing
Address and Info
Downtown
Juuuuust barely making the best-of-the-year cutoff, this new DTLA brewery from the guys who brought you classics like Seven Grand and Broadway Bar maintains their reputation for excellence, thanks to killer drafts, a wide-open floor plan, a massive patio... and Skee-Ball. Yep. Skee-Ball.
Best new first-date spot
Maré
Address and Info
Melrose
It's got all the perfect elements: a secret entrance. A huge patio. Romantic lighting. Seafood. And a price point that that won't bankrupt you. Bingo.
Best new sandwiches (named after NPR hosts)
Wax Paper
Address and Info
Frogtown
OK, these sandwiches -- in a teensy-tiny little Frogtown shack -- would be killer even if they weren't named after public radio hosts. But seriously, don't you think ordering the Kai Ryssdal (pole-caught tuna, celery, green onion vinaigrette, lettuce, black olive aioli) or the Audie Cornish (country ham, sharp cheese, honey butter, sea salt, cornichon vinaigrette) makes 'em just a teensie bit better?
Best new spot to hit before da club
Birch
Address and Info
Hollywood
Previously a soggy-wings-and-soggier-pizza wasteland, Cahuenga's been single-handedly next-leveled by this New American restaurant from the former Waterloo and City guy, who's got a bar bringing you get-the-night-started fresh-ingredient-driven drinks and get-the-night-going dishes like this pork shank. And then you can dance it off and feel all better.
Best new tacos
B.S. Taqueria
Address and Info
Downtown
Sure, you've heard the hype behind Ray Garcia's casual-modern Mexican spot, but believe it: it's got the flavors of everything from unusual choices like clams and lardo to classics like carnitas.
Best new brunch
Animal
Address and Info
Mid-Wilshire
Wait. Animal has brunch? Yep, and it's crushing it. The guys behind the restaurant famously have opened Trois Familia for brunch-only on the westside, but at their OG location they're breaking out classic bodega breakfast sandwiches (pictured above), their beloved "Boner Burger," and a pastrami Reuben Benedict. Boom.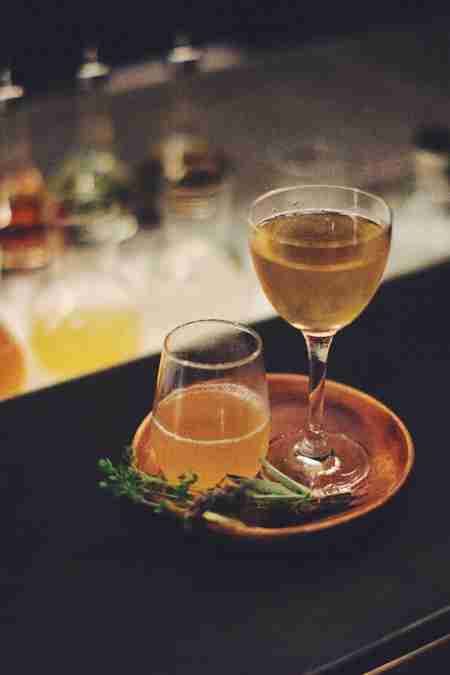 Best new fancy bar
The Walker Inn
Address and Info
Koreatown
Hidden behind ANOTHER great new bar, The Normandie Club, The Walker Inn proved that its bartenders take their drinks more seriously than anywhere in the city, with an omakase experience that makes each sip a revelation.
Best new party bar
Break Room 86
Address and Info
Koreatown
The Houston brothers' latest is this '80s-themed room with karaoke, Michael Jackson impersonators, cover bands, and Cup O' Noodles. Not, like, fancy Cup O' Noodles. The real deal. They pay attention to detail.
Best new cultural activity
The Broad Museum
Address and Info
Downtown
The super-hyped new addition to Downtown lived up to all expectations of it being a pop-art mecca. Major art fans may scoff at the iconic prints by Warhol and sculptures by Jeff Koons, but passive fans (and those just looking for something for their Instagram) will (and should) love it. Plus, the exterior? Breathtaking.
Sign up here for our daily LA email and be the first to get all the food/drink/fun Los Angeles has to offer.
Jeff Miller is the editor of Thrillist LA and has, like, 10 more categories if you wanna hear 'em. He's at @jeffmillerla on Instagram and @ThrillistLA on Twitter.