You Can Find Some of LA's Best Food Exclusively on Instagram. Here's How.
In a city full of food trucks, street carts, and secret supper clubs, you hardly have to step inside an actual restaurant to enjoy some of the best food in Los Angeles. And thanks to a growing number of entrepreneurial Angelenos who are using social media to sell their food -- often cooked in home kitchens and backyards -- we now have even more clandestine culinary options to explore. A cottage industry of people selling food out of their home has existed for time immemorial, and underground eateries have long been part of the fabric of LA. But thanks to the pervasiveness of social media and savvy marketing skills, these pioneers have taken their businesses to new heights and changed the way many of us eat.
From a pair of former gang members selling takeout containers of comfort food out of their South LA apartment to a real estate agent offering Texas-style brisket from a giant smoker in his Studio City driveway, LA is now home to a wide range of underground food businesses. For some it's an opportunity to grow a following and earn money to eventually open up a brick-and-mortar, while for others it's merely a fun hobby and natural extension of cooking for friends and family with the chance to make some extra money on the side. But the common thread that ties many of them together is using Instagram and other social platforms to show their followers what they're cooking on a particular day, offer instructions on how and where to get the food.
To learn more about this burgeoning underground food scene, we spoke to many of the people at the forefront of the rapidly growing trend, as well as one that helped pioneer the use of social media early on to build an undercover operation. Here's what we learned:
Building a hungry following
"We started just to stay out of trouble," explains Roberto "News" Smith, the sous chef of Trap Kitchen, who started selling food out of an apartment kitchen in Compton with chef, and former rival gang member, Malachi "Spank" Jenkins in 2013. "We wanted to find something else besides hustling in the streets to make some money and we noticed that we had a gift with cooking." Jenkins, a former member of the Crips, attended Le Cordon Bleu College of Culinary Arts in Las Vegas and had recently returned to LA after catering to high-end "nightlife" clientele in Vegas and later for entrepreneurs in Portland. "He had a big following on Instagram and he was already documenting the pictures of his food, and you'd see the comments, 'Oh, that looks so good, can I try that?' or 'Do these guys do parties?' So I noticed that and thought, 'People want to buy this," so we ran with it," says Smith, a former member of the Pirus (Bloods), who was introduced to Jenkins through a mutual friend.
"I already had a store on Instagram, selling clothes, jeans, watches, and other things, and it gave me the idea that people would shop for food there, too," explains Smith. "People already love to shop online, so it's sort of the natural evolution of it. But I like selling food better because once a person has bought the merchandise, they don't come back until you have something new. So if you don't get anything new, you have to find some new customers. With food, they don't care -- they'll come back 20 times for the same thing."
The first meal Trap Kitchen posted to Instagram was an enchilada pie, a casserole loaded with meat and seafood, served with a side of Spanish rice and black beans, which included a number to call or text for pick up. They sold out within an hour, pocketing $300 in profit. "It was surprising how quickly it went and how much we made in that amount of time, so I got addicted to it," admits Jenkins. "All I had to do was make a post, I didn't have to go through a middleman or pay anybody. I already had a following, so it just worked." Smith adds, "It's free marketing! What people are paying top dollar for, we get for free everyday."
The popularity of Trap Kitchen quickly grew among friends and neighbors, as they continued posting on Instagram with customers stopping by the apartment to pick up their orders or via delivery thanks to their friend DJ Kev. Then suddenly, they had their first celebrity client. "Two months in, we caught the attention of somebody that works for Tyrese Gibson, and we got a call from PR team about catering," says Jenkins. "And it just snowballed from there." Since then, they've cooked and earned praise from the likes of future Coachella headliner Kendrick Lamar to John Legend and Lenny Kravitz at The Roots' Grammy party, shot an episode of Martha Stewart and Snoop Dogg's new show, discussed a show of their own with networks, and travelled around the country to cook. They've since moved their operations to the Harbour Gateway neighborhood of South LA and now have nearly 24,000 followers on Instagram.
The inspiration for many of Trap Kitchen's meals -- which are hearty and have that comforting flavor that comes from home cooking -- comes from Jenkins wanting to put his own spin on dishes he's encountered at restaurants that he'd never had before. One of their most popular (and Instagrammable) options that is The Deadliest Catch -- named for Jenkins' favorite Discovery Channel show and inspired by a pineapple bowl at a Thai restaurant. It features a carved out pineapple half loaded with lobster, King crab, and shrimp with the option of additional meat, including beef, salmon, or chicken, all on top of rice. He also aims to make the menu -- which focuses on 10 dishes, one featured each day -- more affordable to his customers. He gives the example of their surf and turf, which features shrimp and an option of beef, chicken or salmon and includes lobster garlic mashed potatoes, asparagus, garlic bread, and a soda for $10. "A lot of people don't have the luxury of being able to try that stuff at a steakhouse" he says. "So my idea was to recreate the surf and turf and make it affordable to the streets, so that everybody can have that dining experience."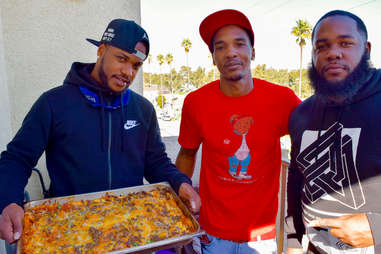 Not far away in Watts, Keith Garrett of All Flavor No Grease is another young food entrepreneur who parlayed his self-taught cooking and social media skills to find a better alternative to hustling on the street. "I didn't see a 401k in my future when I was a street pharmacist, so I became a street chef," effuses a charismatic Garrett. He's been cooking up his own take on tacos, quesadillas, and burritos from a driveway on 108th St for the past several years, and has since garnered over 82,000 followers thanks to his Instagram posts. His feed alternates between close-up shots of whatever he's cooking up on the griddle that day, talks about God, and freestyle raps and songs inviting his followers to come eat -- pitches that rival the best TV salesman.
"I had a couple of dreams that I wanted to do something different," Garrett explains. "I prayed about changing my life because I felt I couldn't do it from the curb anymore and I needed transition immediately." Soon after the dreams and prayers, a friend visited Garrett offering food stamps in exchange for his last eighth of weed, and Garrett found himself weighing his options for his future in each hand. Wondering what to do with the food stamps, he recalled selling candy to his friends back in school. "So I opened up a candy house -- a little neighborhood market with all of the Snickers, Reese's, and Kit Kats -- but this time it was on the front porch of my mom's home. She made me get all of the permits to sell, and registered the name."
Soon after a friend joked that since Garrett was out there selling candy, he might as well sell tacos. Garrett decided to capitalize on the joke. The next week he set up a griddle in the front driveway and sold chicken, ground beef, and ground turkey tacos. He quickly sold out. "I made $50 profit my first day. I looked at the money and said 'I'm going to blow this up. This came too fast and it was positive. I'm going to make this into something,'" Garrett says. "Now four years, two months later, they say I'm a Quesadilla Legend."
Garrett's now signature, flavor-packed quesadillas -- which also come to him in a dream just as the idea to start an Instagram page named All Flavor No Grease did -- feature a large flour tortilla stuffed with shredded cheese, the choice of chicken, steak, or shrimp (or all three, get all three), a homemade pico de gallo, and topped with a cilantro salsa and sour cream. The formidable comfort fare, which Garrett initially sold as a giant taco, now gets chopped into more manageable strips -- a trademark of All Flavor No Grease.
Sending up smoke signals with Instagram
Further north in Studio City, you'll find another home cook slicing up tender, slow-smoked brisket and selling it from his driveway to customers who contacted him through Instagram. "During the week I am a real estate agent," explains Burt Bakman, the man behind the Instagram handle Trudy's Underground Barbecue, who spends up to 20 hours smoking Central Texas-style brisket and ribs in a giant torpedo of a smoker he imported from Texas. "But I'm a creative spirit. I paint and cook a lot. When I was in Texas, I saw people hanging out -- and my favorite thing to do is to hang out -- and they were having the longest lunches with music, lazy smoke, and there was something so easy going about it."
Bakman took numerous pilgrimages to the barbecue legends of Texas -- he's preparing for his 10th trip -- where he ate, asked questions, read the wisdom of pitmasters to learn as much as he could about cooking brisket. "It's something that's very simple and basic," he says. "Yet it's the hardest cut, it's intimidating. You have to pick the right meat, trim it right, cook it right and move it around." Bakman shows us an intricate hand drawn chart indicating subtle variations in temperature throughout his smoker. "She has slutty cousins, the burger and the steak, that take minutes to cook," Bakman says of brisket. "This one you have to get into a relationship with, you have to be nice for 20 hours. It's a commitment." If you watch Bakman's Instagram story, you'll notice that he gets up nearly every hour throughout the night to check on his brisket and ensuring the proper levels of smoke and temperature.
Bakman will post photos of his brisket or ribs -- or sometimes his smoker or stylish Trudy's logo stamped on butcher paper -- to Instagram, inviting followers to direct message him to place orders for pick up. And the brisket is definitely worth the trip -- easily some of the best in the city with a crisp, flavorful bark; deep red smoke ring and unbelievably tender and juicy meat. He also makes great ribs, but admits that he mostly does them because people expect ribs with barbecue. He prides himself on the brisket as it's the most challenging to make. "This is so American. I'm from Israel, what am I doing making BBQ? I should be making shawarma," Bakman exclaims. "But if you run with it, it's really rewarding after 18 hours. It's like we're somewhere in Central Texas -- we're in a backyard, drinking Topo Chico, there's music and barbecue, except you get no mileage points."
If you're on the hunt for more great barbecue in LA that isn't in a restaurant, then you're also going to want to track down Ragtop Fern's BBQ. On a quiet dead end street that borders Koreatown and Rampart Village, you'll find Fernando Carrillo, aka Ragtop Fern, tending to his custom smoker "Lucifer" that he welded himself and burns mostly applewood to smoke everything from ribs to brisket to pork shoulder to chorizo made by local artisan The Chori-man. "At first it was just for fun," Carrillo explains. "Being Mexican American, we grow up doing carne asada, which is basically a lot more hot and fast grill type things, but me being born here, I thought, well, the American thing is BBQ, so I started messing with it." He started with a small weber kettle, graduated to a larger grill his girlfriend bought for him, and then furthered his obsession when he had a friend teach him to weld so he could build his own smoker. He now sets up shop in his front yard most weekends when he's not taking one of his vintage Cadillac lowriders to a car show or meetup.
"It started in June, and at the time it was just friends and neighbors and they helped spread the word," Carrillo explains of his Instagram following, which steadily grew until he began receiving press coverage in October. "Then my phone blew up, and I couldn't even answer everyone." He was suddenly flooded with requests for barbecue via Instagram, and with each new post of his latest creation or announcement that he'd be posting up in his yard, the numbers grew. "I think people realize, this guy isn't trying to be someone he's not. I'm not claiming I'm from Texas, I was born and raised here in LA. I think people also like how I tie in the cars as part of my heritage."
"It doesn't taste single note: you can taste the meat, the smoke and the seasonings," Carrillo proudly explains how one satisfied accurately describe his food. "He said, 'What I like about your sauce is that it's got a little tang, it's vinegary, it's sweet, but then you get a little heat creeping up on you, but then it stops. It's a subtle flavor, and you get a little bit of a zing in there. And that's what I want, layers of flavor in there."
Social media as advertising
"Social media was huge for us, and it built our entire business," explains Nguyen Tran of Starry Kitchen, the legendary underground restaurant that started nearly 10 years ago when social media was still in its infancy. Not long after the fall of the economy in October 2008, Tran's wife Thi began cooking Asian comfort fare influenced by what she grew up eating -- her parents were Chinese born and lived in Vietnam until the start of the war -- and posting photos of her meals to Facebook. Then when she lost her job in advertising due to the economic collapse that following April and began looking for job suggestions from friends, and everyone insisted that she cook, especially after seeing the meteoric rise of Roy Choi's Twitter-fueled food truck craze. But Thi was initially resistant.
"Everyone sees that you love food except for you," Nguyen told his wife. "Part of it is that we're first generation, children of immigrants and it's important to understand that the diaspora, one thing that's very consistent with Koreans, Jews, Chinese, Vietnamese, and others, is that they leave a war stricken country to afford their children a better life and they don't want them to do anything blue collar. They want them to be doctors, lawyers, accountants, and my wife had that imbedded in her brain."
Thanks to some heavy convincing from Nguyen -- and a lack of employment at the time -- Thi soon relented and the pair began invited friends and neighbors to dine at their apartment, papering their entire apartment complex with 300 invites. They set up a small stand at the back of their apartment, which faced a communal patio for the building, and urged friends to show up in support. It worked. Friends told friends, and Nguyen used Facebook and the relatively new Twitter to spread the word. Before long they had 70 to 100 people crowding the patio for Starry Kitchen -- named after Thi's favorite Hong Kong cooking show -- and expanded to offering lunch on Sundays and dinner on Wednesdays. As word spread with local and national press picking up the story of the Tran's underground operation, which specialized in creative pan-Asian mashups like sweet potato -- kimchi pancakes, and their signature crispy tofu balls and Singaporean chili crab -- they eventually had to take pre-orders to avoid running out of food. They also found that people would show up randomly at their door at all hours looking to eat after seeing them listed on Yelp. "We asked for money because we wanted people to give us actual, valid opinions, even if it's only $5 -- which is what we charged at the time," Nguyen explains. "You're now getting paid to learn, so that when you get money back, you're going to learn to do it better. My mentality for all of this was that if we're going to do this, we have to do this every week for as long as it takes until it either grows or it just dies."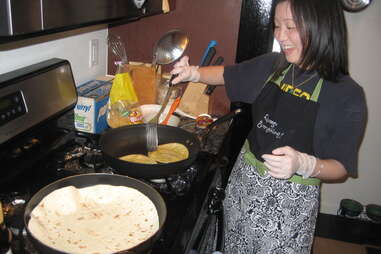 "Back then there was really only the forum of Chowhound for people to share these hidden gems and those people who were willing to take the risks to find those places," Nguyen explains. "Now it's more in the mainstream because anyone on the street can take ownership and be the new foodie tastemaker in their circle of friends -- even if they're not the person that searches out everything. Social media is incredibly helpful because so many people are on it now."
Nguyen explains how critical Twitter and Facebook were to their growth and that the power of social media to promote underground food businesses has only grown as it becomes increasingly visual. "Instagram really cemented the obsession of food porn for the masses (and not just Asians anymore), it's an incredible tool," he say. "The hard part is that because there are so many people, places like All Flavor No Grease are an anomaly because there are a million illegal places in LA. But they've managed to push through it to get to the top of the stratosphere. The downside is that you can use social media to find you, but now you're in a crowded space of people who are doing the exact same thing."
The risks of rapid growth
While a crowded playing field of underground food entrepreneurs is certainly a challenge, a rapid rise in popularity and visibility thanks to social media can also present problems for an under-the-radar operation. Garrett of All Flavor No Grease understands these risks all too well, as his front yard operation was recently shut down by the police who responded to a call that traffic was being blocked by the huge crowds at his stand. "It was too much of a crowd for the police," he says. "An African American man selling tacos in the middle of the day with the traffic all messed up, a line with every different nationality in it almost a quarter mile long and nobody tripping -- it was confusing to them. But we have unity and spiritual nourishment here."
Garrett stayed positive despite the police encounter, which he says ultimately pushed him to go legit. He recently met with LA's Department of Public Health and found them to be incredibly supportive of his goals during a much longer than typical meeting. "Everything that seemed like it was meant for bad, turned out to be good for me," he beams. "They were so much in my favor and with All Flavor No Grease as a brand, that they're helping me move to the next level and getting everything certified for a kitchen and food trucks, or any other next steps I need to take."
"I can tell you my experience with the health department was the exact opposite," Nguyen says after hearing of Garrett's experience. "I was about to take over a [restaurant space], but they busted me and said you need to shut this down. And I said how about making me your poster child because I'm about to take over a place with real permits and licenses. And they didn't care."
Nguyen goes on to say, "Getting caught is always going to be the risk of being illegal, but it's also part of the reason people come together for it. They're in cahoots with you and that's part of the appeal, at least for us. But that appeal can wear off quickly because they need to like it too."
Carrillo says that he's also had encounters with the police, but they've all been positive. "Cops have stopped, but they haven't hassled me -- they seem to like it, it's not something you see everyday," he says. "They figure, the dude could be doing worse. And I'm not even out here that long, just a few hours on the weekend."
Going legit
Whether through rapid growth and support from their followers or due to pressure from authorities as a result of increased attention, many of these underground businesses are looking to go through the proper legal channels to either open a restaurant, food truck, or catering business. Garrett has a grand scheme. He envisions a fleet of food trucks flooded across the country and at least five to 10 restaurants. "After the first one I think it will be easy because people say I have the hard part out of the way -- building the clientele and brand. If that was the hard part, that was easy for me so I can't wait for the rest."
Garrett also has strong relationships with a number of other underground businesses in South LA, many of which are working on getting more established. The group includes Taco Mell, The Bléu Kitchen, Smitty's Signature Pudding, and Mr. Fries Man who went from selling his fully loaded tacos via secret parking lot meetings to opening a brick-and-mortar restaurant in Gardena. Chyna Pace, the chef behind A Little Taste of Chyna who creates and delivers healthy meal plans, explains the growth of the group, "A lot of us, we're kind of young and we just found a niche and just went out on a limb to do this, but then as you grow bigger you realize that you're not doing it in the proper way -- there is paperwork and more involved," she says. "So now I'm starting to cross all my t's and dot my i's. Now my focus is to get a commercial kitchen, and just one day at a time handling what I need to handle."
Smith of Trap Kitchen explains their considerations as they continue to grow, "We've been weighing our options, but a brick and mortar seems like the best way forward." He says they hope to open a location somewhere near the new stadium in Inglewood sometime within the year. Jenkins, for his part, admits that he'd like to focus more on catering and cooking larger quantities than dealing with everyday traffic and customer contact. "I really want to enjoy the cooking and not be too involved. Of course meeting and greeting customers is cool, but as far as the day to day hustle, it's tiring. I'm taking calls all day everyday and sometimes I'm not in the mood to talk about food, but you have to do it to keep going and put your personal self to the side and put your business face on."
Bakman says he's content with his social media-based business for now, but may eventually expand. He's already discussing an offer from restaurateurs to bring his brisket to a new restaurant. "My wife is OK with it for now," he says of his backyard setup. "But at some point this operation is going to have to move to another area with an actual set up, but until then, I'll always be here."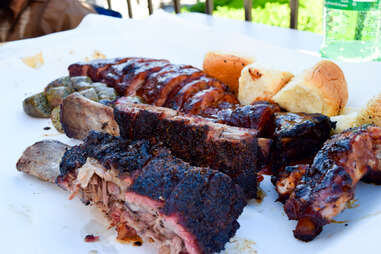 Carrillo, on the other hand, isn't interested in expanding his front yard operation to a brick-and-mortar -- despite serious offers -- instead preferring to focus on cooking for his neighborhood and car community at rallies and meetups. "I don't want it to consume my life because I think if I become too much a part of it, I would think it would be almost phony," he says. "I've had people offer me partnerships where they would fund me to set me up or connect me with investors. But honestly, once you start hitting that really heavy, commercial service level, you start to cut corners to meet up with demand. And I'm really nitpicky and I get focused on what I do and I don't want anyone else doing it differently. I want to do everything, but I can't do everything if I go to that level. And then the quality of it wouldn't be there anymore." Nonetheless he's taking steps to ensure his operation is in compliance with permits, licenses, and is in the process of getting a commercial kitchen.
Trading in the underground allure
Nguyen explains that one of the biggest challenges of moving an underground operation into the realm of restaurants and other legit options is the risk of sacrificing the original appeal that made you popular in the first place. "You can lose a lot of the original charm of why you're doing it because at that point, it's more about the food, and it's a different experience," he says. "There's also a different expectation when you're in a professional kitchen that the food should be better somehow, but sometimes, it's not. You don't have the same fervor, the same passion, or the equipment is cleaner and not seasoned in the same way. There's a thin line between good and great, and sometimes it's hard to isolate what that is. And when you go from that transition from the thing that made you to something legit, you can lose that special part and you don't know where you left it."
He explains that when Starry Kitchen moved out of the Trans' apartment and into a brick-and-mortar, and later to a series of critically acclaimed pop-ups before landing at Button Mash, they experienced some of the most challenging times. "It easily made me question whether I made the right move or not," he says. "It's a tough gig and it's hard to find the passion when you're buried in responsibility and bills, regulations and rules. I miss those days, I'm very nostalgic about it."
Smith says that he and Jenkins intend to focus on staying connected to the community that helped Trap Kitchen grow. "We've gotta stay connected and grounded. It's what started you," Smith says. "Being from Compton and from the streets, we probably had people who didn't like us. And as soon as you go public, people know where you are. So we worried about that at first. But now it's more of a respect thing -- those guys are trying to do something positive. People who I might have had a problem with back in the day, they say, I see you man, keep going, keep doing it."
The face-to-face time that operating an underground kitchen affords these food entrepreneurs is also a key component of what makes them so special for both them and the community they serve. The close connection helps to grow strong bonds and brings together people from all walks of life. "You can sit down, put all your differences aside, forget whatever problems you have and enjoy a meal," Smith says. "For a hot second, you forget about it all." Jenkins adds, "You're able to get face to face with someone you never thought you would and you think, let me see what this person's about while I have the chance to be around them."
Garrett echoes the sentiment, and even says that two rival gangs, (Front Street and Bacc Street Crips) that have been sparring for decades, have reached a truce of sorts that he credits to All Flavor No Grease acting as a neutral common ground where rival members can come together over the food. "So we're bringing unity in the community through food," Garrett says. "I'm able to reach out to all different genres of people and get all of them to come out to 108th St. to see what's up and see what's going on with these tacos. I'm going to get every type of community to come to the ghetto to try this food and realize, you don't have to stereotype Watts based on what you've heard about it."
And Nguyen says that he found similar strong bonds that began developing during the early days of Starry Kitchen, "The best part was the camaraderie of the people, they came from all different walks of life. Just like Keith said there was unity through the food."
In his Studio City backyard, Bakman has also found a diverse community. "All kinds of people come -- younger, older, different races, people that I'm sure we voted differently -- but they all talk about food, hanging out with their friends, places to go, and it's all been positive so far. And as long as my neighbors don't think I'm selling drugs -- they do probably see people all the time coming and going with brown packages -- I think I'll be OK."
The thrill of discovering the underground
With a new proposal to decriminalize street vending in LA finally gaining traction after a long protracted battle, we're likely to see more illegal food businesses step out of the shadows with the blessing of permits and approval from the city. But chances are we'll still continue to see underground operations continue to proliferate, especially with the help of social media. There's an appeal to remain hidden -- or at least hard to find -- not only on the part of those doing the cooking, but also for their fans and followers who love the thrill of the secrecy.
"In LA, we love owning the discoveries and the stories of those discoveries," Nguyen says. "Generally speaking people like that excitement, but I think LA specifically fosters that. LA as a culture, we are weird. On the surface, outside of LA, people think it's just Hollywood, but everyone who lives here knows it's not just that. We try to find the latest, the greatest. I think with the underground thing it's something that New Yorkers always owned more than we have -- with secret speakeasies and things like that -- and we've always wanted to tap into it. We've always been in competition with that and this is now our version of that."
Sign up here for our daily LA email and be the first to get all the food/drink/fun Los Angeles has to offer.
Danny Jensen is a regular Thrillist contributor who is probably eating in someone's backyard right now. Let him know what's cooking on Twitter and Instagram.