LA's Best Restaurants Open on Christmas Day
Santa's really good at bringing sweaters and Legos, but when it comes to cooking up a Christmas feast, he never seems to come through -- instead we're left to our own devices, leaving our kitchens looking like the aftermath of the Animal House food fight scene. If you're even considering going the cooking route, do yourself a favor and forget it right now. Instead, head out into the world for a fine meal prepared by a trained chef in an actual restaurant. Here are 15 special Christmas Day meals around LA to consider, in celebration of both the holiday and the fact you can go home to an empty dishwasher.
Hollywood
At his meaty butcher shop-adjacent eatery, chef Curtis Stone will be whipping up a mixed four-course menu for the big day featuring wild mushroom soup, roasted scallops, a bone-in ribeye, and flourless chocolate cake with eggnog ice cream.
Details: $85; 1pm to 8pm; Reservations via OpenTable.
Downtown
The historic Hotel Figueroa's restaurant is doing its Christmas feast with a side of Grinch... and punny names. The three-course dinner offerings include a Roast Beast beef and duck, Red Fish, Blue Fish whole roasted snapper and blue-nose bass along with a root vegetable Who Hash, and a Stolen Christmas pie.
Details: $55 per person; 11am to 8pm; Reservations via website.
Beverly Hills
As usual, this uber-high-end hotel is offering an array of options for your Christmas dining pleasure. Brunch includes a stocked raw bar, plenty of salads, appetizers, and charcuterie offerings along with holiday-ish sides like spinach gratin, whipped potatoes, and roasted squash in addition to multiple carving stations, a dizzying dessert selection and a visit from St. Nick himself. Dinner will be a simpler three-course affair with choices of lobster & coconut bisque, a Brussels sprouts salad, filet mignon, and chicken roulade as well as multiple sides and dessert. You can also opt for a three-course lunch on at the poolside Rooftop Grill.
Details:
Brunch: $128 adults, $39 children; 11am to 3:30pm.
Dinner: $105 adults, $39 children; 5pm to 9:30pm.
Lunch: $85 per person, 11am to 5pm. Reservations via OpenTable or 855.691.1162.
Santa Monica
Expect a three-course prix fixe dinner at this seafood-centric restaurant at Casa del Mar, a beachfront hotel that's always a good spot to impress out-of-towners who think of the ocean as a novelty. Choices include seafood cocktail, cured salmon and avocado toast, grilled Maine lobster, seared Chilean sea bass, slow-roasted turkey, and pumpkin pie or warm pecan tarts for dessert.
Details: $110 per person; 5pm to 10pm; Reservations via OpenTable.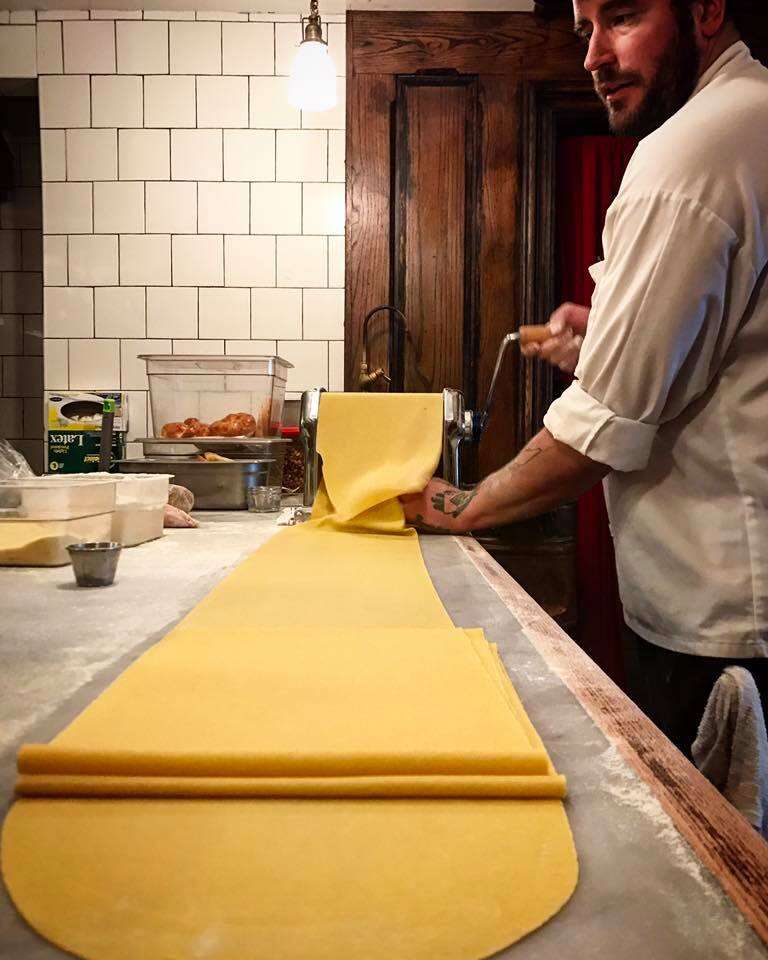 Hollywood
The English-style tavern will offer up a bunch of classic British and American pub dishes including fish and chips, short ribs, and an English-cheddar topped burger along with some solid vegan offerings like vegetable curry, a mushroom pot pie, and sweet potato and beer soup. If your family insisted on eating so early you'll be hungry again before bed, it's the perfect place for a later bite... and a cocktail in glorious solitude.
Details: A la carte pricing, 1pm to 10pm; Limited late-night menu 10pm to 1am. Reservations via OpenTable. Walk-ins accepted.
Beverly Hills
The fabled French chef's namesake restaurant at the Waldorf Astoria will be doing a classy three-course meal with a choice of appetizer and entree accompanied by four family style-sides and topped off with a dreamy dessert buffet. In true JG fashion, truffles are rampant on the holiday menu with dishes like truffle Hamachi toast, tagliatelle & black truffles; and Wagyu beef with truffle carpaccio. Christmas tunes come courtesy of a grand piano.
Details: $155 adults, $75 children; 12pm to 8:30pm. Prepaid reservations required via Tock.
Burbank
The hill-perched behemoth unveiled its $10-million remodel earlier this year, giving it a more modern look and multi-level seating that's excellent for valley viewing. The Christmas Day brunch blends buffet-style stations including sushi, raw bar, charcuterie, and a carving station with a three-course menu. Choices include charred octopus, cornflake-crusted crab cakes, lobster & waffles, and roast turkey with fixings finished up with a mini-dessert selection. Diners must have overstayed their welcomes during holidays past, since there's a two-hour limit noted on the menu.
Details: $79 adults, $35 children; 11am to 3pm. Reservations via OpenTable.
Beverly Grove
The eight-month-old restaurant at the Sofitel is centered around burgers and lobster (hard to go wrong) but on Christmas Day, it will expand its offerings for a buffet filled with salads, slow roasted goose, prime rib, and maple glazed ham, and plenty of side veggies along with its lobster mac and cheese, and a never-not-fun chocolate fountain.
Details: $65 adults; $30 children; 12pm to 8pm. Reservations via OpenTable. Walk-ins accepted.
Calabasas
The massive Malibu Canyon restaurant will offer a four-course meal with plenty of its signature meat on the menu -- including a crispy pork belly, braised short ribs, butternut squash soup, and a roasted apple salad in addition to banana-huckleberry bread pudding or pumpkin pie for dessert. For a little liquid courage before you head back to the house, check out the restaurant's whiskey haven The Double Barrel Room -- though you'll have to purchase a full bottle to become a member and enter, it might just be worth it.
Details: $98 adults, $59 children; 4pm to 9pm. Reservations via Resy.
Beverly Hills
The airy dining room next to the Avalon Hotel's groovy hourglass-shaped swimming pool is exactly the kind of place your friends imagine a SoCal Christmas takes place anyway, so might as well go and Instagram the hell out of it. The special Christmas Day three-course menu includes choices of roasted bone marrow, smoked trout rillettes, Cioppino, and honey-glazed pork loin, as well as a dessert.
Details: $75 per person; 3pm to 9pm. Reservations via OpenTable.
Downtown
The bi-level restaurant inside the shiny new outpost of the original New York hotel will do special three-course prix fixe menu on Christmas Day with first courses of curried squash soup or Brussels sprouts with apples, mains like filet mignon with roasted parsnips, and a few family-style sides. It all ends with dessert, of course, and the milk & honey ice cream looks like the way to go.
Details: $74 per person; 2pm to 8:30pm. Reservations via OpenTable. Walk-ins accepted.
Beverly Hills
The Viceroy L'Ermitage restaurant is offering a French-influenced five-course tasting menu with roasted chestnut soup, lobster medallions, and entree choices of lamb stew or cod in addition to dessert and a festive-sounding amuse bouche: an eggnog tart with vanilla-bourbon caviar.
Details: $85 adults, $65 children; 5pm to 11pm. Reservations via website. Walk-ins accepted.
Koreatown
The Line Hotel's revamped restaurant with Josiah Citrin now at the helm is offering a three-course dinner, where you'll choose between starters like chestnut ravioli and seared scallops, and mains of beef Wellington and roasted Sonoma duck breast, along with family-style sides and a dessert course.
Details: $65 adults, $35 children; 5:30pm to 8:30pm. Reservations via OpenTable. Walk-ins accepted
Beverly Hills
For the early-going set, the SLS's all-day spot will be doing a buffet brunch featuring an impressive chilled seafood display with caviar, prawns, snow crab, oysters, and Russ & Daughters smoked salmon. Andrés' Spanish influences abound with an Andalusian-style lamb and prime rib carving station, shrimp ceviche, and Spanish rice, and you can get your fill of sparkling drinks at the unlimited bubble bar for an extra $25. The restaurant will also be offering a three-course prix fixe dinner later for $75
Details: $85 adults, $42 children 11am to 3pm (last seating). Reservations via OpenTable.
Downtown
If you've ever told your loved ones that you don't need no stinking' fancy holiday dinner and would be perfectly fine just eating hot dogs, now's your chance to prove it. The DTLA neighborhood watering hole that normally doubles as a sandwich stop will instead be offering a holiday hot dog bar for truly low-key Christmas Day dining. Pair one (or more) with a craft beer on draft and bask in the glory of what you've just pulled off.
Details: a la carte hot dogs only; 6pm to 1am. Walk-ins only.
Sign up here for our daily LA email and be the first to get all the food/drink/fun Los Angeles has to offer.
Lizbeth Scordo is a food and lifestyle writer who's already dropped out of Dry January. Follow her @modlizbeth and @lalizbeth.