Los Angeles Fred 62 -- Los Feliz's 24-hour, space-age oasis -- just launched an extra-late-night 11pm-3am menu that's half-drunchies, half-munchies. Here're our five favorites from it, each of which is inspired by a different type of food truck.
El Fuego Truck Lobster Tacos: These tortilla-wrapped monsters feature lobsta' fresh from the Atlantic, that's then topped with habanero-avocado salsa and yucca. Continue Reading
Chef Jerome's Truck Mac & Cheese Balls: Are these potentially the same deep-fried balls of awesome you've been eating at Fred 62 for the better part of a decade, but this time they've got a different name and short ribs in them? Do you care? The answers are yes, and no.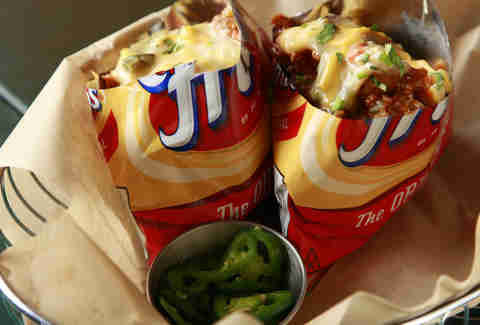 The $0.99 Truck Frito Pie: Open Fritos bag. Top with chili, cream, cheese, and roasted poblano. Sell for $7. Confuse everyone.


Rolls Rice Truck's Surf & Turf Freshwitch: For that one guy who's like, "I had an aggressive amount of beers and now I need to eat the crap out of something that sounds healthy", there's this compromise: spicy shrimp and pork belly w/ green papaya salad wrapped in a Spring roll wrapper.
The Ross Co. Truck Waffle Slider: Ross Co. sounds like Roscoe, which sounds like chicken and waffles, which at 2am sounds amazing... which's why you're going to eat these, unquestionably.