From an Angeleno who's minded kitchens in both Houston and Austin, HomeState is a tiny little restaurant serving up food from that enormous Southern state that used to be governed by our only ex-president that's an amateur painter. It's charmingly decorated to the point that whatever girl you go there with'll describe it as, "OMG this place is totally cute!", plus, for those of you who don't read story headlines, THIS PLACE HAS 10 TYPES OF TACOS AND SEVEN OF THEM ARE BREAKFAST TACOS. Here's a mouth-watering look at all 10...
The Pecos: Served -- like all their selections -- with your choice of a fresh corn tortilla or a flour tortilla that's made using a Texas ex-pat's family recipe, this classic's stuffed with eggs and shredded brisket.
The Trinity: Holy bacon, eggs, and potato, Batman!
The Picadillo: This lunch-dude's stuffed w/ ground beef, pickled jalapenos, potatoes, and cabbage.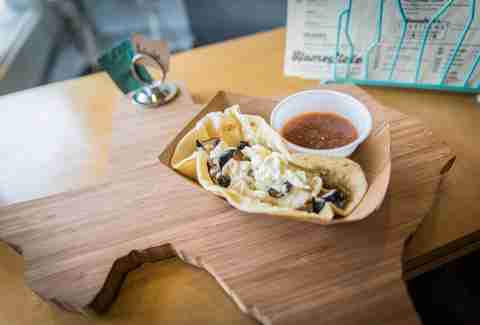 The Blanco: In case you're on a diet that you only kinda follow, this one's got egg whites (!) and black beans. Like all the rest, it's also served with their spicy/savory homemade salsa.
The Neces: This guy has the option (hahahaha, right) of "black beans" or "bacon-laden, refried charro beans".
The Guadalupe: Stuffed w/ scrambled chorizo and egg, this b-fast taco's named after a street in Austin/could also end a US/Mexico conflict.
The Frio (on right): Basically a bean-and-cheeser, only these legumes are -- like everything else -- made magic-er with bacon.
The Chicken: This super-creatively named number's got achiote pollo and their chunky, homemade guacamole, which's also available as a side item.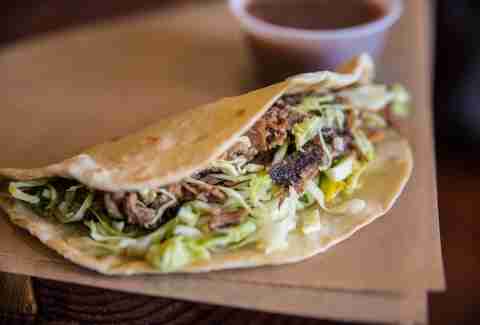 The Brisket: This guy's got crisped-up beef made even crunchier with cabbage, and guac-ier with... guac.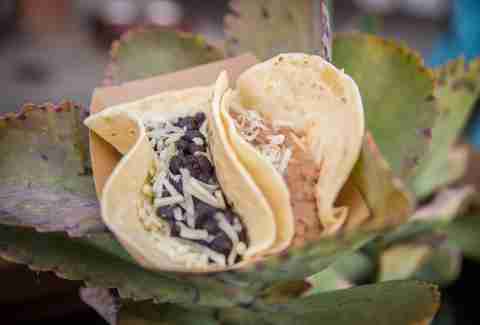 The Brazos (on left): Finally, here's the black bean-and-cheese Brazos. If you've had enough tacos* (*impossible), they've also got a non-Velveeta queso dip spiced up with actual peppers, and migas -- which are essentially scrambled egg-nachos.