A Classic Hilltop Restaurant Reignites After a Dramatic Renovation in Monterey Park
Luminarias evolves into its next phase with luxurious design and a total overhaul of the culinary program, offering an excellent special occasion option in San Gabriel Valley.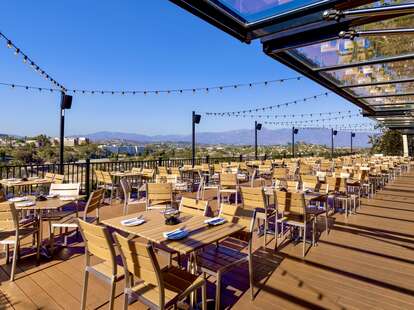 Photo courtesy of Specialty Restaurants
Photo courtesy of Specialty Restaurants
Is there anything more valuable than space? A big room in a good location means infinite possibility, especially in LA, where despite the sprawl desirable square footage is as rare as rain clouds. And few places in LA have as much space as Luminarias, the massive restaurant, banquet hall, and event space that's reopening after a multimillion-dollar remodel and full menu evolution on November 2.
Luminarias is a showpiece, a local gem since first opening in 1972, sitting high on top of a hill on the Monterey Park side of the 10-710 interchange, with gorgeous views stretching across the SGV. It has long been a go-to for graduation dinners for Cal State LA and ELAC students, your fun aunt's wedding reception, and the East LA kid trying to impress a date. And now it moves into the modern era with this reimagining, a total revamp brought by Specialty Restaurants, the group behind Castaway and the killer food hall The Proud Bird, among others.
The new Luminarias leans into a modernist natural aesthetic, with ferns and fronds and all sorts of greenery brushing over wicker, wood, and stone elements. The industrial chandeliers provide a gentle glow, complementing the twinkling city lights visible through the expansive floor-to-ceiling windows. Other fun touches abound, like the original credenza which has been refurbished into the concierge desk, and a section of tables that have swings instead of chairs.
The bar is a central focus of the rebuild, designed to function as the first stop before dinner, or a neighborhood gathering spot during the Wednesday through Friday happy hour. The bar itself is decked out in emerald tile with geometric shelving and black leather chairs, and just outside the restaurant is a garden, which provides herbs, citrus, and inspiration for the bartenders. That means specialty drinks like Paid Vacation, with vodka, passion fruit, basil, tarragon, and szechuan flower, in addition to classic cocktails and a long spirits list.
Chef Jim Pastor, the Corporate Executive Chef for Specialty Restaurants, has designed the new menu, which reads mostly New American with inspiration from Mexican and Latin American flavors. There are Birria Empanadas alongside Crab Cakes and Crispy Brussels Sprouts in the appetizer section. There's Peruvian-style Ceviche as part of the expansive raw bar, and the Squid Ink Bucatini comes topped with crumbled chicharrón. There are also a handful of grilled skewers and a whole section of the menu dedicated to build-your-own cheese and charcuterie boards, to go with the expected large-format main courses of steak and fish.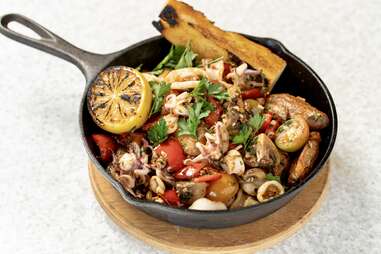 The patio is huge, with some 130 seats set under twinkling lights and directly above the herb garden. The smell of citrus and herbs floats up to drift over the patio, which feels miles out of town despite the low rumbling of the freeway at the base of the hill. This is a lovely space, offering a modern take on special occasion dining on the east side of the 710.
This new iteration of Luminarias still represents a stunning option for large and small events in SGV, with eight event spaces that can host anywhere from 25 to 600 people. There are indoor rooms suited for meetings and big dinners, as well as outdoor areas designed for intimate weddings, banquet halls for seated dinners, and ballrooms for dancing, all reinvigorated with a modern, elegant eye. But don't let that fool you—this is still a dope place for your fun aunt to host her second wedding.
Ben Mesirow
is an Echo Park native who writes TV, fiction, food, and sports. At one time or another, his writing has appeared in The
LA Times
,
Litro
,
McSweeney's Internet Tendency
,
Los Angeles Magazine
, and scratched into dozens of desks at Walter Reed Middle School.