Magical Miami Aegean Restaurant Mandolin Opens at Soho Warehouse in Downtown LA
The beloved Miami hotspot highlighting the cuisine of Greece, Cyprus and Turkey has expanded to a massive indoor-outdoor space in the Arts District.
Photo by Kelly Dobkin for Thrillist
Photo by Kelly Dobkin for Thrillist
If you're one of those New Yorkers who was part of the pandemic mass exodus to Los Angeles, there's a good chance that you spent a winter weekend or two in Miami during your Big Apple years. And if so, there's also a chance that while you were there, you were lucky enough to land a table at Mandolin Aegean Bistro, one of the most transportive Miami restaurants in town. Situated on the border of Buena Vista and the Design District inside a 1940s-era home, the charming, string-light-strewn al fresco courtyard restaurant no doubt worked its way into your heart with its family-style approach to Mediterranean cuisine, serving up various Greek, Turkish and Cypriot delicacies.
Too specific a scenario? No matter. You're still in for a treat because now Angelenos are all lucky enough to be able to experience its magic with the opening of Mandolin Taverna at Soho Warehouse downtown. The restaurant was acquired by SoHo House recently after the company went public, and husband-and-wife team Ahmet Erkaya and Anastasia Koutsioukis were approached by the group to bring their beloved restaurant to LA (a previous location of the restaurant existed briefly at Soho House's Miami location).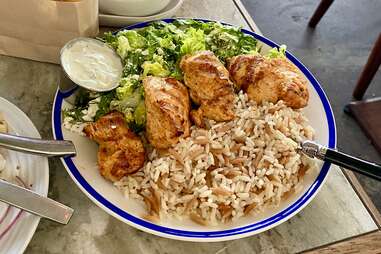 The new LA location features the same outdoor-focused concept, strewn with lanterns, plants, flowers, and white-washed tables and chairs but is much larger and offers a considerably expanded indoor space as well. The menu is a near replica of the original Miami menu that includes favorites like Greek Village Salad, Manti Dumplings, Greek Sampler (mezze plate), Grilled Octopus, Grilled Lamb Chops with orzo pilaf plus an array of flatbreads and mezze like Cheese Saganaki and Roasted Cauliflower.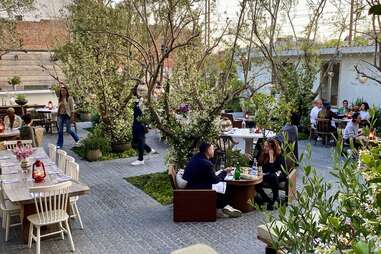 Drinkwise, expect a selection of wines sourced both locally and from the Mediterranean region as well as a selection of house cocktails.
1000 South Santa Fe Avenue
Kelly Dobkin is the Editorial Director of Local at Thrillist.