Boyle Heights Is a Mecca for Chicano Culture, Community, and Cuisine
Inspired by the past, chef Mario Christerna hopes to seal the future of this historic 'hood.
As a child, chef Mario Christerna would point to the iconic Sears Tower building on Olympic Boulevard, telling his grandmother with conviction, "One day I'm going to have a restaurant there!"
The historic landmark and beacon of East LA represented success to Christerna, who lacked examples of what a chef or restaurateur could look like—save Julia Child, whose PBS shows he watched religiously. Still, his grandmother's response was always the same: "Mijo, el que quiere puede," or "He who wants it can have it."
In November of last year, Christerna made good on his long-held childhood dream when he opened Brooklyn Ave Pizza Co., his second restaurant (the first was The Briks in South Park, an ambitious concept that represented a mix of North African, Jewish, and Mexican fare) and the first one in his hometown neighborhood of Boyle Heights. Ironically, the restaurant would arrive in its space along the busy Cesar Chavez thoroughfare just months before the historic Sears building announced that it was closing its doors after 95 years of operation.
For Christerna, it's hard to ignore this symbolism. He sees himself as a steward, helping ensure that Boyle Heights remains tight-knit and accessible to long-time residents who've had to contend with rising gentrification and displacement in recent years. A self-taught neighborhood historian, everything Christerna does is in tribute to his community and its legacy within the city of Los Angeles. He chose to name his restaurant Brooklyn Ave Pizza Co. as a way of honoring the block's beginnings—before it was Cesar Chavez Avenue, the street was Brooklyn Avenue. Even the decision to put pizza on the menu was inspired by the history of the building, which was originally founded as the Jewish Bakers Union almost a century ago.
Above the pizzeria sits the historic Paramount Theater, which Christerna began leasing in August 2019, hoping to resurrect it as a vibrant community gathering space. The landmark was once one of the few integrated performance venues in Los Angeles, hosting the likes of Sonny and Cher (then called Caesar and Cleo), Mariachi Los Reyes, and Stevie Wonder. Christerna was able to host concerts for a few months—including a memorable performance from Hamilton's Leslie Odom, Jr.—before the pandemic put a halt on their programming. He's hopeful that they'll resume after the state fully reopens in mid-June.
Also within Christerna's corner space is the Boyle Heights Arts Conservatory, a nonprofit that hosts a community radio show on 101.5 FM KQBH L.A. and creates pathways for local youth to have careers in film, television, broadcasting, and digital content creation. Christerna plans to support the nonprofit's goals by creating internships and other opportunities with the Paramount Theater.
And though it was risky of him to open a restaurant at the height of a global pandemic, when many spots were shutting their doors, the decision has paid off, in no small part due to enthusiastic community support. The local fire department are big fans of chef Mario's menu of pies, papas, and wings, as are many of the doctors at nearby Keck Medicine and White Memorial Hospital, along with the local YMCA and Boys and Girls Club chapters, not to mention residents who are thrilled to have a new family-friendly restaurant that's open after dark.
"I imagined it as a hub for music, art, food, and culture, where everything feeds each other. My vision has always been about community," Christerna asserts.
Even the menu at Brooklyn Ave Pizza Co. reflects this purpose, with popular dishes that take inspiration from Christerna's Chicano background, including a pizza that replaces traditional tomato sauce with a flavor-packed mole, and mozzarella for Oaxacan cheese. For something closer to your typical pie, try the O.G., which comes with pepperoni, fresh oregano, and stringy Oaxacan cheese. Flamin' Hot Cheeto wings pay homage to Christerna's favorite bodega snack, with dehydrated Cheeto dust adding an approachable spiciness to wings that are topped with Parmesan, cilantro, and house-made nacho cheese.
Never missing an opportunity to incorporate history into his culinary creations, the Master Chef Latino judge is debuting a new pizza and cocktail ahead of the Cinco de Mayo holiday. But unlike your usual margarita and taco specials, Christerna takes inspiration from the flavors and cultures of Puebla, Mexico, the location of the historic May 5 battle where the Mexican Army claimed an unlikely victory over the French. The Pizza Poblana features chicken, red and green pipián sauce, crema, red onion, pepitas, and cilantro, while the La Bandera cocktail comes with St. George Green Chili Vodka, Ancho Reyes Verde, orange, and Tajin—with both proudly boasting the colors of the Mexican flag.
Towards the end of the year, Christerna hopes to open his fine-dining destination Poblador next door to Brooklyn Ave Pizza Co. His new restaurant will highlight the cultures and cuisines of Los Angeles' original pobladores, or settlers, who arrived in 1781, and encompassed diverse Spanish, Indigenous, and African backgrounds.
As Christerna says, "I believe in acknowledging where you are, and Los Angeles is Tongva land. This is Indigenous land and we have to respect that. So many people in LA are transplants, so I just want to help them understand the cultures that founded and built our city."
Also on the docket is a breakfast spot that will squeeze into the same corner at Cesar Chavez and Motts. The cafe will provide healthy and affordable food options for a neighborhood that was classified by the USDA as a food desert, or an urban area where most residents live at least one mile away from a supermarket.
"I want to provide a healthy alternative where we can have good food, good platica or conversation, and good coffee without having to leave our neighborhood," the chef says.
But Christerna also wants people to know—whether Boyle Heights natives or those just passing through—that there are already plenty of locally-owned neighborhood spots that deserve support and attention. Here are just a few of Christerna's favorite businesses in Boyle Heights, most of them within walking distance of his restaurant:
Prior to the pandemic, the owner of vinyl store, Sonido del Valle, which translates to "sound of the valley" would sometimes DJ at The Paramount. According to Christerna, "He has a great selection with really rare albums and I've picked up some really great finds there. He stocks all types of Spanish music, Ska, reggae, punk, jazz—he's got everything."
Sonido del Valle is open Monday through Wednesday from 12–8 pm and Thursday and Friday from 9 am–5 pm.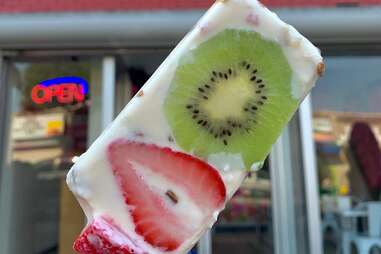 If you've got a craving for neighborhood flavors in ice cream form, look no further than La Michoacana, a Mexican paleteria chain.
Christerna says, "They have all the flavors we grew up eating as kids, like rompope (similar to eggnog), gansito (a Mexican snack cake that's described as a "strawberry-flavored jelly and crème-filled cake with chocolate-flavored coating"), and arroz con leche (rice milk)."
The Boyle Heights La Michoacana is open Monday through Thursday from 11 am–9 pm and Friday through Sunday from 11 am–9:30 pm. Order online for pickup.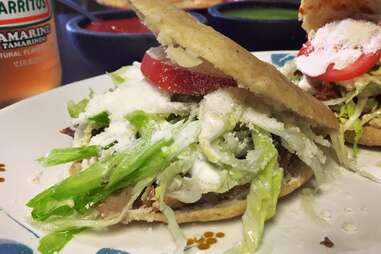 "What people don't understand about Mexican food is that each region has its own way of preparing certain dishes," Christerna begins, saying that, "At La Barbacha, they make barbacoa in the style of Hidalgo. They also make the best gorditas in all of LA hands down—and I've eaten gorditas everywhere. They open them up, fry them then put them on the plancha (grill) to get nice and crispy. At one point I was eating there like five days out of the week!"
La Barbacha is open for dine-in and takeout Monday through Friday from 9:30 am–6 pm and Saturdays and Sundays from 8:30 am–6:30 pm.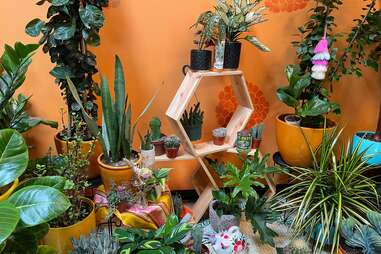 "Latinx with Plants, along with Plantitas Verdes, collaborated and curated our plants at Brooklyn Ave Pizza Co. I love seeing them come in to take care of and water the plants. They keep a great selection of plants in their storefront and they're so affordable too."
Latinx with Plants has two locations on Cesar Chavez Ave.
2900 E. Cesar Chavez Ave. is open Monday and Tuesday from 12–6 pm and Wednesday through Sunday from 11am-7pm.
2117 E. Cesar Chavez Ave. is open Wednesday through Sunday from 11 am–7 pm.
"Her name is Sabina and you'll find her on the corner of Whittier and Lorena in front of the pharmacy, where she's been making churros for almost 30 years," Christerna recalls. "Now she's upgraded from a cart to a truck and she's there every day, rain or shine. She's nailed the sugar to cinnamon ratio, and her churros are always fresh and delicious."
The Churro Lady is open daily from 4–9 pm.