A Glamorous New Brasserie From a Celebrated Chef Opens in Hollywood
The modern French project from former Bon Temps head Lincoln Carson features high technique and even higher style.
Published on 6/2/2022 at 3:03 PM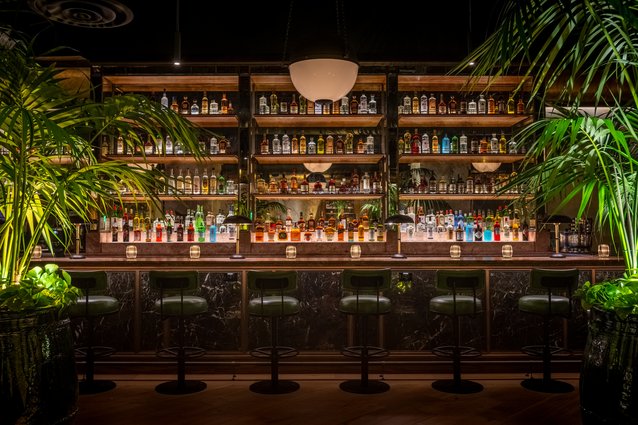 Mes Amis | Photo by Wonho Frank Lee
In trying times we take our opulence where we can get it, smothering the angst with high ceilings and gold filigree, caviar toppings, and lamb wrapped in pastry crust. Maybe that's why Hollywood's Vinyl District is absolutely booming with big new banquet halls, rooftop restaurants more dense with jungle plants than an actual jungle, and sumptuous callbacks to the Eternal City.
Into that luxurious landscape lands Mes Amis, a modern French restaurant inspired by bustling brasserie culture seen through the Californian perspective of noted chef Lincoln Carson. Mes Amis, which opened Friday, May 27, marks an eagerly anticipated return to the LA restaurant scene for Carson, whose much-loved Bon Temps shuttered early in the pandemic, in April 2020, before the restaurant even hit the one year mark.
Selection from Dinner Menu | Photo by Wonho Frank Lee
The opening menu at Mes Amis reads classic French Continental, with Duck Pâté en Croûte, Steak au Poivre with Potato Millefeuille, and a Whole Roasted Chicken for two with seasonal vegetable fricassée. But when you look a little deeper it reveals a range of lovely modern West Coast flavors running through it; everything-spiced lavash comes with the steak tartare, the scallop crudo gets a hit of calamansi and tamari, and there is huckleberry jus with the smoked duck breast.
That is to say nothing of the desserts, for which Carson is most famous—he managed the pastry, bread, and dessert programs for The Mina Group for eight years, and the desserts at Bon Temps were legendary for their beauty, precision, and flavor. At Mes Amis he's bringing back his characteristically playful interpretations of classic French desserts like the intricate pile of profiteroles called Gateaux St. Honoré, a favorite from the Bon Temps days which appears to return wholly intact. He's also preparing a pavlova that features the amazing strawberries from Harry's Berries, and of course his take on a chocolate soufflé, which looks ready to jump right into the upper echelon of desserts in this town.
St. Honoré | Photo by Wonho Frank Lee
St. Honoré | Photo by Wonho Frank Lee
The cocktails are built in a similar mold, classics with a twist, as seen in The Braddock, a familiar assemblage of rye whiskey, bitters, and the sharp aperitif Dubonnet Rouge but kicked up with herbs de Provence. There is a long and thoughtful wine list focused on France and California, but the Mes Amis team are really giving your atrophied party muscles a workout with their champagne selection. They've put together a range of classic and modern bottles, but these don't sit in a fridge in the back—they roll around the room on a roving champagne cart, pulling up to pop and pour tableside, the ultimate way to get the party started, or a romantic pairing with that Strawberry Pavlova for dessert.
Lucky Lady | Photo by Wonho Frank Lee
The room itself is built to look chic and casual in an effortless way, a shared virtue of Parisian and Angeleno style, the brick-and-mortar incarnation of "Oh, this old thing?" Continental and West Coast sensibilities run headlong into each other throughout the space, with cafe chairs pushed up to marble tables topped with little gold lamps, black and white photography over faded plaster on the walls, and an understated color palette of olive and tan. There are also the requisite ferns, gold accent pieces, and soaring ceilings with exposed ductwork, because what would a modern LA restaurant be if you couldn't see its pipes and tubes.
French food has not been a strong suit in LA's dining scene over the last few decades, but the city is experiencing a little surge in the cuisine, with recent entrants like Pasjoli, Lumière, and Bicyclette joining established stars like Republique and Petit Trois. Mes Amis makes another strong statement in favor of a return to Continental cooking, and another luxurious place to wrap our angst in laminated pastry crust and take it down with champagne and cream puffs.
Mes Amis is open Tuesday through Saturday from 5:30 to 10 pm, with brunch to begin in the coming weeks. Reservations are available on Resy.
Ben Mesirow is an Echo Park native who writes TV, fiction, food, and sports. At one time or another, his writing has appeared in The LA Times, Litro, McSweeney's Internet Tendency, Los Angeles Magazine, and scratched into dozens of desks at Walter Reed Middle School.