Avant-Garde Chef Jordan Kahn Unveils an Otherworldly New Restaurant on Melrose
Meteora is the follow-up to Vespertine, a wild journey through primal cooking and unorthodox flavors.
Published on 8/01/2022 at 12:03 PM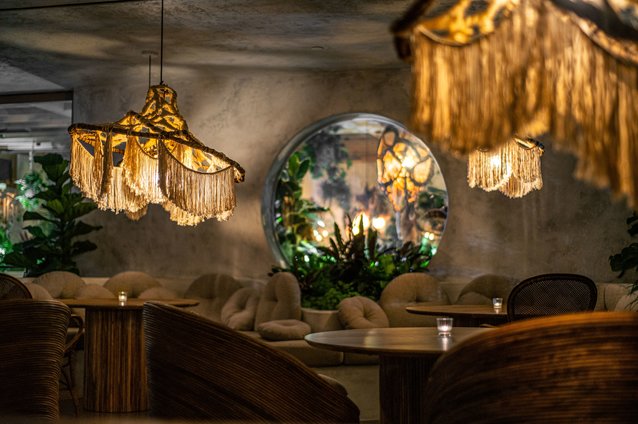 Interior view of Meteora | Photo by Irina Logra
Chef Jordan Kahn's new Hollywood restaurant Meteora is named for a collection of monasteries built into natural rock pillars in central Greece, jagged pinnacles of mystic space jutting out of ancient forest. A follow up to his two-Michelin-starred Vespertine, Meteora is designed to be a sanctuary of its own, a lush oasis tucked behind a twisted nest of branches, a fire-lit cave of poured concrete that stands apart from the asphalt city, a room perfumed by incense with a thumping instrumental soundtrack, a return to restorative communal eating driven by elemental techniques quilted together from ancient cultures around the globe.
Wit self-descriptive phrases like "regenerative, multi-sensory experience," "the healing life-force energy of organic ingredients," and "designed to reconnect us to our earlier selves;" it would be easy to read these ambitious statements of purpose and tilt towards cynicism or irony. But Meteora manages to overpower your giggling through sheer force of sincerity—and Kahn's undeniable talent for revelatory cooking.
Morels | Photo by Irina Logra
As Meteora's director of communications Zara Ziyaee puts it: Vespertine's cuisine imagines what food will look like 2,000 years in the future, and Meteora's menu celebrates food traditions from 5,000 years past. What that means in practical terms is a heavy emphasis on dishes cooked with smoke and fire, meant to be dipped and stirred and eaten with hands, and shared amongst a group of friends. Ingredients trend biodynamic, organic, heirloom, and wild; many of them, like ice plant and redwood shoots, are foraged by Kahn himself, with help from Ziyaee and other members of the team. A meal is designed to be hearty and nourishing, especially relative to other restaurants in this tier of ambition—this is not tweezer food.
Menu items are treated like guests at a luxury spa; stonefruit gets "awakened over the fire," tomato is "warmed in a bath of olive oil and lavender," and a beef rib is "rubbed with pine resin and gently smoked overnight." All of these flourishes serve their purpose—that Smoked Beef Rib takes on the bright tang of pine and a hint of smoke, a primal contrast to the richness of the meat. It is served in a bed of flowers, accompanied by a plate with vegetables and melon, a paste of green pepper and coriander, and a rich tamarind sauce for dipping.
Interior view | Photo by Irina Logra
Interior view | Photo by Irina Logra
A handful of Morels get grilled over smokeless coals such that they pick up a kiss of char without being overpowered by wood. Like the beef, they come with a plateful of other bites, meant to be piled into a flatbread at the table like an alien taco—a charred and sliced plantain, greens infused with duck jus and folded over into a meaty centerpiece, pickled roots, and spruce tips as a palate cleanser.
The emphasis on pine ties the disparate elements together, folding an iconic California flavor into the Latin American influences, the Southeast Asian spices, and otherworldly techniques. There are those spruce tips with the morels, the pine resin rub on the beef rib, a splash of pine-infused tepache as an aperitif, an ice made with foraged redwood shoots for dessert, and more touches of evergreen throughout. It is a welcome grounding place amongst the menu's unprecedented influences and unfamiliar combinations.
The drinks are a fitting companion to the menu, complex and hyper-seasonal, using uncommon ingredients like apricot seeds, birch juice, and tomato water. The liquor is last on the list in every cocktail, and identified by its ingredients instead of its common name—that is, "roasted agave spirit" is presumably mezcal, "aged corn spirit" would likely be bourbon, but it's not entirely clear, and is beside the point anyway. These drinks are about fruit and spice, running bright and tart without the use of any sugars or syrups, and they work just as well without any alcohol at all.
Scallop | Photo by Irina Logra
The room is warm thanks to teeming jungle plants and glowing lamps wrapped with natural fibers. On every rough-hewn table and dotting the rest of the space there are candle-filled vaso veladoras casting radial shadows, Mexican votives which are in other restaurants used for drinking mezcal. The benches are poured concrete so that they look almost like natural rock formations, as if you've stumbled upon a dreamy cave dwelling, and in the center of the restaurant and in the dramatic private dining room there are holes carved into the ceiling, so that you can look up and see the stars—or whatever luminaries make it past the light pollution on Melrose.
Vespertine is like having dinner on an abstract spaceship, and a meal at Meteora is like eating in the first colony on the jungle planet where the spaceship landed. The experiences are so wildly different and yet both unmistakably tied to Kahn's oeuvre.
Kahn is famously auteur-ish in his approach, hands-on with every aspect of the restaurant experience and aesthetic. That includes composing songs for the soundtrack, building the bar himself, collaborating with ceramicists for bowls and designers for the flowing cream-colored robes that the waitstaff wears. It pays off—everything is of a piece, focused and precise in an earnest and artistic fashion.
Of course the restaurant copy is florid, their goals lofty, the cuisine beguiling and occasionally baffling; the overwhelming nature of the experience is part of the point. Meteora is an extension of Kahn's years-long argument that dinner out should be discussed in the same terms as a night at the theater, or an exhibition of modern art. He and his team go to incredible lengths to create an all-encompassing experience, as memorable and transportive as a walk through a gallery, as transitory as dance, art meant to be observed, considered, and then digested. Some will find the food miraculous, simultaneously foreign and familiar in an eye-opening way, and perhaps some will find it a little too far out. But it is undeniably the kind of meal that everyone will want to talk about for a long time thereafter.
Meteora is now open Wednesday through Sunday, 5:30 to 11 pm. Bookings are available up to two weeks in advance through OpenTable.
Ben Mesirow is an Echo Park native who writes TV, fiction, food, and sports. At one time or another, his writing has appeared in The LA Times, Litro, McSweeney's Internet Tendency, Los Angeles Magazine, and scratched into dozens of desks at Walter Reed Middle School.