Chorizo-stuffed breakfast sandwiches at ink.sack and a sweet pool party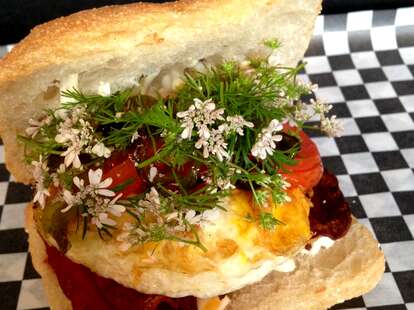 Event of the WeekProof that Summer is here? Pool parties, yo! Finally, get into your boardshorts/ speedo/ noodie toodies and head to the Burton store on Melrose this Saturday for a pool rager with free beer, snacks, and rock from the Coachella vet White Arrows. You gotta RSVP for it, so do that right here
Saturday, May 11thMake like your cool grandparents and take up lawn bowling at a Hidden LA-sponsored for-beginners lawn bowling party (geared for single people, mostly, since you'll be rotating teams) with an afterparty at Skylight Gardens. No alcohol, but they "won't be searching your water bottles", so buy your tix here and start figuring out what clear beverage you want to put in that water bottle.
Sunday, May 12thA new club night at Skinny's called Rubbish is exactly that unless you're a fan of Jolly Ol' Britain, in which case, you'll celebrate the fact that they've got DJs spinning English soul and Mod and drink specials on Newcastle. This flyer will make you want to watch Austin Powers again, stat
The Bruery's Placentia Tasting Room's auctioning off their rarest beers to benefit Taste of the Nation, with brews including rye barrel-aged Papier and Partridge In A Pear Tree, whose tastiness is a true gift. Stay thirsty, friends, at their website
OngoingMichael Voltaggio's absolutely killer sandwich spot ink.sack's just dropped breakfast deliciousness, including a bread monster stuffed w/ chorizo, egg, and cheese. The menu's also got a gravlox dude, right here
Circa in Manhattan Beach's got a new nutso happy hour they're calling the Five O'Clock Whistle -- the first 15 peeps through the door each day get a card that enables them to buy five items for just $20. Items like what? Click here to find out.