Animal has a secret burger. Animal. Has. A secret. Burger. AnimalHasASecretBurger. ANIMALHASASECRETBURGER. Okay, now that we've gotten that out of our system, um, Animal has a secret burger -- the fact that Animal's got a burger at all is a pretty big deal since, well, it's never had a burger before, but the fact that it's also SECRET? Much bigger deal. Oh right, and the fact that it's stuffed with short rib, house-ground chuck, and GODDAMNED BONE MARROW and sandwiched between two expertly toasted slices of marble rye? Much, much, MUCH bigger...est deal.
Oh, and the best part? It's called the Boner Burger. Here's everything you need to know:
Recommended Video
Ghost Kitchen: Restaurant Gets Help from Community During Coronavirus Pandemic
Let's take a closer look, shall we? In addition to the meat and Jack cheese, the Boner is exploding with poblano chili, caramelized onions, and "420 Sauce"... hiiiiii!
Let's put it this way: this is an extremely flavorful, extremely messy burger: this first bite was a shirt-destroyer, and there was nothing to do to avoid it, and really if I had to do over, I'd destroy the shirt all the same. Why? Each chunk of meat perfectly meshes with the cheese, peppers, onions, and zangy sauce for a chunky, savory, drippy experience that deserves way more than just three adjectives.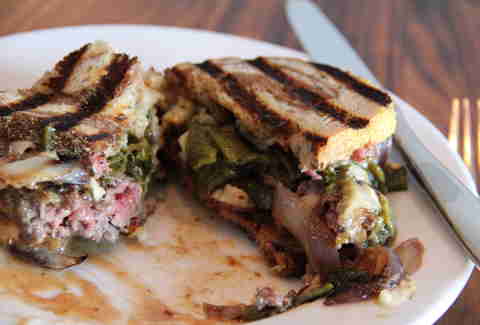 One bonus you'll notice above -- all that amazing jus on the plate, ready to be dipped in, especially if there's any extra rye at the end. There won't be, but still, if there was...
Oh, and heads up: Animal will also soon be opening for brunch on weekends. The Boner Burger will be on that menu when it does, but if you want to get it before anyone else, get over there right... now.
Sign up here for our daily LA email and be the first to get all the food/drink/fun Los Angeles has to offer.
Jeff Miller is the Senior City Editor of Thrillist LA, and Animal is his #1 favorite restaurant in LA. Drool with him on Instagram at @JeffMillerLA and on Twitter at @ThrillistLA.