Los Angeles If you can tell the day of the week by the burrito you're eating, it's probably time you expanded your tortilla-wrapped options. So here are five brand-new LA meat missiles to do it with.
Recommended Video
Winter Starbucks Beverages Around The World
Chorizo Breakfast Burrito at Cofax: Uh, other breakfast burritos, you've met your match. The dudes from lauded BBQ spot Bludsos and Golden State (home of one of LA's best burgers) have made it a three-fer with their new coffee joint, which's serving up this masterful tortilla demon that's stuffed perfectly with eggs, avo, chorizo, and the main event: potatoes smoked for hours in Bludsos' BBQ smoker. It's amazing. Continue Reading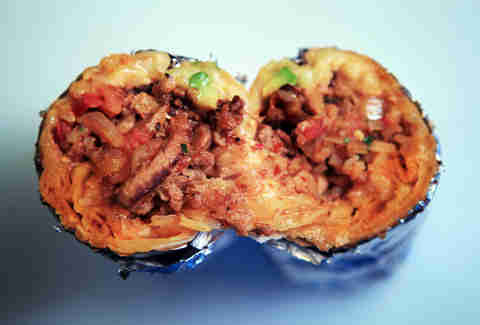 Al Pastor Burrito at The Flyin' Jalapeño: Its build-your-own process may give you Chipotle flashbacks, but this new Venice spot cranks up the freshness even more on its beach-friendly burritos and bowls. Order up the standout al pastor burrito with cilantro-lime rice, fiery habanero salsa, and grilled fruit (because, why not?), and finish yourself/your meal off with fluffy, donut-shaped chocolate churros.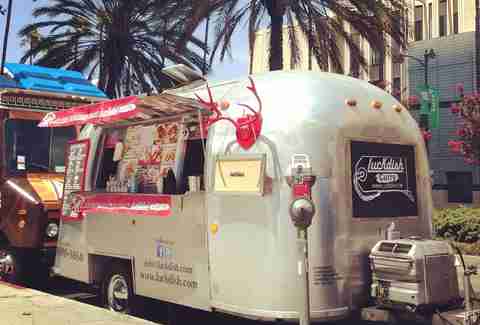 Japanese Chicken Curry Burrito at LuckDish: While you'll have to track these roving 'rritos down via Twitter, you're not likely to miss the sleek, 1968 Airstream that's bringing the unique flavor of homemade Japanese curry to the burrito fold. Its homemade chicken curritos can be customized with wasabi mayo, habaneros, guac, tortilla bits, and Umami-bomby furikake.
Tequila-Infused Pork Shoulder Burrito at Say Fish Taco: Beginning with a humble, four-stool taco stand in Sayulita, Mexico, Chef Mark Alberto (thankfully) brought his deep-fried garlic/beer-battered fish tacos and burritos North of the border in a very colorful food truck. While you certainly won't go wrong by ordering the garlicky goodness, you will go oh-so-right with the delicious, slow-cooked, tequila-infused pork shoulder burrito loaded with apple slaw.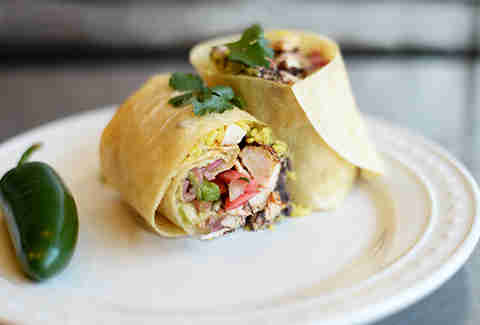 Brain Burrito at MexiKosher: Because your Shabbat dinner has been sadly lacking in the salsa department, this Pico favorite has your certified-Kosher, authentic-Mexican needs covered. Whether or not you're actually observing the Sabbath, Chef Katsuji Tanabe will help up your burrito game with this new flavor-packed creation: a flour tortilla that hugs sautéed veal calf brains, pepita salsa, rice, and pickled veggies.
Previous Venue
Next Venue
Venue Description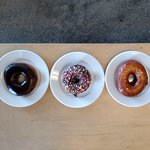 1. Cofax Coffee Shop
440 N Fairfax Ave, Los Angeles, CA 90036
Although Cofax began as a coffee shop, it quickly became a big name in the donut game when it hired a next-level pastry chef, who's churning out creative flavors like honey sea salt, lemon pistachio, and spiced crumb.
Previous Venue
Next Venue
Venue Description
2. The Flyin' Jalapeño
83 Windward Ave, Venice, CA 90291
The Flyin' Jalapeño, a block away from the beach, is a choose-your-own-adventure Mexican joint à la C(fill up a burrito, taco, bowl, nachos, or salad with your choice of toppings) that keeps their prices low, introduces some amped-up flavors, and ditches the long line of the popular chains.
Previous Venue
Next Venue
Venue Description
3. MexiKosher
8832 W Pico, Los Angeles, CA 90048
Just now open on Pico (duh), MexiKosher's exactly what it sounds like: a fantastic pun, and also a traditional Mexican restaurant employing all-Kosher preparations overseen by a chef who's done time at Maestro's and Bastide, and is now feeding it to you in a small, casual room with one side constructed of (and apparently this is legal) stones from Jerusalem's holy Western Wall, aka the row of Tercels blocking you from getting to Vermont.