5 new LA burritos you have to eat right now
Los Angeles If you can tell the day of the week by the burrito you're eating, it's probably time you expanded your tortilla-wrapped options. So here are five brand-new LA meat missiles to do it with.
Jeff Miller
Chorizo Breakfast Burrito at Cofax: Uh, other breakfast burritos, you've met your match. The dudes from lauded BBQ spot Bludsos and Golden State (home of one of LA's best burgers) have made it a three-fer with their new coffee joint, which's serving up this masterful tortilla demon that's stuffed perfectly with eggs, avo, chorizo, and the main event: potatoes smoked for hours in Bludsos' BBQ smoker. It's amazing. Continue Reading
Al Pastor Burrito at The Flyin' Jalapeño: Its build-your-own process may give you Chipotle flashbacks, but this new Venice spot cranks up the freshness even more on its beach-friendly burritos and bowls. Order up the standout al pastor burrito with cilantro-lime rice, fiery habanero salsa, and grilled fruit (because, why not?), and finish yourself/your meal off with fluffy, donut-shaped chocolate churros.


Japanese Chicken Curry Burrito at LuckDish: While you'll have to track these roving 'rritos down via Twitter, you're not likely to miss the sleek, 1968 Airstream that's bringing the unique flavor of homemade Japanese curry to the burrito fold. Its homemade chicken curritos can be customized with wasabi mayo, habaneros, guac, tortilla bits, and Umami-bomby furikake.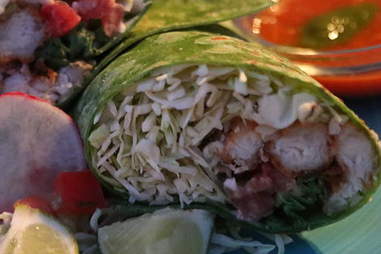 Say Fish Taco
Tequila-Infused Pork Shoulder Burrito at Say Fish Taco: Beginning with a humble, four-stool taco stand in Sayulita, Mexico, Chef Mark Alberto (thankfully) brought his deep-fried garlic/beer-battered fish tacos and burritos North of the border in a very colorful food truck. While you certainly won't go wrong by ordering the garlicky goodness, you will go oh-so-right with the delicious, slow-cooked, tequila-infused pork shoulder burrito loaded with apple slaw.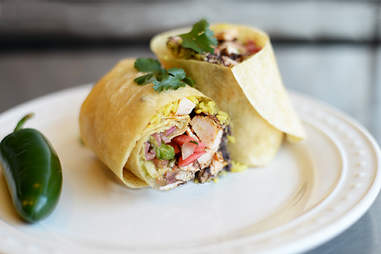 Natalie M. Woyshner
Brain Burrito at MexiKosher: Because your Shabbat dinner has been sadly lacking in the salsa department, this Pico favorite has your certified-Kosher, authentic-Mexican needs covered. Whether or not you're actually observing the Sabbath, Chef Katsuji Tanabe will help up your burrito game with this new flavor-packed creation: a flour tortilla that hugs sautéed veal calf brains, pepita salsa, rice, and pickled veggies.