Churro ice cream sandwiches, and 9 other amazing churro dishes in LA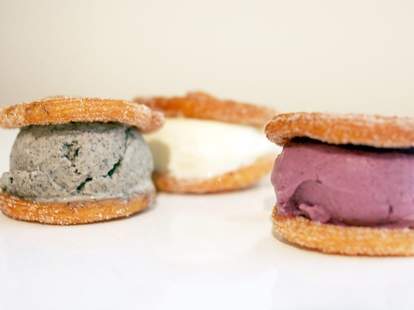 Pop quiz: are churros insanely delicious? The short answer: yes. The long answer: yesssssssss. Weirdly though, despite being fried cinnamon dough sticks, they aren't as ubiquitous as other, far-inferior Mexican desserts (we're looking at you, flan).
So that's why we decided to round up 10 amazing churro creations around LA, starting with America's first-ever churro ice cream sandwich.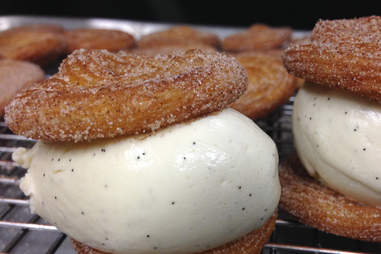 Churro Bourough
Churro Ice Cream Sandwich
Churro Borough (info)
Various Locations
This pop-up operation's been getting a ton of attention for its churro ice cream sandwiches, which you can get at this weekend's LA Street Food Festival, or this Summer at semi-regular pop-ups (definitely consult its Facebook). Why should you get one? Because, well, it's a sandwich made of flattened churro discs bookending ice cream flavors like Mexican chocolate and black sesame.
Tiffany Tse
Churro Waffle
Seasalt Fish Grill (address and info)
Downtown
Ignore the name of the place (or don't -- the fish tacos here are incredible, actually) and focus all of your stomach attention on these mouth-watering mini-waffle churros, which aren't always on the written menu, but are always on the "politely ask the waitress if they can make you some" menu.
Semi Sweet Bakery
Churro Crullants
Semi Sweet Bakery (address and info)
Downtown
Because you were wondering what would happen if a Cronut and a churro had sex and waited nine months, this is basically it: SSB's melt-in-your-mouth churro crullants are a baked version of the Cronut glazed in vanilla icing, and tossed in a thick cinnamon-sugar mix.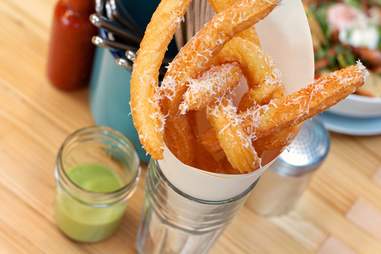 Petty Cash
Cheesy Churros
Petty Cash Taqueria (address and info)
Fairfax
If, for some twisted reason, you don't like sugary treats, check out LA's best savory churro at this Mid-City Mexican spot. They're each almost a foot long, fried to a crisp, covered in cheese, and served with a corn molé dip.
Plan Check
Cruller Donut
Plan Check Kitchen + Bar (address and info)
Sawtelle
Plan Check's cinnamon-sugar-dusted treats are basically dense, chewy churros masquerading as crullers served piping-hot on a pile of whipped cream with banana slices. Like all churros should be.
Starry Kitchen
Pandan Churro
Starry Kitchen (address and info)
Downtown
The Hulk of the churro world, these guys're made with pandan extract -- an Asian plant with a sweet, slightly nutty banana flavor that also turns them green -- and're then slathered in Indonesian coconut kaya cream.
Churros Calientes
Churro Grande
Churros Calientes (address and info)
Sawtelle
This churro-specific spot 1) exists, and 2) makes a super-sized version of the fried doughy goodness, which's stuffed with cream cheese then drizzled with guava syrup and dulce de leche sauce. Oh, and they've also got super-strong Cuban coffee and hot cocoa.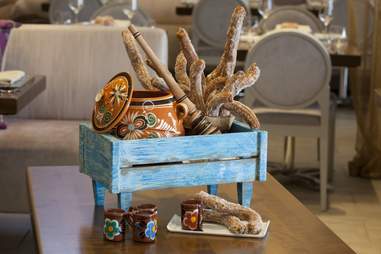 Barton G
Churro Crate
Barton G. (address and info)
West Hollywood
This new, over-the-top, Miami-import delivers a virtual crate of churros that're rolled in sugar and spice (Szechuan pepper, star anise, cloves & cinnamon) to your table, teamed with spicy hot chocolate. These fried fritters pack some serious heat.
Tiffany Tse
Churr-Nut
The Flyin' Jalapeño (address and info)
Venice
Surfers and skateboarders come to this newish spot by the boardwalk for breakfast burritos, and so far, the churros have flown largely under-the-radar. Made with pâte à choux (a fancy name for "light-as-air pastry dough"), they've got a fluffy, French toast consistency and soft, custardy insides.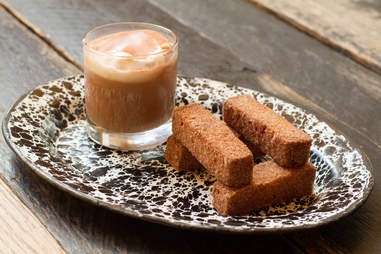 A-Frame
Chu-Don't-Know-Mang
A-Frame (address and info)
Culver City
The dessert at this Roy Choi venue is appropriately dubbed Chu-Don't-Know-Mang -- because you have absolutely no idea what you're missing until you bite into these crunchy, cinnamon-crusted pound cake churros plunged in malted chocolate milk and vanilla ice cream.
This list -- and all the rest -- look even sexier in our iPhone app. Get it now! 
Tiffany Tse is a freelance writer for Thrillist and has yet to wake up from her churro-induced coma. Find her on Twitter at @twinksy or Instagram, also at @twinksy.