Taste-testing the world's first doughnut hot dog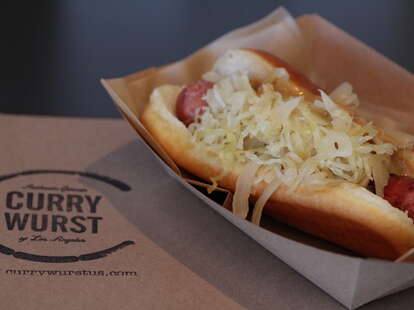 Because, yawnnnn, Cronuts, the German-themed Fairfax meatery Currywurst's figured out another use for fried dough and launched the doughnut hot dog, which is pretty self-explanatory once you get over the fact that it's A FRICKIN' DOUGHNUT HOT DOG. Want to see what we're talking about? Peruse below:
What? Did you think these were just normal buns? No, sir -- these non-glazed, warmed-on-the-grill gobs of fried flour are sourced from an old-school family shop and specially made for Currywurst.
And these bad boys are some classic Vienna dogs -- the first time dogs've ever been offered at the formerly sausage-only stores.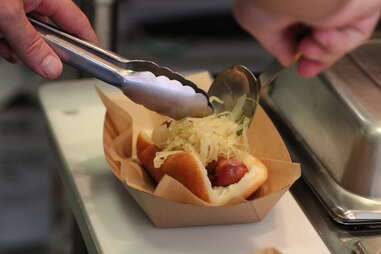 They'll top 'em with either your choice of sauerkraut or grilled onions...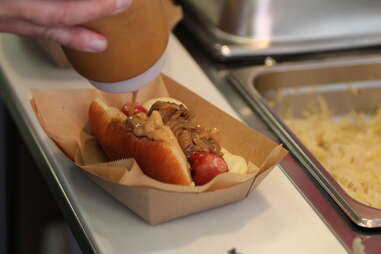 ... and then they'll get slathered with a mostly sweet, kinda zippy mustard.
Because of the potential mess, you've got to just SLAM a bite, though the lack of glaze makes the Fingaz not-so-Sticky.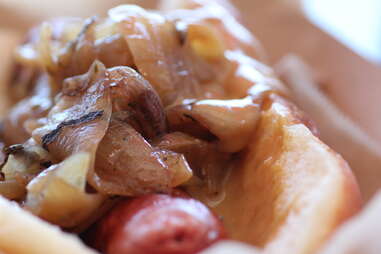 They've got both a great snap from the dog and a perfect balance of sweetness (from the dough) and saltiness (from the meat)...
... but the sauerkraut's definitely the way to go. The doughnut adds a kind of softer mouth-feel than a regular bun, and the sauerkraut's acidity cuts it perfectly. The mustard adds a slight tang but, really, more sweetness -- making up for the lack of glaze on the bun, which'll be reflected in your eyes as you take bite number two... and three... and...