Duck fat popcorn and $3 beers at LA's best late-night happy hour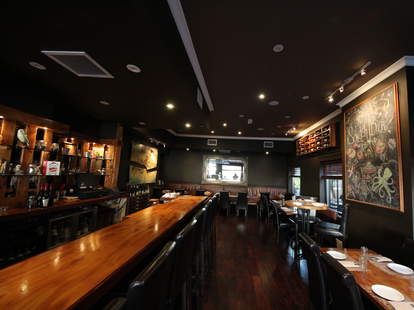 In all likelihood, you've never even noticed Scratch|Bar as you've driven by the acclaimed gastro-bistro on La Cienega, and not just because you're all like, "THAT DAMN LIGHT COMING UP AT SAN VINCENTE IS THE WORST THING IN THE ENTIRE CITY". It's tiny and nondescript on the outside, but on the inside they've also got perhaps the most delicious late-night (11p-1a) happy hour-style nosh-and-drink menus in the city.If you insist on eating and drinking for FREE, that's a pretty crazy demand, but you're in luck anyway. Email here for a chance to be one of the lucky 30 Thrillist readers who gets two hours of cost-free dining and drinking tonight for themselves and a guest. Now keep reading to find out what you'll be enjoying.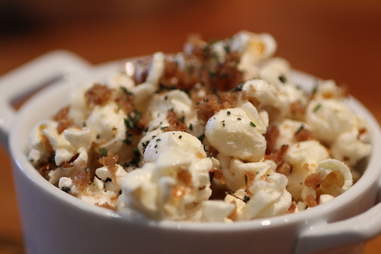 Jeff Miller
This is popcorn. But it's not just any popcorn. It's the kind of popcorn named after what people yell in a food fight where the only artillery is lard -- duck fat!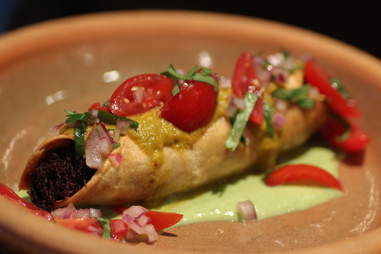 Jeff Miller
Want something a little more substantial and a little less-ducky? How about these only-after 11p, $5 pork belly taquitos served with your choice of fantastically-named hot sauces: the mild "Pu**y Stomper", the hotter "Salsa MACHO", and the hottest "D*ck Kicker"... also an occasional nickname for Mike Vanderjagt.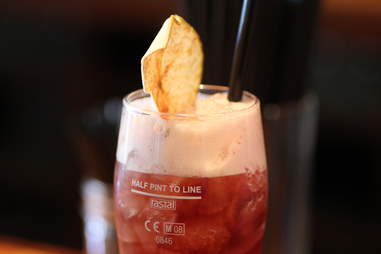 Jeff Miller
You better believe they're discounting drinks, too: $3 beers, $5 sake, and $8 adult beverages from a former Pour Vous dude, who's somehow figured out a loophole that lets them serve both vodka and tequila even though they've just got a wine-and-beer license.
Jeff Miller
If for some reason you're all like, "I'm 26! That's old! I can't make it to 11p anymore", first of all, weak, but second of all, you can enjoy yourself earlier in the evening with goodness like these "chicken" and "waffles" that're actually fried sweetbreads...
Jeff Miller
... sake shooters with mussels, uni, and avocado...
Jeff Miller
... and this brilliant bone marrow that's served on bread instead of the bone, as to let it gloriously soak up all the extra fat... so it can be passed along to you.