Every mouth-watering, award-winning sandwich at Greenspan's Grilled Cheese
For years, Iron Chef-testant Eric Greenspan's been promising a resto devoted to the eighth, gooey Wonder of the World (grilled cheese!). And for years, you've been hotly anticipating it, 'cause he's a multi-award winner at the annual Grilled Cheese Invitational. Well, that day has finally, gloriously arrived with the opening of Greenspan's Grilled Cheese on Melrose.
Let's just skip talking about the interior and get straight to all the grilled cheeses, shall we?
Danny Jensen
The Champ: This is it, dudes: the best grilled cheese in the KNOWN UNIVERSE (as voted by judges at the Invitational). Two slices of raisin-walnut bread stuffed w/ Taleggio cheese, beef short ribs, apricot-caper puree, and dried tomatoes.
Danny Jensen
Buffalo Blue: Um, yes. Fried chicken tenders, blue cheese, and a spicy carrot-celery slaw between two pieces of rye bread.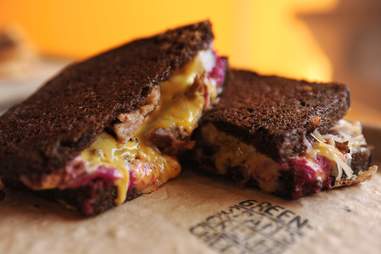 Danny Jensen
Cuban Rueben: Not just what everyone calls Studdard's cigar-smoking cousin, the Cuban Rueben's also Greenspan's pumpernickel g-cheese with Gruyere, mustard, pickles, house-made sauerkraut, and pulled pork.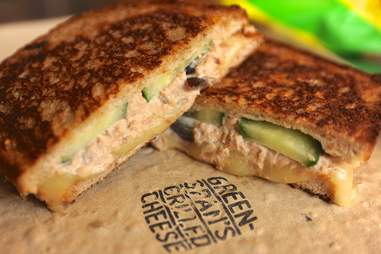 Danny Jensen
The Tuna Melt: Not exactly the way you'd make it at home, thanks to cucumbers, grapes, and Herman's favorite cheese (muenster).
Danny Jensen
The Classic: White bread and American cheese, here with a side of tomato soup. Classic.
Danny Jensen
The Med: It's veggie (don't stop reading), but it comes with tomato, artichoke, roast peppers, avocado, and goat cheese on a challah bun (see!!!!).
Johnny Apple Cheese: The JAC is also called the Johnny Pastrami, thanks to (suuuuuuuurprise!) pastrami, as well as apple-mustard chutney and aged white cheddar on sourdough.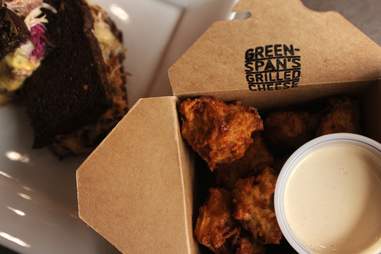 Latkes: Not grilled cheese, but still totally awesome, these potato pancakes are served with apple creme fraiche.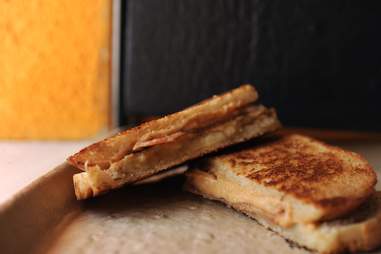 The Elvis: You thought you were done? Nope. They've got dessert grilled cheese, too! F'reals: white bread w/ peanut butter, banana, goat cheese, and "optional" bacon. Right. Optional.