Chipotle Bloody Marys and carnitas chilaquiles: Mercado's brunch is amazing
Elizabeth Daniels/Mercado
Just across from the Farmer's Market on 3rd and Fairfax, this Mercado is the second outpost of Santa Monica's lauded taqueria, with one important differentiator: a boozy weekend brunch that is kind of the best ever. To wit:
Jeff Miller
You'll start, clearly, with this chipotle Bloody Mary, garnished with house-pickled carrots and jicama...
Jeff Miller
... but hopefully someone at the table'll also order this spicy-on-the-back-end, Mezcal-based, pomegranate/passion fruit guy, so you can have eleven sips and then order one on the side.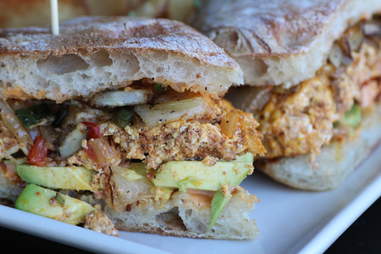 Jeff Miller
Warning: you're gonna have a super-hard time deciding what to order, 'cause you can't go wrong with this monstrous torta de chorizo con huevo (translated: sausage & egg sandwich)...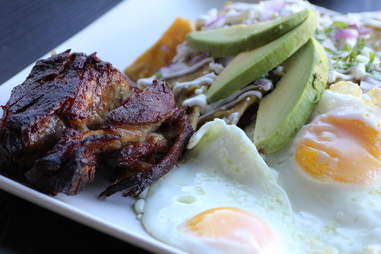 Jeff Miller
... these carnitas chilaquiles...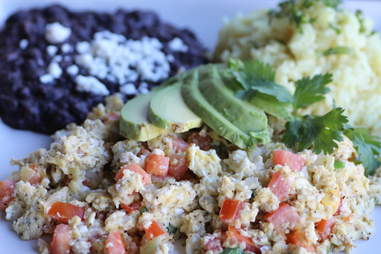 Jeff Miller
... or these huevos a la Mexicana, scrambled w/ cilantro, tomatoes, and onions and served with lime rice and black beans.
Jeff Miller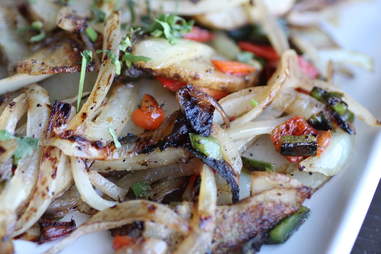 Jeff Miller
You're gonna want some stuff to share with the table, too, like these slightly spicy pepper-and-onion potatoes...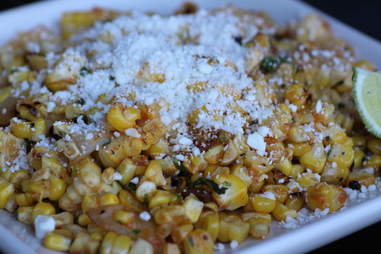 Jeff Miller
... this heaping cheese-topped plate of grilled corn...
Jeff Miller
... or these nachos, topped w/ guac, homemade queso, carnitas, and the tears of joy you'll clearly be crying as you eat them.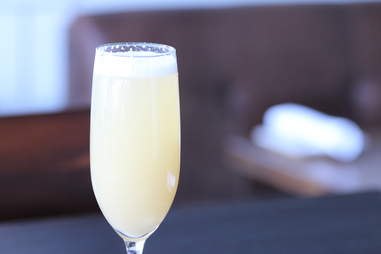 Jeff Miller
Finish the whole shebang with a guava mimosa. And then stumble over across the street to the Grove for a movie, because doing anything more active than that is gonna be really, really hard for a while.