These nachos have PIG EARS on them?
No, this is not just the name of a cover band that exclusively covers Tom and Johnny. But Petty Cash is an upscale taqueria in the old Playa space from part of the team behind lauded restaurant Church & State.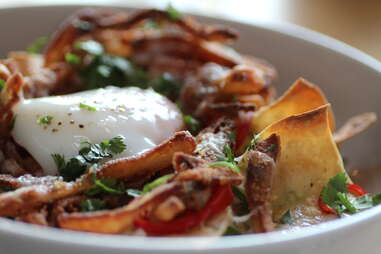 That team includes the chef, who's making grown-man Mexican food, assuming grown men like these fried-pig-ear nachos topped with a runny egg. (NOTE: They do.)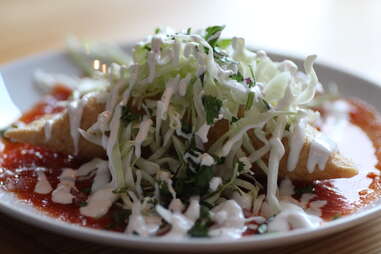 And also this "deep fried quesadilla" stuffed w/ prawns and topped w/ cabbage and roasted tomato sauce.
They've got not-literally a ton of tacos, like this Al Pastor option and an octopus/chili/peanut number they're calling "The Kraken", though hopefully you'll be able to contain its inevitable release.
And, to wash everything down, a Rivera/Picca alum's got alcohol covered with a Scotch-based on-draft "Fly By Night" and the above "Nacho Libre", packed with Pisco, egg white, and Creole bitters.