Prepare to be obsessed with what is essentially a famous chef-driven Arby's
No longer just a new Bravo show about amazing, controversial, and talented circles, Top Round's now also a '50s-esque, takeout-style joint dedicated nearly exclusively to upscale variations of roast beef sandwiches from a finer-dining-than-you'd-expect team of restaurateurs, including the dude behind Red Medicine, one of the guys from XIV, and a fella from 800 Degrees.They're hand-slicing the meat for regionally-themed variations on the roast beast, including this Western NY-style "Beef on Weck", which's fired up with "atomic horseradish"...... and this Southern-style number on an onion bun loaded with barbeque sauce, fried onion, and jalapeno straws. Crazy-ass fries? Yeah. Surprisingly not stolen out of Ronald McDonald's "special video" drawer, these "Dirty Fries" are topped with Provolone, gravy, caramelized onions, and "round sauce", which will pretty much make you just that.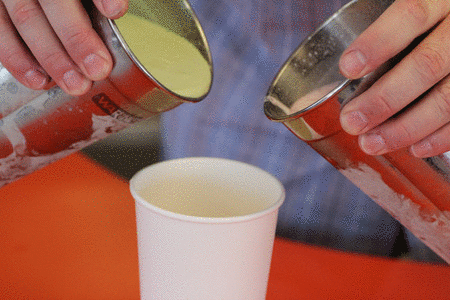 Had too many Beef on Wecks? Wash 'em down with something from one of those wild Coke machines with 100+ flavors, then keep creating new notches on your belt by taking down house-made custards and shakes, like this off-menu strawberry/pistachio swirl THAT'S STILL MOVING SOMEHOW. Wait. What are "GIFs"?