LA's Year In Fat: Our 10 favorite fatty foods from 2013
People who don't live in LA think all we do is wear yoga pants, eat kale, and have sex with supermodels. Obviously, that's not totally true -- we rarely wear yoga pants, and we rarely eat kale. To prove it, we're counting off the 10 least-kale-like things that LA ate in 2013, from hot dogs with donut-buns to deep-fried burgers.
Pig Ear Cheetos
The Church Key, West Hollywood
Approximate Calorie Count: 613
These "snacks" wallop you with over-one-fourth of your calories for the day -- and that's if you only eat one order... which you won't, because they're Pig Ear Cheetos.

Doughnut-Bun Hot Dog
Currywurst, Beverly Grove
Approximate Calorie Count: 687
You remember when you were a kid, and your Mom didn't want you eating too many hot dogs at Dodgers games because then you'd look like Tommy Lasorda? Well, multiply that times doughnut-buns.
The John Bleu-Cheese
The Escondite, Little Tokyo
Approximate Calorie Count: 939
They stuffed a burger with bleu cheese. Then deep-fried it. Then topped it with Pringles. But here's what's important: THEY DEEP-FRIED A BURGER.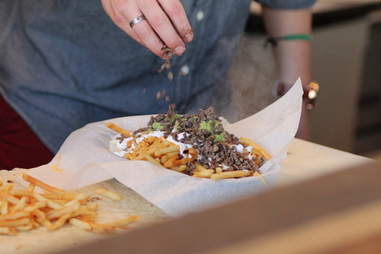 Carne Asada Fries
Taco Love, West Hollywood
Approximate Calorie Count: 1156
Let's take some fries, cook 'em so they soak up the grease, and then let's top them with an ENORMOUS HEAP OF BEEF, GUAC, AND SOUR CREAM. OH AND CHEESE. Yes, that sounds like a a terrific idea. Bingo-bango.

Carnitas Chilaquiles
Mercado, Santa Monica
Approximate Calorie Count: 1239
A little bit of chunks 'o pork, a little bit of eggs, a little bit of cheese, a little bit of tortilla chips -- really, what could be more perfect?
Pig Ear Nachos
Petty Cash, Fairfax
Approximate Calorie Count: 2142
Yes, there are two pig ear dishes on this list, but this one's deep-fried, over tortilla chips, and also topped with an egg. Checkmate.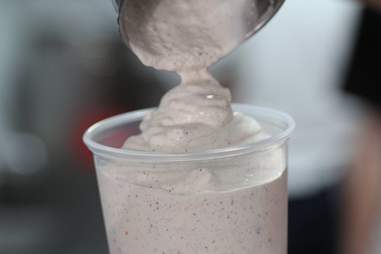 The Big One
Twins Sliders, Hollywood
Approximate Calorie Count: 2355
Essentially everything that gives you diabetes at once, this mega-shake-monster includes Reese's, cereal, marshmallows, and a gazillion other things that have cartoon mascots, is then blended all together, and served in a cup with a Twinkie on top.

The 42oz Steak
Chi Spacca, Hollywood
Approximate Calorie Count: 2646
Well, it's all right there in the name. And it basically looks like a grilled dinosaur.

The Platter
Bludso's Bar & Que, Fairfax
Approximate Calorie Count: 3255
Okay, this one's kind of a cheat because it's not meant for one person, but you get a heap 'o ribs. And a mess 'o brisket. And a pile o' pork. And a shload of sausage. And then you ALSO get collared greens and mac & cheese and coleslaw and heartburn.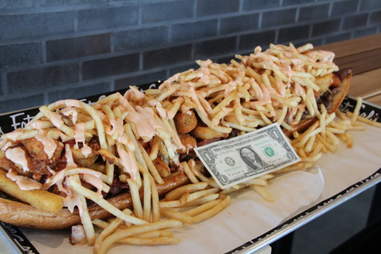 The Big Fat Fatty
Fat Sal's, Westwood
Approximate Calorie Count: 14,281
This might be... (checks all other foods in existence)... no wait, it DEFINITELY IS the grossawesomist thing ever, with nine pounds of heart-/ artery-/ brain-stopping insanity like chicken fingers, burgers, Philly cheesesteak, mozzarella sticks, and fries.