Are LA Restaurants Creating Food Spectacles Just for Instagram?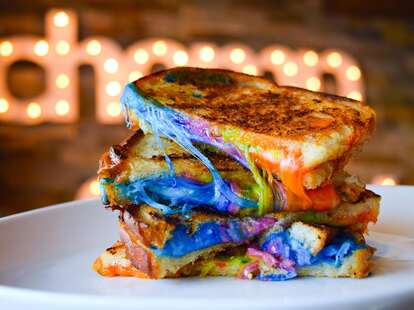 Unicorn Melt at Chomp Eatery & Juice Station

| Danny Jensen/Thrillist
Unicorn Melt at Chomp Eatery & Juice Station

| Danny Jensen/Thrillist
Like it or not, having a photo shoot with your meal before you eat is pretty much par for the course these days. And while sharing your bologna sandwich on Instagram is one thing (and probably one thing you shouldn't do), some restaurants around LA (and beyond) are creating elaborate, colorful, and, at times, gimmicky creations that seem specifically designed for social media. From a rainbow-striped grilled cheese to a crystal-clear cake, these sideshow oddities are hard to miss. But are these trendy spectacles a smart business move for restaurants or just a flash in the pan? And more importantly, do they actually taste good? We put down our phone (and bologna sandwich) for a minute to find out.
Well, How Did We Get Here?
Of course, intricate and colorful plating has been something that chefs were doing long before we all started 'Gramming. But with the eyes of so many potential customers glued to their screens, it's hard to ignore that there has been a recently increased focus on the visual experience of eating. One eye-popping creation that's flooded LA feeds lately is a rainbow-hued grilled cheese known as the Unicorn Melt from Chomp Eatery & Juice Station in Santa Monica. No stranger to the power of Instagram, Chomp has showed up on Instagram before with mouthwatering -- if unorthodox -- sights like its pumpkin-spice-donut-fried-chicken-sandwich (!), red velvet waffles with Sriracha fried chicken and even pressed juice in a lightbulb. Its latest creation has elicited heart-eyed emojis from some, while others live in fear of the multi-colored, admittedly unnatural-looking meal. But for anyone, it's certainly hard to resist taking a picture.
"For things to sell these days, it has to be Instagrammable," explains Rolan Pongpuntara, Chomp Eatery's co-owner, who, not surprisingly, has a background in marketing. "Color is the main thing now. That's what people want, for it to taste good and be very Instagrammable, that's what makes it [sell] for this generation."
"It's almost like dinner and a show. These plates are a performance now."
Kevin Nguyen of GD Bro Burger, known for its bright-red, raspberry-tinged buns, echoes the sentiment. "It's our generation and our day and age: If you didn't Snap it or put it on Instagram, it didn't happen. We thought, this is something we can do and utilize social media to spread the word." Along with partner Mark Cruz, Nguyen leveraged the spot's visually stunning buns and food-world connections to go from college-dropouts working at Disney to appearing on the Food Network's The Great Food Truck Race and opening brick-and-mortars in Signal Hill and Santa Ana.
Even long-standing LA institutions like 34-year-old California Donuts are purposefully getting in on the Instagram action now. Steppie Kuoch, who inherited the Koreatown mom-and-pop shop from her, ahem, mom-and-pop, explains that they've expanded from traditional donut offerings in recent years to eclectic and photogenic toppings ranging from Oreo panda bears to Froot Loops and beyond. "In the last few years, there was a sudden boom in the donut and dessert trend and it opened up the opportunity to experiment, have fun with our products, and help us reach a community outside of Los Angeles. Instagram really became that vehicle, and it's been our constant connection and communication with our growing customer base."
But, Does It Taste Good?
Pretty pictures are all well and fine, but when chefs start experimenting with crazy flavors and otherworldly designs, you start to wonder: am I actually going to be able to keep this down? "I think many chefs are prioritizing presentation before taste now," says Chef Michael Fiorelli, of Love & Salt in Manhattan Beach. "A picture might say a thousand words, but a bite says one that's more important than all of them." No stranger to a drool-worthy, Instagrammable dish (take, for instance his fierce whole roasted pig head) Fiorelli emphasizes how important it is for the food to actually deliver, or otherwise the whole plan backfires. "Ultimately, you're trying to draw people into the restaurant. If a certain dish catches fire on Instagram, people are going to want to eat it, but if it doesn't deliver [taste-wise] then it's the worst advertisement you can put out there."
"It's like diversifying stocks: if you focus too much on one item, eventually you'll run out of people who want to try it."
And while the colorful look of the Unicorn Melt may not be everyone's cup of tea cheese, we found it to actually be quite the tasty blend of fontina, asiago, provolone, and Parmesan. "We tested it for days to make sure that it tasted good as well," says Pongpuntara. He experimented with different cheese blends to get the right taste, texture, and coloring, and -- for those familiar with rainbow bagels and lattes -- they even considered other rainbow foods, but found the grilled cheese to be the "prettiest, most Instagrammable one." But she says taste was just as important in the design, "It's kind of like having a girlfriend: you have the personality and you have the looks. That's what people want nowadays. Food has to look good for it to be popular." And it's not like Chomp is stopping at the grilled cheese -- it also has a "Galaxy" burger in the works, which will be abetted (seriously) with a pink and purple glittered bun.
Another spectacle that's been burning up IG feeds in New York, and will likely do the same in Los Angeles now that it's arrived at Smorgasburg LA, is the Raindrop Cake from Darren Wong. This cake looks like a giant, jiggling droplet and is made from spring water and shapeable algae-derived agar. Wong himself first spotted the blob-like dessert (known as mizu shingen mochi in Japan) on social media and had eaten similar jelly desserts growing up, so was inspired to create his own version. "What struck me the most is the surprise that people have. People go into this thinking that because it looks like a giant drop of water that it's not going to be flavorful, but when they do try it they're often surprised and really enjoy it." It's definitely a delicate and subtle flavor, accented by the toppings like sugar cane syrup and roasted soybean flour, but it's pretty refreshing nonetheless. Wong is also experimenting with new flavors, including a s'mores Raindrop Cake, to keep things interesting.
"It's almost like dinner and a show," Wong says of the growing trend of Instagram-focused foods. "These plates are a performance now. The plate doesn't just come to your table, there has to be some sort of interaction with it."
So, Is Cooking for Instagram a Smart Move for Restaurants?
While the buzz created by a wild-looking dish can definitely be a big win for a restaurant or food truck, especially for newcomers, there are also potential downsides to the 'Gram game. "It depends on what type of food business that you want to start," Wong explains. For a spot like Raindrop Cake, which specializes in one or two dishes, tapping into the power of viral visuals can really help. Restaurants with an extensive and diverse menu, on the other hand, may get pigeonholed if they're only recognized for a singular, Instagram-worthy dish.
Whether it's the eatery's one and only offering, or a new dish aimed at bringing in new customers, there's also the risk of Instagram fatigue. After all, there's only so many times you can double-tap on that crazy new creation, before you get bored of seeing it in your feed. "People do get tired of them," Wong continues. "I think there's a limited shelf life if you focus on one item. It's like diversifying stocks: if you focus too much on one item, eventually you'll run out of people who want to try it. And then you need another hit item, and that becomes a very difficult model to sustain if you're just trying to turn out one hit after another."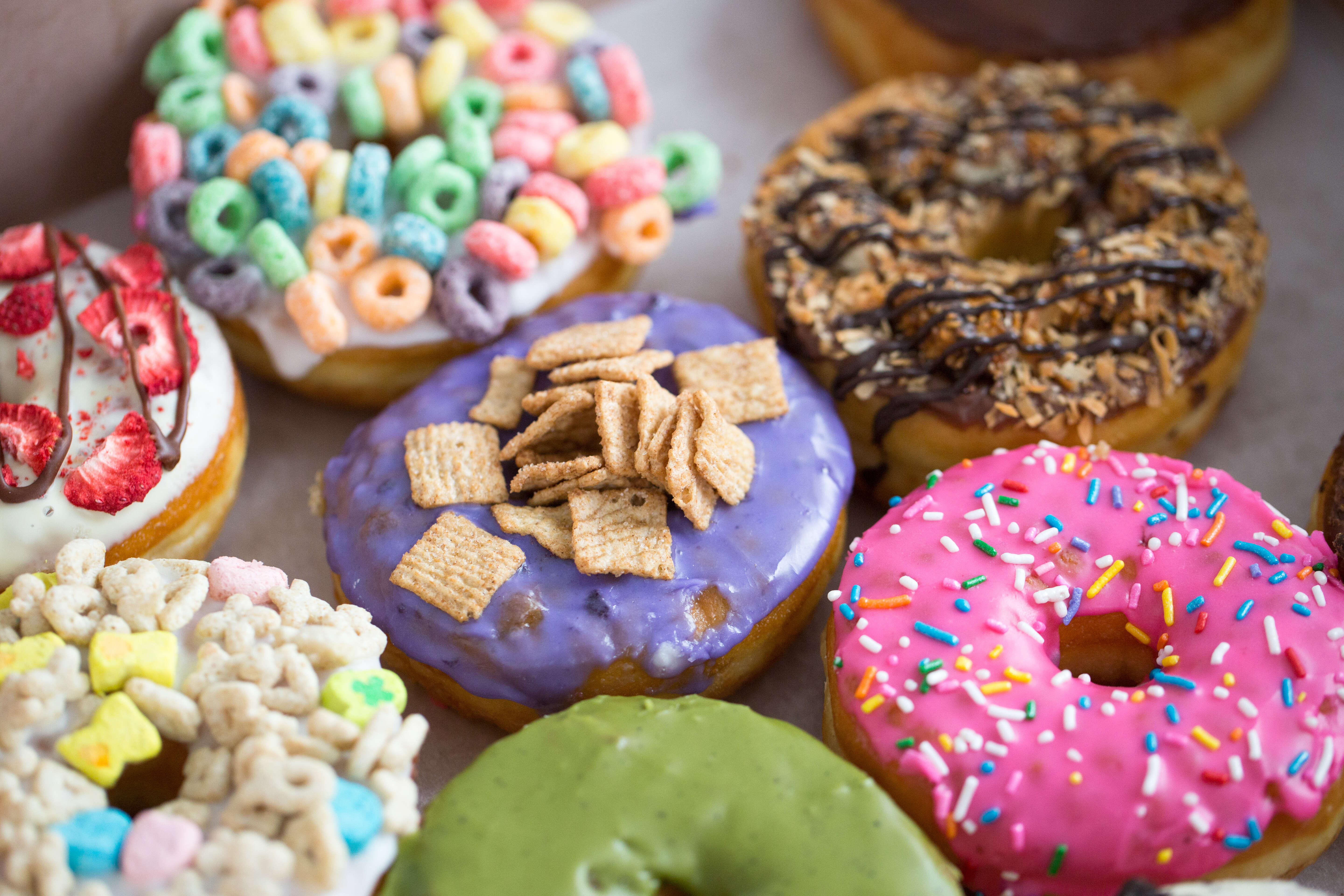 At the same time, cooking for Instagram can provide a huge boost for long-established spots, just as much as it can for trendy pop-ups. "Let's be honest... people love their #foodporn on Instagram," says Kuoch of California Donuts. "So, when your products photograph well, make people hungry, and tell customers a little bit about your brand without you ever having to say anything... that's magic right there." California Donuts has seen the positive effects of Instagram in real-time, evolving from a small, family-run shop to a much larger team. They're now constantly developing new designs and running a 24-hour kitchen to keep up with demand thanks to their popularity on IG.
It seems that with a smart marketing strategy, and dishes that not only look good, but taste good, chefs can use IG to consistently drive new business. "I think that we first eat with our eyes, then our nose and then our mouths," says Aliza J. Sokolow, a former food stylist and founder of Poppyseed Agency, which handles the social media of some of LA's biggest chefs. She sums it up: "The taste is always the end goal, but having a beautifully plated dish is always a plus. The chefs that I work with all create a dish for flavor first and take the opportunity from there to create a beautiful plate. Social media provides a free outlet of exposure to potential and regular patrons. It's the best way to interact with potentially thousands of diners with just a push of a button."
Sign up here for our daily LA email and be the first to get all the food/drink/fun Los Angeles has to offer.
Danny Jensen is a regular Thrillist contributor who might draw the line at glitter on his burger, but probably won't. See the rainbows he's tasted on Twitter and Instagram.