Studio City
From the intimacy of the Moroccan-influenced cabanas and the refined grand veranda, to the intellectually stimulating library lounge and lively pulse of the old-school bar, this Studio City seductress knows how to please any romance-seeker's needs. Start the evening in the bar, move onto dinner in a cabana or veranda, then indulge in a nightcap seated with thighs touching on the sofa in the library.

Los Feliz
You wouldn't think it from this restaurant's nondescript street-side appearance, but the romantic style here is just as low key as its public presence. The two patios are adorned with an array of wildly growing potted plants, simple cafeteria-style tables, plain wood chairs, and attractive people nibbling on fresh pasta with bold flavors like squid ink and dried cod roe.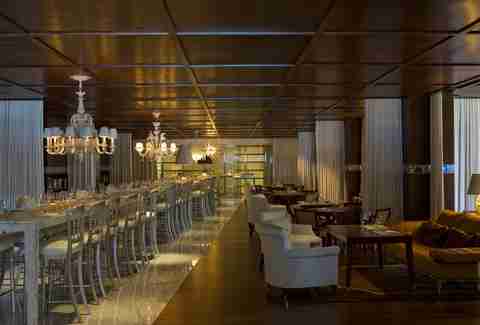 Beverly Hills
Hotel restaurants can be a romantic cliché thanks to the easy accessibility to a bed, but Tres by Jose Andres (at the SLS on La Cienega) is an unexpected departure from the generic hotel dining atmosphere. Sink into a fluffy sofa and dine off of an oversized coffee table in your own cozy living room, complete with a fireplace and a bookshelf filled with art, history, style, pet (?), and travel books. The only reminder you're not ACTUALLY in your own cozy living room? The server interrupting with plates full of elevated California comfort food.

Venice
From the quaint, two-story yellow cottage exterior to the crisp white tablecloths, candles, and classic Italian chef, servers, and food, Ado is a mashup of all things romantic. Request a table on the packed, petite 2nd floor where dim lighting and flowing wine will quickly get you to forget that you're a few feet from other dining strangers.
Santa Monica
If romance for you means Michelin-star caliber food, truffles, and a 10-course tasting menu, your best LA bet is Melisse. It's one of the few refreshingly refined restaurants in town where a suit and even a tie (!!) are appropriate. A Champagne cart arrives table-side upon your being seated, setting the tone for a very different LA dining experience. If you're at Melisse, you may as well go all out and indulge on one of the wine-paired tasting menus. Sure, it's slightly snobby (and very expensive), but that's part of the fun.
Topanga Canyon
Iconic, expected, maybe even boringly romantic? Fine. But nonetheless, you've got to give this old guy credit for being one of LA's OGs of romantic date night destinations. You can't discount the fact that not even time has been able to take away or even taint its twinkly allure -- every table hugs a natural cascading creek bed, while the gazebo table looks out over the rest of the crowd (request it in advance).

West Hollywood
Enter Sofi though the almost-hidden awning squeezed between 3rd St's "Optical" and "Quality," walk down the long hallway, and through the big wooden door... and BAM, welcome to Sofi's hidden, secret, twinkly lit garden terrace, which feels more like you're in Europe than in the heart of the city. Beyond the environment, the Greek food is authentic, fresh, and on point, including house specialties and family recipes that will make you feel like you're dining in the owner's home.
Santa Monica
Since its opening in September 2014, The Little Door Santa Monica has followed in the footsteps of its Mid-Wilshire sibling, becoming THE new hot Westside proposal spot. That's because, like its forbear, this newbie is rustically charming and oozes intimacy. The only problem is that it's hard to enjoy if you're NOT popping the question: your date will, unquestionably, think you are. So, be ready to deal with that probably.
Beverly Hills
Thanks to this old-school spot's twinkly patio lights, roses, candles, and "you're the most important person here" service, it's no wonder you'll likely be party to a marriage proposal, birthday, or 50th wedding anniversary celebration on any given evening.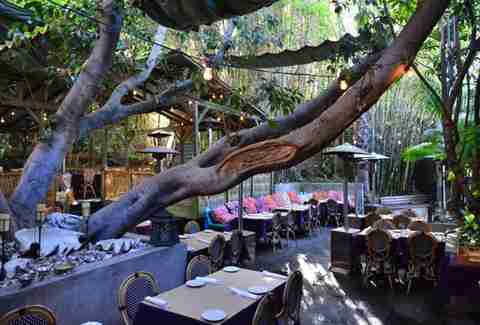 Silver Lake
Patio + twinkly lights + fire pits + a canopy of trees + not to mention the addictive craft cocktails + perfectly shareable, tastebud-awakening foods = the quintessential romantic spot on the Eastside. If you haven't been on a date here, it's time to emerge from your cave.

Hollywood
Doused in flowers -- in pots on the twinkly lit patio floors and in vases on the tables -- Off Vine is one of the more quaint, charming, almost precious un-Hollywood restaurants in Tinseltown. The rustic, remodeled American Craftsman cottage will make even the most hardened date swoon; add great food and music that includes classics by everyone from Whitney Houston to Cat Stevens, and you've got yourself a sure thing (or at least a sure-ish thing).
Echo Park Lake
This isn't your typical romantic restaurant. In fact, it's not romantic at all. It's a café inside the boathouse -- yes, the same place where you can rent your paddleboat. But that's not the point. It's all about the environment. For breakfast, brunch, or lunch, this is the place to go for love. Order a squash blossom breakfast burrito, add jerky-like chunks of bacon, plus the watermelon lemonade, and head out to the grass where you will be served a picnic-style lakeside meal. Once digested, work off the bacon by peddling along the lake. It's simple. It's romantic. Trust.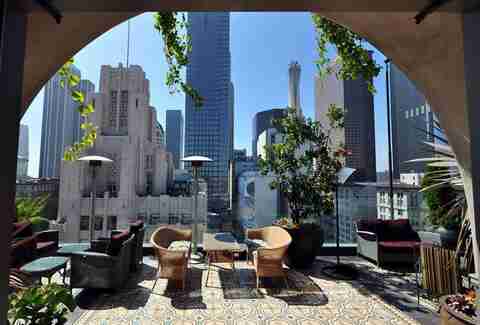 Downtown LA
A favorite for matchmakers sending clients on first dates, the drop-dead rooftop restaurant Perch has almost become predictably romantic. Still, you can't deny that a fire pit overlooking the DTLA skyline is alluring -- and tack on a live jazz band, and there's no denying the pull.

Sign up here for our daily LA email and be the first to get all the food/drink/fun Los Angeles has to offer.

Laurel House is the Dating Coach for Three Day Rule Matchmaking, and has been a featured expert on The TODAY Show, E! News, and Good Morning America. Her 5th book, Screwing The Rules: The No-Games Guide to Love was published in December 2014 with Running Press. Find her at ScrewingTheRules.com, on Twitter, and Instagram.