A Vibey New Izakaya Flickers to Life in the Arts District
The hottest block in town gets a stylish new spot for sushi, grilled meat, and drinks from a veteran chef and a restaurant group on the rise.
Photo courtesy of Gry Space
Photo courtesy of Gry Space
The Arts District is the beating heart of Los Angeles' elevated restaurant scene, keeping time for the city's neverending rhythm of openings and closings. Bon Temps closes and Yangban Society opens. Nightshade slams shut and Camphor swings its doors wide. The Firehouse Hotel contracts, and now expanding into its space is kodō—a new izakaya opening April 20, with rykn cafe, a companion Japanese cafe and boutique, opening on the same day. A ryokan-style hotel called rykn is set to follow late summer, with all three concepts brought to you by the Kensho Group.
Loosely translated to "heart beats" in Japanese, kodō is a fitting name for a restaurant that hopes to keep pace with tough nearby competition like Bestia and Damian. But it is also inspired by the way executive chef Yoya Takahashi creates his dishes, with a steady hand, an ear for rhythm, and occasional racing flourishes.
Chef Takahashi comes to the izakaya from the sushi world, most notably from behind the bar at Westside hotspot Hamasaku, where he gained a well-earned reputation for his omakase menus. They were whimsical and fun, firmly rooted in tradition but with unorthodox dishes sometimes served in an unexpected order. He also became well known for his playfulness and his banter — Chef Takahashi has a sharp knife, and a sharper tongue.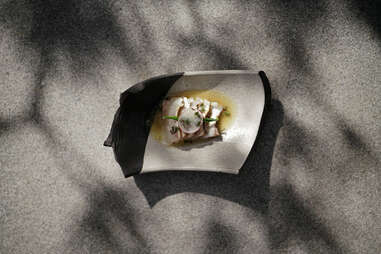 The restaurant's menu features sushi, of course, but at its core, kodō is an elevated, Kyoto-style izakaya, a sort of Japanese pub, with an assortment of fun bites designed to be shared over the course of a long evening, accompanied by round after round of drinks. The style appears a fitting match for chef Takahashi's big personality.
That means there will be dishes cooked over binchotan charcoal, a handful of salads, plenty of simmered and pickled plates, modern desserts crafted by pastry chef Mami Yamamoto, and a carefully curated list of drinks that draws influence from LA's cocktail scene. The beverage menu covers sake in several denominations, natural wine from around the world, craft beer from Saitama's Coedo brewery, and cocktails helmed by beverage director Chris Gomez and bar manager Will Henry that lean on Japanese ingredients like umeboshi and yuzu.
Chef Takahashi's early picks on the dinner menu run the gamut from a salad of soybeans, fava beans, and burrata through seared Sea Bream Sashimi and on to Sakamushi, a dish of clams steamed in sake and butter. And if you want sushi but can't decide which pieces, there's a six-course sushi omakase led by head sushi chef Alex Kohsuke Suzuki, tucked neatly at the bottom of the menu.
The space itself is outrageously stylish, done up in a manicured minimalist aesthetic that is so cool and consistently executed it permeates the entire experience. The interior is intimate, with 25 seats including tables and a bar, making you feel like you've been invited to a private, A-list dinner party. In contrast, the expansive exterior features fire pits and a stunning courtyard with more than 50 seats, tempting you to take your dining experience outside.
That energy should extend to the rest of the building in which kodō is housed — rykn cafe, an all-day tea house and natural wine bar with a menu of pastries and sandwiches by Moon and Sun LA, as well as the boutique rykn hotel that's set to open later this year. David Wynn, the owner and founder of the Kensho Group, has a track record of scouting excellent spaces, starting with the dearly departed Echo Park modernist coffee shop, Triniti, and later with Kensho, a cafe and wine bar located in a former stable at Yamashiro in the Hollywood Hills.
Kodō is open Wednesday through Sunday from 5:30 pm to 11 pm. rykn cafe is open from Wednesday through Sunday from 9 am to 10 pm. Reservations for kodō can be booked via Resy.
Ben Mesirow is an Echo Park native who writes TV, fiction, food, and sports. At one time or another, his writing has appeared in The
LA Times
,
Litro
,
McSweeney's Internet Tendency
,
Los Angeles Magazine
, and scratched into dozens of desks at Walter Reed Middle School.