5 new burgers you pretty much have to eat this weekend
Los Angeles Because you've already tried all of LA's best burgers (and also all the under-the-radar-est burgers), why not try five of its NEWEST burgers? Here's a quintet of burgs worth the stomach space.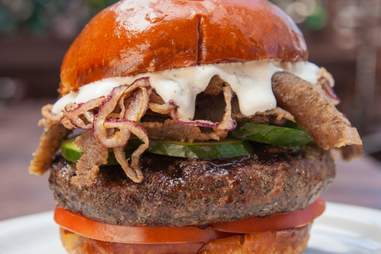 Slater's 50/50
Slater's 50/50: The name may be 50/50, but there's a 100/0 chance you're gonna want their April burg of the month: the Gyro Burger. Picture seasoned Brandt Beef, lamb/beef gyro, tomato, naked red onion, feta cheese & cucumbers, smothered with a tzatziki-style Greek yogurt sauce. They've also got a list of 100+ beers -- go during happy hour and they're just $3.50. Continue Reading
Chapter Restaurant (Ace Hotel): Who doesn't love a burger that's straight outta Brooklyn? Oh, right. Either way, the Ace's trendy LA Chapter is headed by the same peeps from Brooklyn's Five Leaves restaurant, and they've got an eponymous burger to show for it. Get a taste of what they're all about with the too-big-to-be-true Five Leaves Burger, topped with a sunny-side-up egg, harissa mayo, grilled pineapple, and pickled beets.


Justice Urban Tavern: If you haven't been to the new Justice Urban Tavern in Little Tokyo yet, get your buns over to this gastropub. Its signature Barrister Burger is served up simple on a brioche bun with 'Merican cheese, butter lettuce, roasted tomato, and house-made pickles. For your side: try the mac 'n cheese with crushed BBQ potato chips, or the hand-cut fries with spiced ketchup. Or... both.
Belcampo Meat Co.: Can you handle yet another craveable option in Downtown's Grand Central Market? We think you can. Among the many meaty options on this organic butchery's menu, you'll find the "Belcampo Burger" -- a 5.5oz, dry-aged & grass-fed beef patty topped with cheddar and caramelized onions.
Tapenade: There's a new chef in town at Tapenade, and he comes with burgers blazing. Tri Nguyen's new Tapenade burger features a New York steak blend with manchego cheese, sun-dried tomato tapenade, lemon aioli, and arugula.