Don't get up: 6 new LA services that'll deliver you booze, food & more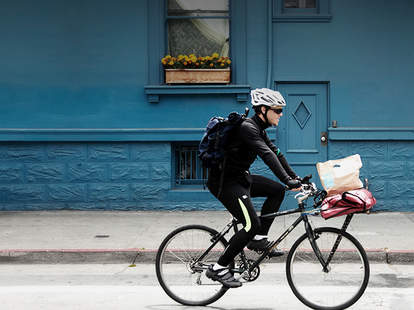 Los Angeles Because no one should be forced to choose between "not moving in an air-conditioned apartment" and "picking up toilet paper, whiskey, and Sugarfish", here're six just-dropped LA delivery services that'll bring you just about anything you could possibly want. Except maybe a new couch.
Drizly: Booze on-demand is the basic gist -- their liquor ranges from 12-year single barrels to Bud Lite, sourced from partnerships with local liquor stores, allowing it to deliver to you in about half-an-hour or less. Continue Reading
Postmates: This new, NorCal-born service claims to deliver from literally ANY restaurant or store, but it'll cost you $5 or more per delivery, depending on distance. Still, its real-time tracking of the delivery dude is both cool and reliable (since you can see exactly where your food is). Bonus: as it's starting up, it's doing free delivery on food constantly, so it's worth checking the website regularly to get some gratis drop-off-age.


Google
Google Shopping Express: Yes, that Google. And yes, it just launched in LA. And yes, you should care because it's got free delivery for the first six months and is partnered with big-box stores, bringing you what you need from places like Costco, Walgreens, and Fry's.
DoorDash: Another Bay Area startup, this Westside-only (currently) restaurant delivery service claims to have faster delivery times than competitors like GrubHub and Seamless, thanks to a dedicated team of on-the-ground drivers using proprietary algorithms to figure out the fastest route, door-to-door. So, uh, Waze? Get $7 credit and free delivery with the code "ThrillistLA" on your first order here.
Saucey: This alcohol-on-demand drop-off service uses a liquor store partnership algorithm that's very similar to Drizly, but with prices that already include tip, and party packages that come with all the mixers and bartenders included.