11 Fall Openings in LA to Get Excited About
A Southern favorite heads West, an iconic Beverly Hills restaurant gets new life, a Frogtown marisqueria, and more.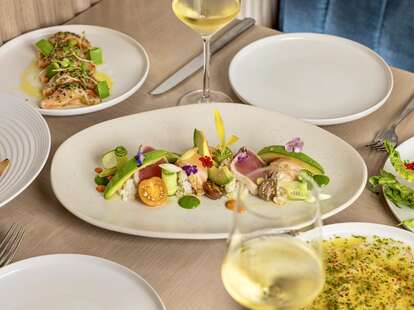 Photo by by Stan Lee, courtesy of Paloma
Photo by by Stan Lee, courtesy of Paloma
Just like the hotly anticipated September issue of glossy magazines, this month is proving to be an exciting one for the City of Angels, with an onslaught of back-to-back openings ranging from high-end restaurants to luxury hotels and more. In Downtown LA, celebrated chef José Andrés is reviving our local hotel restaurant scene with a handful of dining options at the new, upscale Conrad Los Angeles. Across town, all-day Aussie cafe Great White and veggie-friendly Zinc Cafe & Market are gearing up for new locations on Melrose Avenue, while private membership club NeueHouse prepares to add an dinner service at DTLA's Wyman Bar and will launch a new Venice location with a rooftop restaurant later this fall. Modern Mexican restaurant Mírame will open its sophomore location in Los Feliz at the former Rockwell Table & Stage space in October and, following the success of their first Vegas outpost, vegan fave Crossroads Kitchen will soon be the first fully plant-based restaurant at The Commons in Calabasas. Closing out the year, Palihouse will return to West Hollywood in a new location with three in-house drinking and dining options, including a tropical poolside hideaway exclusive to hotel guests.

And that's truly just the tip of the iceberg. Keep reading for more details on new concepts slated to arrive in LA this fall, including one of America's most celebrated Southern restaurants, fresh-caught seafood with an oceanside view, and a couple classic spots that are being reinvigorated with new life.
Glendale
Opening date: Late October
Esteemed chocolatier and pastry chef Valerie Gordon already has a bustling Silver Lake location, but plans on moving company headquarters to a sprawling, 5,000-square-foot space in Glendale, with the help of her husband/business partner Stan Weightman Jr., plus Dahlia Narvaez (Mozza), who will serve as culinary director and Angela Chan (Wolfgang Puck), who will act as chef de cuisine. The cake and pie selections are anticipated to increase at this larger location, along with the debut of a coffee and espresso bar featuring AAPI-owned brand Sir Owlverick's. Big Green Egg is also supplying grills for the outdoor area, which will be used for impromptu cookouts, demos, and live-fire gatherings.
Beverly Hills
Opening date: Late fall
The iconic Beverly Hills restaurant La Dolce Vita was first established by Frank Sinatra and George Raft in 1966, and closed at the onset of the pandemic in March 2020. Now the historic haunt is returning to its former gilded glory thanks to LA restaurateurs Marc Rose and Med Abrous of Call Mom (The Spare Room, Genghis Cohen), who are intent on reviving the classic Italian restaurant with the same high-level service and tufted leather booths, plus an added dose of modern sexiness.
Venice
Opening date: Mid-winter
A family-run New Orleans dining institution is making its way to the West Coast and set to land in Venice Beach this winter. In operation since 1957, Willie Mae's Scotch House has long been upheld as one of the nation's best fried chicken restaurants, though they boast a full menu of notable Southern classics that they'll be bringing to their new beachside location. Husband-and-wife team Kerry Seaton-Stewart (the great-granddaughter of Willie Mae Seaton, whom the restaurant is named for) and Mike Stewart will be splitting their time between LA and NOLA to make sure the transition goes smoothly, with help from Jerry Greenberg (Sugarfish) and Lowell Sharron (HiHo Cheeseburger, Matu). Take the restaurant for a spin with its newly launched takeout and delivery service that's fulfilled by The Colony's West LA kitchen.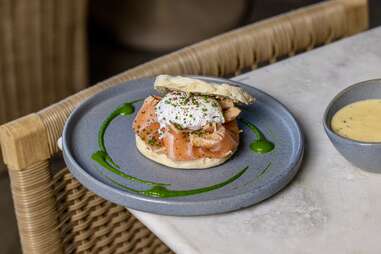 Venice
Opening date: Late September
This bright all-day restaurant is sure to become Venice's new favorite patio, with 146 outdoor seats, plus a cozy interior with 36 more. Located on the iconic corner of Venice and Abbot Kinney, Paloma will offer organic, farmers market-sourced plates like hummus and dips, a selection of crudos, pastas, and salads, with mains including a Tomahawk Steak and Chicken al Limon.
Hollywood
Opening date: October
Launched in 2020 as a direct-to-consumer roasting company and later expanding to the popular Smorgasburg market, husband-and-wife partners Frank and Michelle La will open the brand's first brick-and-mortar on Melrose Avenue this fall, taking over the space that was formerly Enigma Coffee. The full menu will include specialty drinks like the Vivid Cream Latte, as well as an extensive tea selection with a cold-brewed option. The food program is expected to include an array of toasts, sandwiches, pastries from Sugarbloom, and other to-go items. In the meantime, you can still catch them at Smorgasburg every Sunday.
Downtown LA
Opening date: Mid-October
The ground-level culinary program at Downtown's Hoxton Hotel is set to join LA's French restaurant renaissance thanks to Michelin-starred chef Daniel Rose (Le CouCou in New York) and the Boka Restaurant Group, including a restaurant, lobby lounge, and coffee bar. Expect Basque cuisine prepared with live-fire techniques, market-fresh ingredients, and local proteins.
Za Za Zá
Frogtown
Opening date: November
The masterminds behind one of DTLA's most captivating rooftops are behind this forthcoming spot in Frogtown that seeks to transport diners through the Sea of Cortez with Sinaloan-style spicy raw seafood, a Sonoran charcoal grill, and the distinct flavors of Baja California. Paco Moran will serve as executive chef, while also helming the kitchen at Downtown's Cha Cha Chá. The restaurant will be designed by Lena Kohl, who also designed Cha Cha Chá's palm-strewn palace, and will offer 130 seats in total, including 50 indoor, 60 outside, and 20 at the bar.
Marina del Rey
Opening date: Late September
After successfully reviving iconic steakhouse Dear John's in Culver City, restaurateurs Patti and Hans Rockenwagner and Michelin-starred chef Josiah Citrin (Citrin, Melisse) are setting their sights on the opening of Dear Jane's, a seafood-driven spot with classic cocktails, waterfront views, and many of the same retro sensibilities that make Dear John's so beloved among LA diners.
West Hollywood
Opening date: November
Innovative hospitality group Noble 33 is expanding Mayan Riviera-inspired hotspot Casa Madera from Toronto to a second location in The Mondrian on West Hollywood's Sunset Strip (with four additional locations, including Miami and London, also in the works). The expansive restaurant includes 8,000-square-feet of indoor and outdoor seating, plus stunning vistas of the nearby Hollywood HIlls. Noble 33's corporate executive chef AJ McCloud will oversee the menu, which will include popular items from the Toronto location, like Ceviche Blanco and Wagyu "a la roca" served on a sizzling hot stone. The bar program will skew vibrant and refreshing, utilizing seasonal ingredients and Mexican-inspired flavors like passionfruit, papaya, cactus, and more.
The Other Room
Los Olivos
Opening date: Early fall
The quaint Central coastal town of Los Olivos has emerged as a worthwhile dining destination in recent years, with Companion Hospitality's Greg and Daisy Ryan of Michelin-starred Bell's, opening the stylish seafood haven Bar Le Côté in fall 2021. The same team is bringing a new beer and wine bar to the neighborhood this fall, in partnership with friends from Valley Brewers and The Backroom in Solvang, and Companion Hospitality's wine director Emily Blackman. Expect California-sourced craft beers and wines, plus some eclectic global picks, as well as bites like tinned fish, pâté, and pickled items that reflect a Euro-California meets modern West feel. The Other Room will also have a retail shop with beer and wine for purchase.
Hollywood
Opening date: Late September
Iconic dive Power House Bar is set to reopen thanks to Cedd Moss of Pouring with Heart—the bar group behind local favorites like All Season Brewing, Seven Grand, and Las Perlas. The plan is to keep the bar's gritty Hollywood reputation firmly intact with low lighting, classic cocktails, and vintage details.