7 LA Restaurant Openings You Need to Know
Expand your takeout/delivery routine.
Courtesy of Fingers Crossed
Remember back in March when we thought this would go on for like a month or two and then everything would be back to normal and by fall Corona would just be a beer again? Yeah, well, here we are still battling a pandemic during pumpkin spice season. Of course, few industries have faced more of an uphill battle than the restaurant world. As we've watched many venues forced to sadly shutter for good, we're truly thankful to have so many of our city's restaurants large and small still hanging in there (which we know hasn't been easy), expanding takeout options, getting creative with DIY kits, offering special menus (even dineL.A. managed to carry on this month), and building out some of the best al fresco dining settings this city has ever seen. And, somehow, despite the seemingly impossible landscape, new dining destinations continue to open on a weekly basis. From revamped concepts to pop-ups to brand-new options, here are seven spots to keep in mind the next time you're looking to dine out or take in.
Encino 
Another month, another impressive new concept from Phillip Frankland Lee's Scratch Restaurant Group as he continues to expand his Encino mini-empire. This time he's taken over a kitchen-less space on the ground floor of the shopping center where his other eateries (Pasta|Bar, Sushi|Bar, and Scratch|Bar) are located, building out an open-fire, brick-lined hearth in the outdoor courtyard to highlight an inventive mix of hot and cold seafood dishes supported by market-fresh ingredients. Bluefin tuna tartare surrounds a massive grilled artichoke heart, wild king crab comes with a fat disc of watermelon, accompanied by silky housemade ricotta, and pastry chef and co-owner Margarita Kallas-Lee's fabled sourdough shines beneath salt cod and blistered tomatoes. The place seats just 16 (all outdoors for now) including three pairs of Plexiglass-separated seats at the action-packed chef's counter. 
Book a Table: Via Tock, dinner, Wednesday-Sunday.
Courtesy of Fingers Crossed
Hollywood
After rising to the top of LA's pasta scene – most notably with his Venice powerhouse Felix – chef Evan Funke is conquering more carbs at this pop-up pizzeria in a lushly landscaped courtyard adjacent to the Dream Hotel, where he's dishing up Roman-style pies that might just be some of the best pizza in town right now. Go for a classic margherita or the fiori di zucca baked with squash blossoms, bufala mozzarella and topped with a ridic burrata. Locally sourced produce becomes the star of some small plates like the heirloom tomato salad, and there's a selection of Funke's fabled pastas on offer, too. For drinks, order from the bar's Negroni selection or try a custom spritz. 
Book a table: Via Resy, dinner Wednesday-Sunday.
Culver City
The historic hotel in the heart of Downtown Culver has always drawn evening crowds to its vibrant lobby bar scene with a backdrop of nightly jazz. Until March, that is, when the hotel went into a nearly six-month hibernation. Now, with the property's reopening comes the debut of its outdoor Parisian-style eatery, Le Jardin. New executive chef Ben Diaz has created a globally inspired menu featuring everything from papas bravas with a harissa aioli to foie gras torchon to a crispy Korean-style chicken sandwich. And that live music has thankfully returned with outdoor musicians playing away during dinner service.
Book a Table: Via OpenTable, dinner Thursday-Sunday.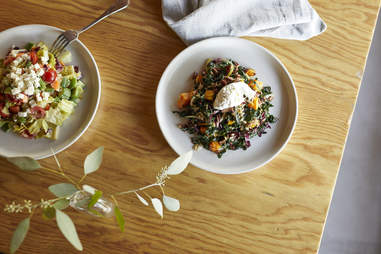 Courtesy of Uplifters Kitchen
Santa Monica 
After making the gutsy decision to buy a restaurant in the middle of COVID, chef Salima Saunders (formerly of Highland Park's Amara Kitchen) has breathed new life into this daytime cafe, refreshing the space, adding a bit of outdoor picnic table seating, flipping the menu to fully vegetarian, and adding some Indian and Mediterranean influences. Look for an all-day breakfast including cheesy scrambled egg tacos, a fried egg-hummus-and-focaccia mezze platter, and coconut granola in addition to a coffee bar and more lunch-centric stuff like salads and a dal-and-coconut rice bowl along with sweet treats (including gluten-free and vegan baked goods), and picnic baskets, perfect for toting to nearby Cloverfield Park.
How to Order:  Online for pickup or stop in Tuesday-Sunday from 8am to 3pm. 
Courtesy of Wood & Salt Tavern
Long Beach
The duo behind German eateries and beer gardens Wirtshaus and Rasselbock launched this new neighborhood joint in Bixby Hills centered around modern California fare and a wood-fired grill as well as a global wine program and more international beer offerings than their other German-centric spots. Chef and Baltimore transplant Brian Lavin is mashing up his penchant for fresh pasta and seafood with dishes like cavatelli with littlenecks and rapini and squid ink garganelli spiked with tomato-braised calamari. And he's using that grill to churn out plates of head-on prawns and a 16-ounce striploin. To beef up its outdoor seating options, the team recently built out a patio in the parking lot, adding to its existing patio and sidewalk seating. 
Book a Table: Via Resy.
Picnic Society

| Courtesy of Wonho Frank Lee
Fairfax
A spin-off of his Hollywood butcher shop, Curtis Stone's new four-month stint at The Grove will be both a grab-and-go picnic market and sit-down restaurant on the second-floor terrace. Stone's offerings are heavy on European-inspired salads, sandwiches, and entrees -- think tuna Nicoise, Caprese on house-baked Stecca bread, and steak frites -- in addition to Stone's signature Gruyere-topped Gwen burger, cheese and charcuterie platters, and baked goods. (Check out the decadent birthday cake in a jar). If you're looking to up your picnic game, Picnic Society has you covered with pre-made baskets, booze to go, blankets, cutlery and even mini tables for a serious outdoor setup. 
How to Order: Online.
Venice 
This weekend-only parking lot pop-up from Butcher's Daughter – the vegetarian Abbot Kinney hot spot where the only thing more attractive than the space is the clientele – is applying its plant-based sensibilities to classic Mexican fare. Steamed daikon subs in for goat in the birria tacos, a quesadilla comes stuffed with Impossible chorizo (and queso Oaxaca by default but vegan cheese is available, too) and fajita-style entrees showcasing plantains, cauliflower, and grilled pineapple. The drink options are vast with a solid tequila list and an array of tequila-and-mezcal-centric cocktails including a Yuzu-basil marg and passionfruit-and-tequila-spiked frozen Pina Colada. 
How to order: Walk in.
Sign up here for our daily LA email and be the first to get all the food/drink/fun Los Angeles has to offer.
Lizbeth Scordo is a food and lifestyle writer who holds the world record for most COVID-related story links sent by friends and family members. Follow her drowning in conflicting information on Instagram @modlizbeth and Twitter @lalizbeth.