9 Exciting New Restaurant Openings in LA to Try This Weekend
Your holiday dining plans include legendary fried chicken in Venice, the return of a dim sum favorite in San Gabriel, and a '70s disco lounge in the Arts District.
Photo by The Salty Shutters, courtesy of The Let's Go!
We've finally reached the best time of the year in LA, with lots of people heading out of town, the mountains dusted with snow after recent rain, and plenty of fun holiday activities going strong. Restaurant openings aren't seeing any slowdown either, with exciting new spots all across town, including a fried chicken legend opening big in Venice, a new disco-inspired lounge in the Arts District, several fun openings in the SGV, and a whole collection of thrilling spots. Here are nine of the most exciting new restaurants you need to try in LA this holiday season: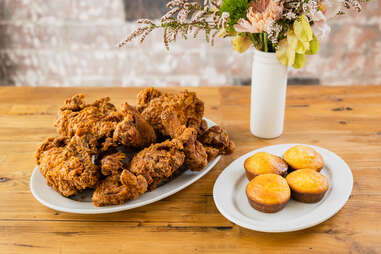 Venice
A full-service, Louisiana-inspired dining room; a menu of fried chicken, gumbo, corn bread, and sides; and a standalone location—this is how New Orleans legend Willie Mae's was always meant to land in LA. Due to some delays they ended up opening their West LA ghost kitchen at the Colony first, but now Kerry Seaton-Stewart, the great-granddaughter of WIllie Mae Seaton herself, has opened the doors to the full dine-in experience. All of the legendary NOLA favorites are here, plus exclusive-to-this-location gumbo, and all of the dishes prove worth the wait.
How to book: Walk-ins only during soft opening, with app-based ordering coming soon.
Studio City
Ventura Boulevard from Studio City through Sherman Oaks has often been called Sushi Row, a straight shot with a dozen or so excellent sushi restaurants. That number ticked up a few weeks ago when Leona's Sushi House opened on that very stretch, with chef Shigenori Fujimoto at the helm bringing experience from venerated sushi bars like Matsuhisa and nearby Asanebo, alongside a partnership with restaurateur Frank Leon and actor Evan Ross. The 5,000-square-foot space has several dining rooms, each with its own vibe, including the Living Room, the Sushi Bar, and the Garden Room. The menu has traditional nigiri, hand rolls, and cut rolls, and it also dips into Japanese-inflected global cuisine, as in the Udon Carbonara, Nippon Chaufa Paella, and the Peruvian Nikkei-influenced late night Robata menu.
How to book: Reservations available through their website.
Arts District
Disco may never dominate the airwaves again the way it did in the '70s, but you can still let disco vibes dominate your weekend at the new '70s Italian-inspired disco lounge The Let's Go! in the Arts District. The dusty pink and green space is decked out with pink neon, Mario Bellini-style sofas, glass bricks, and a disco ball spinning in the middle of the room. There's a hi-fi sound system, vinyl on the shelves, and a drink menu that includes fun and crisp cocktails like the sparkling gin and grapefruit sour they call The Fizz Italiano.
How to book: No reservations, dance-ins only.
Alhambra
The Pie House name has a storied history around LA, though depending on what part of town you're in it can refer to very different and unrelated pies. In the San Gabriel Valley, you are most likely getting Xian Bing, the Northern Chinese-style meat pies about the diameter and the density of a regulation hockey puck, packed with minced lamb or beef and green onion and enough hot broth to prevent a medieval siege. The new Min Min Pie House in Alhambra also has a wealth of other Northern Chinese dumplings, noodles, soups, and a particularly noteworthy Chinese breakfast.
How to book: Walk in or order over the phone at 626-656-6118.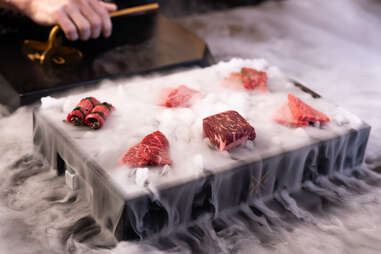 Downtown
LA has an established tradition of high-end Yakiniku, Japanese grilled-meat dinners, but newcomer Niku X looks to raise the bar a notch higher with its new spot on the second floor of the Wilshire Grand building downtown. They've brought Michelin-starred chef Shin Thompson on to run the kitchen, overseeing their extensive range of Wagyu beef and also the grill-focused tasting menu, served in a sweeping, modern, gigantic 9,000-square-foot space with an open kitchen. That tasting menu will also include sashimi, grilled seafood, and—as an optional supplement—Piedmontese or Umbrian truffle.
How to book: Reservations available through their website.
In Arthurian legend, the Holy Grail was an object of great healing power for which the knights of Camelot undertook a series of long and arduous quests. Your path to the grail is a whole lot easier, now that Holey Grail Donuts has landed in Santa Monica. The Hawaii-born shop fries donuts made from a base of taro, the starchy root vegetable that is essential to Pacific Island cuisine. They pound and ferment the taro root before frying it in coconut oil and topping it with flavors both classic and creative. There are options like Lilikoi, chocolate, and glazed; and things get more creative and seasonal with options like the Naughty List Coconut Charcoal Streusel and the Mission Chocolate with chocolate, pasilla chile, and a toasted marshmallow.
How to book: Walk in or order ahead online through their website.
Los Feliz
It's not easy for a new Mexican restaurant to stand out in the crowded category, but Mírate looks like something special. It's the more casual sister restaurant to much-lauded Mírame, with a creative cocktail list, a deep roster of agave spirits and Mexican wines, an exciting menu from chef Joshua Gil and the team, and it's set in a gorgeous, Oaxaca-influenced space on a busy stretch in Los Feliz. That cocktail list is at the center of things, with wild agave-focused riffs on classic cocktails; El Taquero, their take on a spicy margarita, uses the fermented chile and tomato paste that's also the base for their chorizo, in addition to pineapple, chamomile honey, and mezcal. The menu complements those drinks from top to bottom, with unique renditions of aguachile, mulitas, tlayudas, and a fun burger with house-made Thousand Island. Of course, there is also a whole set of creative tacos, like the Octopus Taco Arabe with chorizo, hoja santa guac, and chicharrón.
How to book: Reservations available through Resy.
Venice
When Dandelion Chocolate pulled up stakes from their pop-up shop at ROW DTLA, it opened a void in LA's bean-to-bar chocolate scene. But after a pandemic hiatus, they have returned to fill that void, with a new store now open on Abbot Kinney. This outpost of the San Francisco-based chocolate company is focused on retail, with a wide array of gift sets, baking essentials, and hot chocolate kits. They will also have the full range of Dandelion's single-origin chocolate bars, available to buy as whole bars and to taste. For a little added fun, they'll also be demonstrating the chocolate-making process, spinning small batches in their mini-melanger until it's warm, fragrant, and ready to sample. It's hard enough to walk by an artisanal chocolate store without stopping in, and the smell of freshly made chocolate will make that task even taller.
How to book: Walk in, or shop online in their web store.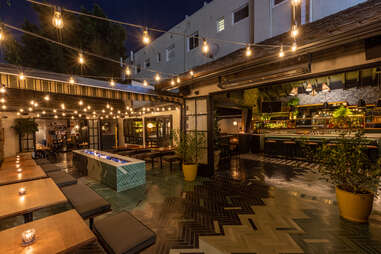 West Hollywood
If you've cruised the Sunset Strip over the last week or two, you may have noticed a familiar light switched on—after a big renovation, The Den has come back to life. The 13 year-old Strip mainstay got a head-to-toe glow up, a totally new menu from chef Ronnie de Leon, a cocktail list by Punch+Company, and an interior redesign by artist Nora Shields. That means dramatic wallpaper, abstracted herringbone tile, and an upgraded DJ booth to go with your Salmon Crudo and Guava Island cocktail. There are vintage books and records on the wall, a California animal motif, a menu of comfort food classics, and you're still an easy stumble across the street from a room at the Chateau Marmont.
How to book: Reservations available on their website.
Ben Mesirow is an Echo Park native who writes TV, fiction, food, and sports. At one time or another, his writing has appeared in The
LA Times
,
Litro
,
McSweeney's Internet Tendency
,
Los Angeles Magazine
, and scratched into dozens of desks at Walter Reed Middle School.