9 Exciting New Restaurant Openings in LA to Try This Weekend
Add a British-style brewery, Indian food with a modern twist, and a newcomer along the Marina Del Rey waterfront to this week's plans.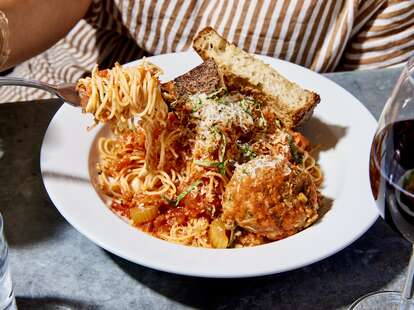 Photo by Andrea D'Agosto, courtesy of Zinc
October is here, but the only discernible difference for Angelenos are the orange and black decorations now draped across the city. Otherwise, the days are still fairly long and sunny, with plenty of fun things to do. Exciting new restaurants continue to impress us all across town, including a new brewery in Pasadena, a pub with killer pizza in Highland Park, elevated Indian cuisine in Alhambra, and a whole collection of thrilling spots. Here are 10 of the most exciting new restaurants you need to try in LA:
Downtown LA
Hotel Per La is a recent entrant into Downtown LA's booming hotel renaissance, revamping what was formerly Hotel Nomad into a chic, Italian-inspired getaway, with poolside Bar Clara serving spritzes on the rooftop and Per L'Ora, a newly opened dining option on the ground floor. At the latter you'll find a sleek interior replete in jewel tones, including 20-foot-tall coffered Italianate ceilings, marble tabletops, and arched entryways lined with gold detail. Helmed by third-generation Angeleno and executive chef Courtney Van Dyke (Four Seasons Beverly Wilshire, Montage Beverly Hills), the menu translates Italian staples with fresh California ingredients and draws on local influences, as seen in the Orecchiette with birria oxtail ragu and Crab Cakes topped with salmon roe. The beverage menu favors wines sourced from Europe and the Mediterranean, with creative cocktails like Owl's Castle (Tenjaku Gin, Haku Vodka, Mancino Sakura, Nigori Sake, rose orange bitters), courtesy of bar director Coleen Morton (The Redwood, Spring Street Bar).
How to book: via OpenTable.
Marina Del Rey
When Josiah Citrin and husband-and-wife duo Hans and Patti Röckenwagner opened Dear John's, it was supposed to be a temporary project, a fun diversion in a historic building that was slated for demolition. But here we are some three years later, and Dear John's is still going strong with mid-century steak and charm—so strong, in fact, that the trio behind it have opened a second restaurant in the same family, Dear Jane's in Marina Del Rey. Dear Jane's will make the most of its seaside location and elegant mid-century style, with views of the marina from the dimly lit retro-nautical room and a menu full of seafood classics. There are Oysters Rockefeller and Clams Casino, Trout "Amandine" and a roving carts dishing out tableside Shrimp Louie Salad, plus a whole section of the menu dedicated to caviar and a robust list of classic cocktails.
How to book: Reservations available through Resy.
Highland Park
The East end of York Boulevard sustained a great loss when chef Andre Guerrero's Maximiliano closed suddenly in January 2020. Thankfully for Highland Park locals, the ovens are back on at the corner of York and Aldama, and this time there's excellent craft beer and a casual pub feel, thanks to Jennifer Febre Boase and Alastair Boase, founders and owners of MacLeod Ale Brewing Company. Their original mission started in Van Nuys with a focus on brewing British-style ales, which are typically mellower, lower ABV, and served on casks at close to room temperature—a shock for those used to big, bubbly, cold American beers. They have since branched out to modern West Coast styles, but there are always casks full for those looking for a proper British pint to pair with their excellent, light and crisp pizzas and the house-made pasta.
How to book: Walk-ins only.
West Hollywood
Owner/founder John Secretan is a third-generation vegetarian, and has been pushing the cuisine forward since opening the original Zinc in 1988. Now Secretan is bringing that ethos to a new location on a happening stretch of Melrose in West Hollywood, their second LA branch and fourth overall, all in Southern California. Like their other outposts, there is a classic and well-executed selection of brunch and lunch dishes, from Chilaquiles and Belgian Waffles through salads and sandwiches, and also like previous locations, the space is stylish and comfortable, a calm oasis in the chaotic WeHo desert.
How to book: Walk in for dine-in. Take out is available through Toast, with delivery coming soon.
Alhambra
Main Street in downtown Alhambra is among the most restaurant-dense sections of the city, but chef Sagar Ghosh's new modern Indian restaurant Delhi Belly stands out. Delhi Belly is built to feature elevated Indian cuisine, with elegant plating and a design-forward interior with lots of dark wood, exposed brick, and flowing succulents for a sort of Airbnb-chic energy. But it isn't the style alone that sets Delhi Belly apart—the menu has a wide range of options, from proteins and vegetables cooked in the Tandoori oven to curries and biryani. There are also a handful of fun, creative dishes if you're ready to mix it up with Tikka Tacos, a Butter Chicken Burger, or Tortilla Soup.
How to order: Walk in, order for pickup through their website or delivery via DoorDash.
Pasadena
East Pasadena already has a lot going for it—parks, hoagies, natural wine—and now there is also a local brewery, the new Wild Parrot. Husband and wife John and Kirsten Jackson have been working for years towards this goal, and now it's here, a brewery co-located inside the excellent Rosebud Coffee, with plenty of seating indoors and on the patio out back. The family-friendly spot has a short menu of pub staples with more food to come, a few natural wines and ciders by the glass, and an exciting list of beers brewed onsite by John. They've opened with three lagers, one West Coast IPA, a sour, and a coffee stout—a great lineup to show off their range of skills, with plenty more on the way.
How to book: Walk in and order at the bar.
Seal Beach
It may not be traditional beach food, but the commingling scents of wood smoke and ocean air is as lovely a combination as you can find outside of a perfume bottle. Standing out front of The Backyard, the new barbecue spot in Seal Beach from the team behind Los Feliz' Messhall Kitchen, may be the best new place to drink in that aroma, and then tuck in to the food. They're doing a range of smoked meats like baby back ribs, tri-tip, and pulled pork, served on their own and in a selection of sandwiches. There's also a full menu of Southern and Americana classics like po'boys, fried chicken, and a burger that they encourage you to stack with up to four patties. Eat your meal then cruise the easy block and a half to put your feet in the sand.
How to book: Walk-ins for now, reservations and online ordering coming soon.
Echo Park
Despite the lack of a central nervous system, oysters are extremely active all over town these days—they are Jolly in Culver City, Found in Hollywood, founding companies in Malibu and bars in Silver Lake. Unfortunately, the Echo Park bivalve community is a little moodier, at least according to the signage on Echo Park Avenue for the new Lonely Oyster, a jaunty, nautical-themed restaurant and bar just off Sunset. The space has a long history as a restaurant, flipping from Restaurant 15 to Allston Yacht Club, then to Allumette and eventually The Holloway over the last 15 years or so. The Lonely Oyster, for its part, has a fun and whimsical attitude, with a selection of gently tweaked classic cocktails, a tight natural wine list, and a big food menu. They have Shrimp Arancini, Seafood Chowder, Clams in Coconut Curry, and giant seafood platters with ceviche, crudo, and plenty of fresh oysters—on plates like that, they won't be lonely for long.
How to book: Reservations available on OpenTable.
Glassell Park
The title of best sourdough bread in town is hotly contested, but the consensus pick for the last few years has probably been Bub & Grandma's, the wholesale bakers with a client list that includes luminaries like Petit Trois, Otium, Wax Paper, and Goodboybob. Now Bub & Grandma's has expanded beyond their farmers market stand and wholesale bread sales to add a full-service cafe in Glassell Park, with pastries, coffee, salads, sandwiches, and more. There are breakfast sandwiches with eggs and things like chorizo or greens, and lunch sandwiches include classics like tuna, Italian, and a Muffaletta, as well as unusual options like Cauliflower Cheddar, and Crab with Remoulade. There are plenty of whole loaves for sale to go, and alcohol and evening hours are coming in the not-too-distant future.
How to book: Walk in or order online through their Toast page.
Ben Mesirow is an Echo Park native who writes TV, fiction, food, and sports. At one time or another, his writing has appeared in The
LA Times
,
Litro
,
McSweeney's Internet Tendency
,
Los Angeles Magazine
, and scratched into dozens of desks at Walter Reed Middle School.