10 Best New Restaurants in LA
Your dining plans include mariscos, pizza, and much more at these best new restaurants in LA.
Photo by Jakob Layman, courtesy of Loreto
Spring is the season of renewal, of new life, new growth, and newly truncated baseball games. LA's wet winter has broken, the sun is shining, and festival season is entirely upon us. It's a great time to get outside or to hit the road for a long weekend or two, and it's a crucial time to see if you can help save the planet. It's also a fabulous time to eat in LA, with exciting new restaurant openings all over town.
There's stunning new West African cooking in Culver City, the return of a beloved pizza spot in North Hollywood, a stylish new Portuguese restaurant in Cypress Park, and a whole collection of thrilling new restaurants in LA.
Culver City
Citizen Public Market was already one of the best food halls in town, and they just got a serious infusion of talent with three new openings. The buzziest of the bunch is Ilé Bistro, a fast-casual offshoot of chef Tolu Erogbogbo's Ilé tasting menu pop-up that builds bowls around his signature Pepper Soup or Jollof Rice. Bang Bang Noodles is a brick-and-mortar home for chef Robert Lee's modern take on traditional Shaanxi Biang Biang Noodles, hefty noodles as wide as caution tape named in onomatopoeic fashion for the slapping sound they make as they're stretched by hand. Uoichiba is a purist's sushi stall, a handroll and chirashi specialist designed to highlight chef Liwei Liao's signature dry-aged fish, which is already on restaurant menus around town but rarely seen in such a focused showcase.
How to book: Walk into the market to order.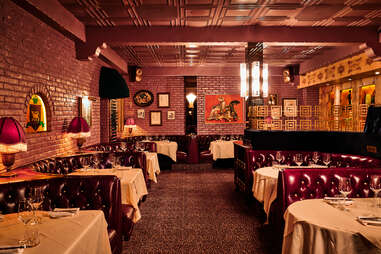 Beverly Hills
There are plenty of Italian restaurants in Beverly Hills, and dozens more within easy driving distance of the 90210, so it takes a lot for a reopening to make an impact, but La Dolce Vita is no ordinary Italian joint. This is the restaurant that first opened in 1966 with Frank Sinatra and George Raft as investors, that played host to power lunches and luxurious dinners for sitting presidents, and where Don Rickles ate so often that he got a booth named after him. The space has undergone a grand renovation at the hands of Marc Rose and Med Abrous of Call Mom restaurant group, with a menu refresh by executive chef Nick Russo highlighting Italian-American with a contemporary California touch. The result is as glamorous as expected, a lovely marriage of modern style and vintage charm.
How to book: Reservations are available through Resy.
Cypress Park
The influx of restaurants serving Iberian cuisine shows no signs of slowing down, and there's good reason to be excited about the newest entrant, Barra Santos, in Cypress Park. The space is cozy and cool, with dark wood paired with blue and white tile to transport you to the eastern edge of the North Atlantic. Chef Melissa López and Director of Operations Mike Santos have worked together to create a casual, fun menu based on Santos' Portuguese heritage and memories of his Portuguese-American upbringing. That means Bacalhau Fritters, Piri Piri Chicken, and the classic Portuguese pork sandwich Bifana. There is plenty of Vinho Verde and other Iberian wines to drink, along with essential Porto Tonicos, of course.
How to book: Only walk-ins are accepted.
Fairfax
For all the glory given to cheese, sauce, and toppings, the most important part of a good pizza is the crust. It's the piece that lands first on your tongue, it's the last bite you take, and it's the infrastructure supporting the whole operation. It's exciting, then, to see a dough-focused operation like a bakery moving into the pizza business, and that's just what's happened with Roxana Jullapat's Friends and Family Pizza Co. The original Friends and Family is a cafe and bakery in Thai Town with some of the best pastries and loaves around, and the new pizzeria puts that sourdough experience to good use in their location at the Original Farmers Market. Pizzas are broadly New York-ish in style, with lots of vegetable-forward toppings on that sturdy crust.
How to book: Walk up or order online through Toast.
Frogtown
After a slight delay and lots of anticipation, the marisqueria from the team behind Arts District hot spot LA Cha Cha Chá is finally open. And it's just in time for mariscos season too, when all we want is to soak in the sunshine, micheladas, and aguachile along the concrete banks of the LA River. The space is gorgeous, a high-ceilinged warehouse done up in an industrial-chic aesthetic with aqueous touches and on-trend plants. It also prominently features a raw bar and an open kitchen, so you can watch executive chef Paco Moran and his team whip up ceviches, tostadas, botanas, and several different types of ocean creatures grilled in the style of Pescado Zarandeado.
How to book: Reservations are available through Resy.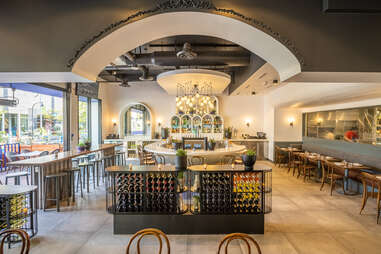 Playa Vista
Dina and Steve Samson, the duo behind Rossoblu, are taking their DTLA pizzeria Superfine out to the coast and expanding its purview a bit with the new Superfine Playa. They're calling this breezy new spot a California osteria, with lots of farmers market produce peppering chef Mo Marvel and Steve Samson's menu of house-made pastas and wood-grilled main courses. The space is bright and fun, with tons of native plants inspired by the nearby Ballona Wetlands, and lots of outdoor seating, both a patio and a terrace, to take advantage of the crisp beach air.
How to book: Reservations are available through the website.
Downey
Many restaurant groups open branches in LA, from Portland donut shops to NYC Italian restaurants. Rarer, though, are offshoots of bona fide Sinaloan mariscos joints, but that only makes the new El Muelle 8 in Downey that much more exciting. The new spot is a franchise of a popular marisqueria from Culiacán, Sinaloa, with a menu divided into hot and cold sections. The cold section is full of creative ceviches, aguachiles, and cocteles, and the hot is a compendium of tacos, empanadas, and all sorts of sauced-up shrimp. The decor is fun and wild and totally transportive.
How to book: Only walk-ins are accepted.
West Hollywood
Some restaurants thrive by freezing themselves in amber, growing slowly into historical artifacts. But for the vast majority of restaurants to last, they need to stay fresh by reinventing themselves every so often. The West Hollywood hotspot EP & LP has tweaked its formula several times over the years, and they've just unveiled their latest flip, turning the main dining room into Bombo, a modern Mexican concept. To execute the idea, they've brought on head chef Samantha Quintero, a native Angeleno with a stellar resume that includes stints at The Aviary, Night + Market, and as a Chopped champion. Quintero's menu features dishes from across Mexico inspired by her Mexican-American Angeleno roots, such as Chile Poblano Croquettas, Lamb Al Pastor, and Tacos de Pescado battered with coconut. There are creative cocktails, and the interior is as trendy as ever, inspired by Mexico City with lots of artisanal ceramics.
How to book: Reservations are available through Resy.
Fairfax
The team behind McDonald's parody restaurant Mr. Charlie's (home of the plant-based Frowny Meal) is back at it, taking aim at the fast food industry once again. This time, they're coming for chicken with a new concept called Mother Plucker. They're serving plant-based Tindle tenders in combos with fries, slaw, and sauces like Sweet Heat, Avo Ranch, and Not Buffalo. They have a legion of adorable catchphrases and slogans like "Zero Plucks Given," an eye-catching blue and yellow color palette, and an array of plant-based shakes for dessert.
How to book: Only walk-ins are accepted.
North Hollywood
After a year or so away from the public eye, beloved pizzeria La Morra is back in a new neighborhood with a new plan. They've outgrown their pop-up pot to plant stationary roots in North Hollywood, working out of a production kitchen to offer takeout and delivery only. They've tweaked their dough recipe to fit the takeout model, and they're using high-heat electric ovens, which guarantees your sourdough pizza doesn't get soggy even on a long ride across town. They have a ton of options, including the celebrated Potato Pie, a Jalapeño Pep, lots of vegan choices, and a Build Your Own section. There are also killer wings, lovely salads, and an essential array of dipping sauces like Roasted Garlic, Hot Honey, and their Italian Chili Crisp.
How to book: Order directly through the website, or try Postmates and DoorDash for an expanded delivery radius.