Eat All the Pasta and Drink All the Wine at the 10 Best New Restaurants in LA
There's pasta in Beverly Hills, craft beer in Burbank, tequila in downtown, and much more at the best new restaurants in LA!
Photo by Eric Wolfinger, courtesy of Funke
Photo by Eric Wolfinger, courtesy of Funke
It's been an unpredictable few months in LA, climate-wise. The weather swerved from dreary to perfect and right back again, and the Lakers' season followed the exact same arc, ending in a thorough thumping by the Denver Nuggets after a surprise run to the Western Conference Finals. There have been some heartbreaking restaurant closures and tragic losses, but now we're finally entering the season of fun. It's time for road trips and festivals, weekends away and park hangouts, the newest blockbuster Fast & Furious movie, and a futuristic food court to eat in afterward. And it's an especially fabulous time to eat in LA, with tons of exciting new restaurant openings all over town.
There's new craft beer in Burbank, stunning pasta in Beverly Hills, modernist Indian food in downtown, and a whole collection of thrilling new restaurants in LA.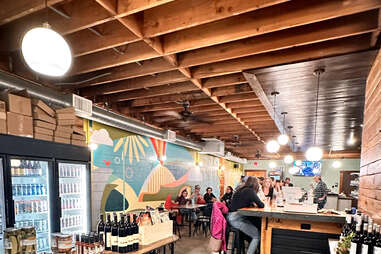 Burbank
When it opened in 2009, Jeremy Raub, Ting Su, and Steven Raub's Eagle Rock Brewery became the first microbrewery to open in LA in 60 years. Some 14 years later, it's still making some of the best beer in town, and now they've got a whole new venue in which you can enjoy it—a lovely combined tasting room, bar, bottle shop, and artisanal market called The Landing, just across the 5 from the runways at Burbank Airport. The space is stylish and bright, a little more chill and mature than your average bar, with a TV at one end to show sports on mute. There are 16 taps of beer from ERB and friends and plenty of options to take away with you, including beer, wine, snacks, and gear. Longtime LA beer folks may feel particularly at home—some of the team (and one of the coolers) comes from the dearly departed Echo Park beer store/bar Sunset Beer Company.
How to book: Walk-in.
Frogtown
May gray slid right into June gloom last week, but the overcast skies couldn't stop the good vibes in Frogtown, thanks in large part to new arrival Za Za Zá. The project is the lunchtime arm of Loreto, itself an offshoot of Arts District and Mexico City restaurant Cha Cha Chá. The new spot is a casual marisqueria on the patio of the Loreto space. You walk up and order at a window and proceed into the expansive backyard, where tables are dotted around a wide swath of decomposed granite, set up with summery white umbrellas and surrounded by desert flora. The effect is effortlessly cool, and that's before chef Paco Moran's mariscos hit the table. The menu is exciting, with go-to mariscos thoughtfully tweaked with fancy techniques. The Gringa has swordfish al pastor and grilled nopales, the Yellowtail Tostada is kicked up with tobiko mayo and shaved bonito, and the highlight may be the taco they call Una Costra Por Favor, a take on Tacos Gobernador in which the cheese is fried to a crisp and rolled up around shrimp, chiles, and yet more cheese.
How to book: Walk-in.
Melrose
A buzzy, clubby, cowboy-themed cantina on Melrose is not necessarily where you would expect to find smart and specific regional Mexican cooking. But the new Durango Cantina has a gem in the kitchen in chef Alex Carrasco, who has worked in great restaurants around LA but is perhaps best known for his creative tacos at the fabulous Bee Taqueria. He's leaned into Durango-style food for this appropriately named new cantina, with a meat-centric menu that runs from smaller plates of Albondigas Duranguenses through a ton of tacos with proteins like birria or bone marrow and on to big meaty main courses like a Lamb Shank Mixiote and chipotle-glazed Beef Ribs. As you might imagine, there are lots of agave-based cocktails to complement the menu, which run the gamut from classics like Margaritas to modern drinks like the Valentina with coconut, cinnamon, mint, and lime.
How to book: Reservations are available through Resy.
Oxnard
One of these days, it'll start to feel like real summer, and when that happens, we'll be cruising right up the coast to Oxnard and the new local brewpub Wagon Wheel Brewing. The community-minded operation has a warm and airy space right off the 101, designed to accommodate everything from after-work snacks with the NBA Finals on the TVs in the background to a full dinner with friends. Head Brewer Kolaan Busbice is a Ventura County native who's returned home after brewing at Modern Times, and chef Stefhanie Meyers brings a wealth of experience from the kitchen at places like The Federal. Meyers' menu trends modern California Mexican, with Cauliflower Esquites, Linguica Corndogs with masa-based batter, and a Tijuana Caesar. The opening beer lineup hits the SoCal essentials—something light, something sour, something Belgian, and a whole bunch of IPAs—with much more to come and plenty of fun guest taps to boot.
How to book: Walk in, or make a reservation for a large group at 805-351-0449.
Beverly Hills
What do you do when the chef behind one of the city's hottest, grandest, and most-lauded restaurants in town opens another scorching spot before the heat from the last one has really dissipated? Can restaurants get hotter, grander, and more lauded than Mother Wolf? Pasta maestro Evan Funke is doing his best to answer the latter question in the affirmative, opening the truly sumptuous self-titled restaurant Funke in Beverly Hills. The new one is dedicated, as expected, to the finer points of regional Italian cuisine, from Roman-Jewish artichokes and handmade pasta to pizzas and large-format proteins. There is also, of course, a magnificent rooftop bar with a separate menu of crudos and caviar, stunning views, and a thoroughly opulent rose quartz bar. Will this make it easier to get a decent reservation at Felix or Mother Wolf, at least? It seems unlikely, but one can hope.
How to book: Reservations are available through Resy.
Highland Park
Amiga Amore isn't brand new as a concept—chef Danielle Duran-Zecca and her husband Alessandro Zecca have been popping up with their MexItalian fusion cuisine for several years now. But finally, after all that hard work and much anticipation, they have a storefront to call their own. The pastas are the centerpiece of the menu, of course, with wild and fun dishes like Huitlacoche Cacio e Pepe, Chile Colorado Cavatelli, and the signature Elote Agnolotti. But there are plenty of exciting and fusiony non-pasta courses, too, including the Noprese Salad, a Tonnato Tostada, and Chorizo Y Clams. To drink there are Italian wines, Micheladas, intricate mocktails, and Cafe de Olla.
How to book: Reservations are available through Tock.
Century City
Say what you will about the wealth of boundary-pushing fusion cooking here in Southern California, but good Italian food is always a winning formula. See, for example, the enduring popularity of the expansive Italian marketplace Eataly. The place is basically always busy, and there's likely to be a whole new surge in popularity with the permanent opening of Capri, a new rooftop restaurant that started life as a pop-up there last year. Capri is focused on coastal Italian cooking, with a special emphasis on seafood crudo, tartare, and carpaccio. There will also be housemade pastas, pizzas, and plenty of antipasti, of course, and a drink list that features spritzes, coastal Italian wine, and refreshing cocktails. For dessert, skip the sweets and check out their rolling limoncello cart, which parades through the restaurant with pours of both imported and housemade limoncello.
How to book: Reservations are available through OpenTable.
Santa Monica
It's not always clear why some restaurants make it and some don't—the appetites of Angeleno tastemakers can be hard to nail down. But one thing that always works is Mediterranean food on a lush patio in Santa Monica; and Mon Ami, the new restaurant from the team behind Canary, has the look of a winner. The menu is a collaboration between lauded chefs Samir Mohajer & Sabel Braganza, two native Angelenos who bring a local touch to pan-Mediterranean dishes. That means Cauliflower Shawarma, a version of the Persian yogurt dip Mast-O Musir made with avocado and tomato, and Chocolate Tres Leches for dessert. The cocktails are modern and fun, and the space is warm and verdant with stucco, cedar, and mahogany. After dinner on Fridays and Saturdays, things get even more lively with DJs, bottle service, and some late-night snacks.
How to book: Reservations are available through Resy.
Downtown
The Agave Library is not a new standalone restaurant, exactly. Instead, it's an additional concept within Sendero, chef Kevin Luzande's multifaceted restaurant that's set on the 24th floor of the Ritz-Carlton downtown. This new piece is a special experience, a tasting menu-only room tucked into a hidden corner of the restaurant. Over several hours, chef Luzande presents five courses with a host of extras and surprises, each of which is paired with a pour of luxurious agave spirit. The menu for the first iteration of the dinner is a collaboration with high-end tequila brand Clase Azul, a celebration of Jaliscience cuisine and the state's premium liquid export too. Dishes like Colima-style ceviche, Lamb Al Pastor, and Charales get a fancy spin and a matched pour of Clase Azul tequila, from the already lovely Reposado all the way through Clase Azul Ultra, a bottle of which often runs thousands of dollars at retail, if you can even find it. It is a pretty marvelous experience, especially for tequila fans. The new space is an impressive addition to the restaurant's overall conceit, a journey down the Pan-American Highway.
How to book: Reservations are available through OpenTable.
Downtown
There is good Indian food in LA, and especially good Indian food a little ways south in Artesia, but it's been a while since we've had a splashy new Indian restaurant opening. Thankfully there is the new Baar Baar, a creative Indian restaurant with grand designs in downtown. Chef Sujan Sarkar is taking flavors from his childhood in Kolkata and pairing them with modernist techniques that he's picked up over a career leading kitchens worldwide, from New Delhi to New York. That means high-end spins on classics like Dahi Puri and Butter Chicken share space with fusiony thoughts like Monkfish Osso Bucco and LA-inspired dishes like a Kashmiri Duck Taco. The bar program is similarly creative, and each of the drinks takes its name from a Bollywood film—the RRR, for example, has Old Monk rum, creme de cacao, chocolate, and coffee bitters. The space blends elegance with exuberance, hits of bright teal and yellow and a massive mural paired with white marble, dim lighting, and a lovely glowing bar.
How to book: Reservations are available through OpenTable.