9 LA Restaurant Openings That You Might Have Missed
Your summer calendar just got busy.
Photo by Eddie Sanchez, courtesy of Jungli
Los Angeles, along with the rest of the state of California, is on schedule to ditch the four-tiered Blueprint for a Safer Economy system and fully reopen on June 15. This allows for the return of concerts, festivals, plus a slew of other activities, and restaurants will no longer be required to limit capacity for indoor or outdoor dining, or maintain social distancing. June 15 also marks the date when California will align itself with the CDC's recommendation that fully vaccinated people can stop wearing masks in most indoor settings.
All of this means that, if you count yourself among the more than 60% of Angelenos who are already fully vaccinated, you can once again dine out without the stress of making a dinner reservation weeks in advance, trying to find a table for a party of more than four people, or messing up your makeup/fogging up your glasses every time you drop your mask. And the cherry on top? You can treat yourself to a brand new dining experience courtesy of numerous newly opened restaurants across town.
Just remember that while this may be good news for those of us who want to give our couches an opportunity to re-form to their original shapes, this also means yet another last-minute pivot for an already beleaguered restaurant industry. So be patient as everyone adjusts to our new normal and be respectful of whatever restrictions remain in place past June 15, as restaurant owners and their staff deserve to feel safe in their place of work, just like everyone else.
Here are 9 new LA restaurant openings to add to your eating agenda this summer:
Pasadena
This brand-new restaurant and cheesery is located in a gorgeous, nearly century-old space along Pasadena's historic Green Street and comes courtesy of brand new restaurateurs and husband-and-wife team Vanessa and Thomas Tilaka Kalb, who spent years earning their stripes at celebrated eateries in San Francisco, Chicago, and LA, before opening Agnes, which is named after Thomas' maternal grandmother. The nostalgia-driven menu features reimagined family dishes, like pineapple-glazed meatballs served alongside grilled flatbread, and barbecued beef cheeks that are lacquered in a signature sauce with swissed carrots, plus meat and cheese boards and cut-to-order cheesy snacks. The drink menu favors boutique spirit labels, wine producers, and breweries, while the cocktail list features seasonal produce and house-made garnishes. A provisions market with cheeses, sandwiches, wines, and other items is also attached to the restaurant.
How to book: via Tock
DTLA
With a name that literally translates to "wild child" in Hindu and Urdu, Jungli brings a fresh perspective to vegan-friendly South Asian eats with a menu that changes weekly. The takeout and delivery concept celebrates South Asian culinary traditions with build-your-own thalis, or plates, that unite six flavor profiles—sweet, salty, bitter, sour, astringent, and spicy—on a single, compostable bento-like box. Founded by Rupal Patel, Jungli's take on thali will offer a combination of bases, seasonal dishes, and toppings that are vegetarian by default, but can be easily altered for vegan or meat eaters. Open for lunch Wednesday through Friday, one of Jungli's first menus features a collaboration with executive chef Ali Haji, resulting in comforting dishes that span from Pakistan (beef shin nihari) to Bangladesh (Bengali cauliflower) to Northern India (lemon rice). Ten percent of sales will support COVID relief efforts throughout India and the South Asian region.
How to book: Place takeout and delivery orders via their website.
Beverly Hills
Turkish butcher, chef, and restaurateur Nusret Gökçe, better known as Salt Bae, first earned his way into our hearts via social media with his shapely forearms and flamboyant method for seasoning perfectly cooked meats, and has now expanded his global steakhouse chain to a new location in Beverly Hills that's already become something of a celeb hotspot. Outside of peeping the CW actors that you've been binge watching at home for the last year, Nusret is known for its quality steaks and hospitable service, and you just might get lucky with the chef gracing your table for a personalized dash of salt. From tender asado beef ribs to Nusr-Et's signature Kobe steak, you'll be hard pressed to find a better place to indulge your most carnivorous cravings.
How to book: Reservations via OpenTable.
West Hollywood
Not just a place to find your post-pandemic sweetheart, Soulmate aims to be your new favorite WeHo watering hole, which is not hard to imagine once you enter the 7,000-square foot space, with its covered courtyard and mid-century-inspired interior. Executive chef Rudy Lopez (The NoMad Los Angeles) helms a Spanish-Mediterranean menu with highlights that include a Santa Barbara Uni Toast with rock shrimp, butifarra chorizo, chili honey, and piquillo pepper aioli, and grilled Iberico Secreto skewers with pickled shishito peppers and pork jus. Beverage Director Naomi Schimek (The Spare Room) features native California plants, fresh herbs, and fruits in a selection of sophisticated craft cocktails, while the robust wine list showcases vintage and up-and-coming producers, available by the glass or bottle.
How to book: via Opentable.
El Segundo
Many of Nomad's Mediterranean-inspired dishes come expertly plated on pateras, or wide, shallow bowls that were used by the ancient Romans for saucy dishes to prevent spilling and to precisely portion proteins, carbs, and other contrasting flavors. While Nomad's pateras are perfectly portioned for one, they also make great shareable plates if you can't decide on a single dish, and with options like grilled salmon esquites and chimichurri steak frites, we're betting you won't want to. Plus, that leaves more room for one of the house specialties, like the crispy, lime-marinated whole branzino with pickled daikon and carrots. Conveniently located near LAX, the restaurant has a Tuesday–Friday happy hour from 4:30–6 pm with $6 wines and $7 classic cocktails, plus $5, $6, and $7 bites that will tempt you to leave the airport during an extra long layover.
How to book: via Resy.
Long Beach
Award-winning chef Michael Mina and hospitality vet Brent Bolthouse teamed up on this restaurant clubhouse concept that will soon expand to a second location in Northern California. But for now, head to the iconic corner of PCH and Second Street in Long Beach's bustling Belmont Shore neighborhood to test-drive its premier iteration. The expansive 10,000-square foot location features plenty of indoor and outdoor seating, four bars, and an eccentric, bohemian atmosphere that makes you feel like you're lost in some celeb's Craftsman bungalow home. The food is quintessential California cuisine with local, seasonal ingredients that come together in dishes like a decadent lobster pot pie featuring a whole Maine lobster, truffle-lobster bisque, and root vegetables. The bar program features a lengthy wine list, in addition to several refreshing craft cocktails.
How to book: via their website. Call 562-719-9400 for late-night reservations after 10 pm.
Silverlake
After a successful pop-up at Yamashiro last year, this vegan soul food restaurant from celebrity chef Velvet has landed in a permanent brick-and-mortar on a popular stretch of Sunset Blvd. The menu boasts all of your Southern-fried favorites adapted to a vegan palate, like house-made "Krab" cakes with chickpeas and zucchini, and a Soul Plate that comes stacked with chic'n or shrimp, mac and "cheeze," Southern-style yams with real maple syrup, from-scratch cornbread, and chef's choice of veggies. Stop by for their weekly Brunch and Soul Sunday, an all-day affair that goes from 10–6 pm, and often includes an impromptu Electric Slide with staff and customers encouraged to participate.
How to book: Walk-ins welcome or call 323-486-7044 for reservations.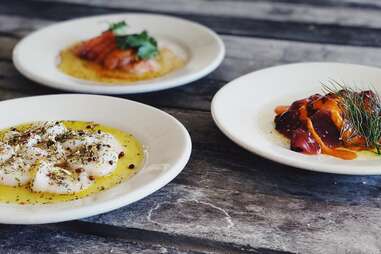 Santa Monica
LA is in the midst of a raw bar renaissance, a trend that we're happy to say Crudo e Nudo is helping to solidify with the recent launch of their first brick-and-mortar in Santa Monica after a successful pop-up run. With Chef Brian Bornemann (Michael's Santa Monica, Viale dei Romani, The Tasting Kitchen) and interdisciplinary artist Leena Culhane at the reins, the Italian-inspired seafood restaurant and adjoining market features some of the pair's most popular pop-up dishes, like a Hook & Line Tuna Toast with tuna tartare, new onion confit, shrimp stock, and black sesame atop a seeded Gjusta loaf. Stop by early for a cup of fair trade coffee from Lenny's, Culhane's vision for a neighborhood breakfast cafe, with treats from Venice's Gjusta bakery. The dessert menu features Culhane's Creme Fatale side project of organic, five ingredient ice cream featuring herbs and flowers from her garden. And not that you needed another reason to book it to their Main St location ASAP, but Crudo e Nudo also stocks a compelling list of biodynamic wines that pair perfectly with their seafood-driven menu.
How to book: via Resy.
Culver City
If their raucous (yet still COVID-friendly) Cinco de Mayo grand opening party with all-day $5 tequila and mezcal shots was anything of an indication, Vamanos Tacos is a newly formed Mexican spot that you should definitely pay attention to. The restaurant was inspired by a motorcycle road trip through Mexico and seeks to replicate the bold flavors and warm hospitality that define the cuisine. We'd say they're doing a bang-up job so far, and their menu features a good variety of Mexican staples, from a selection of chilaquiles, breakfast burritos, and huevos rancheros for breakfast, to mesquite-grilled tacos, nachos, fajitas, and burritos for lunch and dinner. But pro-tip, you'll want to start with consome de birria (and why not add some birria to it for $1.50?) for dipping your tacos (or really, anything you order) and save some room for a homemade churro dessert.
How to book: Walk-ins welcome.