Best Idea Ever: Nighthawk Is a Late-Night Bar That Serves Breakfast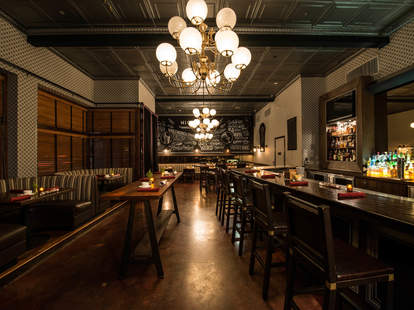 File this one in the "seriously, why didn't I think of that first" department: opening tonight, Nighthawk is a bar that serves breakfast. Seriously. Conveniently combining our favorite two reasons to be awake late night, the bar/breakfast spot means you can order spiked cereal milk (!) from 10pm-2am. Keep reading.
Timothy Norris/Thrillist
The whole thing's the brainchild of the guy behind Genesis and Golden Box, but Nighthawk is unlike anything else in town. Your night will start with a complimentary newspaper and cup of coffee as soon as you sit down, and continues to...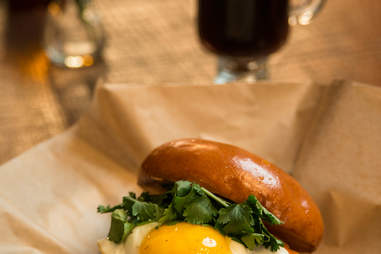 Timothy Norris/Thrillist
... full-on breakfasts from a longtime Spago chef (legit alert!), with oh-my-god-get-in-my-mouth-right-now eats like this breakfast sandwich with a house-made breakfast sausage and Gruyere on a pretzel-style bun...
Timothy Norris/Thrillist
... and this "drunken" French toast, which is made from challah with pear brandy and mascarpone mousse. Seriously, is there anything else you'd rather eat after a night of drinking? There is not.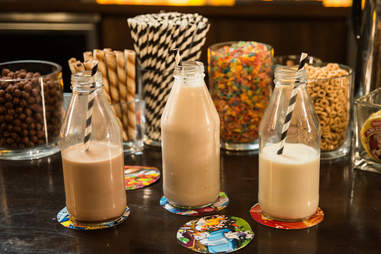 Timothy Norris/Thrillist
Remember, this is a bar, so the drinking doesn't stop at your complimentary coffee. These are those spiked cereal milks we were telling you about: you can choose from fruity, choco, and honey nut, which all taste like the remnants from your favorite childhood cartoon-watching sessions, with the added bonus of being totally loaded with alcohol.
Timothy Norris/Thrillist
And if for some reason you don't want to drink boozy cereal milk, they also have Mezcal-laden coffee. SERIOUSLY WHY DIDN'T WE THINK OF THIS YEARS AGO?!
Sign up here for our daily LA email and be the first to get all the food/drink/fun Los Angeles has to offer.
Jeff Miller is the senior city editor of Thrillist Los Angeles and always always always wants eggs when he's been drinking. Seriously, proof is in photos on his Instagram at @jeffmillerla and on Twitter at @ThrillistLA