Everything You Need to Try on Coachella's Secret Menu This Year
If you're going to Coachella (and, let's be honest, you're going to Coachella), chances are you're as excited about the food as you are about the music. The festival's food options, which used to be limited to spicy pie and BLT wraps, now include selections from some of the best restaurants in LA and beyond. And, some of these next-level spots are serving up off-menu dishes and Coachella-specific items, elevating the food and drink line-up to an even higher level. Want to know where to go and what to eat? We've got you covered.
Off-menu Coachella dishes
Mallow Mallow
Off-menu dish: The Ella
Ask for this off-menu item, and the s'more shop'll cover your marshmallow with Funfetti.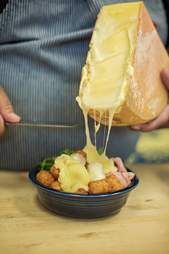 Neil Husvar
Paper Planes
Off-menu dish: Throw Some Cheese On It
Not a ton is known about this new concept from Eggslut's Alvin Cailan, other than this: If you say "Throw Some Cheese On It," he'll melt raclette on anything on the menu. Even lemonade. Which is super-gross.
Birdies
Birdies
Off-menu dish: The Secret Donut
There's actually not a name for this dish, but here's what it is: a dark chocolate cake donut with a strawberry jam filling and Nutella, topped with Champagne glaze and covered with edible gold leaf. It's also $35, so you're probably going to want to choose between the donut and a souvenir T-shirt.
Eureka!
Eureka!
Off-menu dish: Mac & cheese balls
The burger joint's doing fried mac & cheese with beer cheese, fresno chilies, and ranch dipping sauce -- but only if you ask nicely.
Caroline Conroy
Mamacita
Off-menu dish: Ricard's Uni Hamachi Poke Ceviche
Lots of words for this seafood-y dish from Ricardo Zarate, who's making a comeback after a few years off the scene with this new Peruvian concept, which just opened its first location at Hollywood and Highland.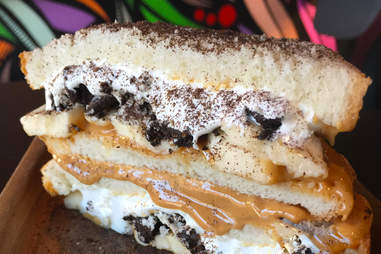 Beery Belly
Beer Belly
Off-menu dish: Oreo Fluffernutter
The Koreatown bar-food favorite's doing a dessert with white bread, peanut butter, marshmallow fluff, crushed Oreos, and banana.
Exclusively available at Coachella
Holy Cow
Exclusive dishes: Pineapples & grilled corn
The BBQ joint's doing street cart-style pineapples (topped with lime juice and Tajin), as well as elote-style corn with butter and seasoning salt.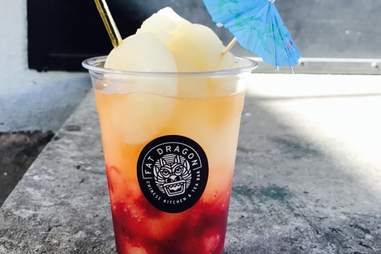 Fat Dragon
Fat Dragon
Exclusive dishes: Egg rolls & Slushies
It's pretty incredible that this superlative new Silver Lake Chinese restaurant (which is also doing a Fairfax delivery popup through April) doesn't have egg rolls on its menu, but you're going to want to eat them in Indio -- and wash them down with cold brew green tea Slushies with lychee and yuzu.
Wolf
Exclusive dishes: Pork belly slider & coconut milk ice dream
Yep, you read that right: Marcel Vigneron is serving "Ice Dream" -- so named because it's dairy-free -- as well as a slider with pork belly, mango, green papaya slaw, and spicy aioli.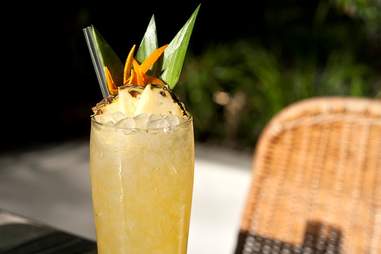 Gemma Lacey
Winsome
Exclusive dish: Aguas Frescas
The critically acclaimed Echo Park spot is doing two refreshing aguas frescas -- one with blackberry, prickly pear, and mint, and the other with passion fruit, mango, and lime.
Milk Box
Exclusive dishes: Detox refresher & orange iced tea
OK, these drinks aren't really that exciting -- but on a hot day running between stages, they're going to be super-delicious life savers.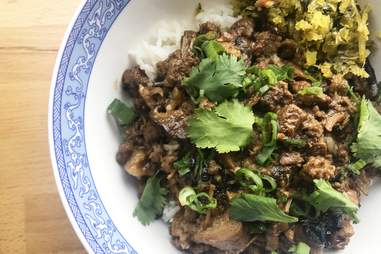 Little Fatty
Little Fatty
Exclusive dishes: Minced pork over rice & Fried pork dumplings
Don't live on the westside, but still want to try this acclaimed Asian eatery? Here's your chance.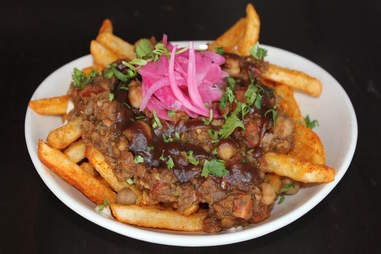 Badmaash
Badmaash
Exclusive dish: Channa Masala
The Downtown Indian restaurant will be opening a mid-city location later this year -- but before then, chow at 'Chella on this dish of stewed garbanzos with onions, tomato, and serrano.
Sign up here for our daily LA email and be the first to get all the food/drink/fun Los Angeles has to offer.