The Best (and Craziest) New Food at the 2016 OC Fair
Every year, the Orange County Fair blows minds (and arteries) with absolutely next-level food absurdities, and this year's Fair -- taking place until August 14th -- is no different. Here are the best new options to get there, from S'moreo donuts to Nutella-stuffed pickles. Yes. That's right.
Dustin Downing/Thrillist
Buffalo bacon baked potato
Available at: Bacon-A-Fair
These animals are checking out a genius creation: a massive 1lb-plus baked potato, wrapped in bacon, slow-cooked so it soaks up the juices/grease/fat, and topped with butter, sour cream, blue cheese, and Buffalo sauce. 
Dustin Downing/Thrillist
S'moreo donut
Available at: Texas Donuts
This 8in (!) donut is topped with icing, Oreo crumbs, graham cracker crumbs, and marshmallow cream, and then drizzled with chocolate syrup.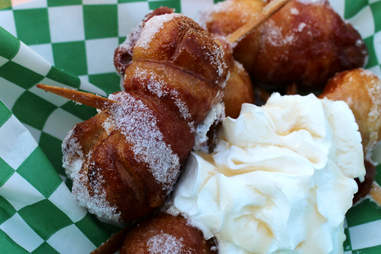 Courtesy OC Fair
French toast bacon bombs
Available at: Bacon A-Fair
These healthy little niblets are, uh, French toast, wrapped with bacon, stuffed with cream cheese, deep-fried, topped with whipped cream, and served with maple syrup.
Courtesy of OC Fair
Lasagna sandwich
Available at: Pignotti's
It may not be the most beautiful sandwich in the world, but hey: when you stuff lasagna into a roll, you're probably not looking for beauty.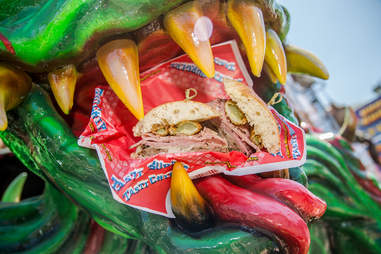 Dustin Downing/Thrillist
All American Reuben burger
Available at: Grant's Tasti Burger
It's a burger! It's an aged-pastrami Reuben! It's a fried pickle! It's ALL OF THESE THINGS BETWEEN TWO BUNS!!!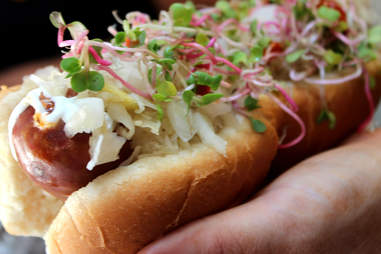 Courtesy OC Fair
Daenerys Mother of Doggies
Available at: Pink's
Pinks is doing a bunch of "Hollywood-inspired" dogs at the Fair, but this Game Of Thrones-named one -- with spicy Polish dog topped with sour cream, sauerkraut, onions, radish sprouts, and Sriracha sauce, is the winner (in name, at least).
Dustin Downing/Thrillist
Bacon-Nutella pickles
Available at: Pickle O' Pete's
The name basically says it all -- except that they're fried in funnel cake batter. They've also got 'em stuffed with cheese, which sounds just a bit too normal at this point, right? 
Courtesy OC Fair
Cherry Kool-Aid hot wings
Available at: Chicken Charlie's
What happens when you add Kool-Ade to hot wings batter? You're gonna have to have these to find out.
Dustin Downing/Thrillist
Chicken IN the Waffle On-a-Stick
Available At: Chicken Charlie's
In the OMG-why-didn't-I-think-of-that category, Chicken Charlie's is literally putting chicken tenders in their waffle dough, then cooking it all together, and topping it with powdered sugar and serving it with maple syrup. Genius.
Sign up here for our daily LA email and be the first to get all the food/drink/fun Los Angeles has to offer.
Jeff Miller is going to start making Chicken IN the Waffle On-a-Stick at home. He's on Instagram at @Jeffmillerla and Twitter at @ThrillistLA.