The 9 most unbelievable new foods from the OC Fair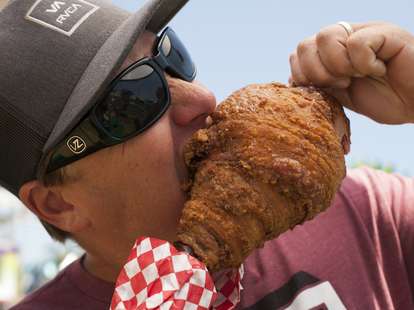 MEG STROUSE
MEG STROUSE
The best thing about the OC Fair isn't the janky rides run by dudes half your age who'll probably kill you -- that honor is instead reserved for the nine, new, mostly deep-fried things pictured below (which will also probably kill you). If you dare, they're all available from now until August 10th.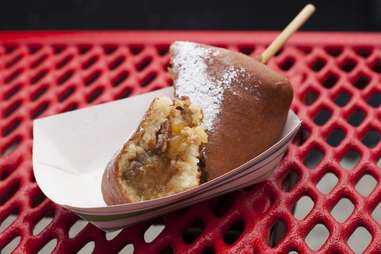 Fair Fix and Fried A Fair's Deep-Fried Pecan Pie
This dessert doubles-up the possibility that you're going to end up with a double-XL coffin, by taking a Thanksgiving classic, battering it up, and dipping it in hot oil (on a stick, obviously). Oh yeah, and then topping it with powdered sugar. Because that's totally necessary.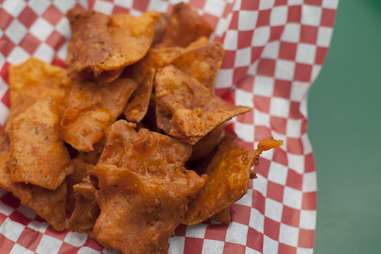 Chicken Charlie's Deep-Fried Doritos
Taco Bell, take note. These dudes are crunchier than Doritos Locos Tacos, oilier than Doritos Locos Tacos, and yes, more delicious than Doritos Locos Tacos. Or Doritos. Which's loco.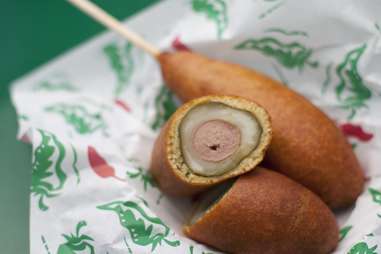 Pickle O' Pete's Pickle Dog
So first, they core a pickle. Then they stick a hot dog in it. Then they cover it with corn meal batter. Then they deep-fry it. Then you eat it. Then you'll get another one.
Bacon-A-Fair's Bacon-Wrapped Jack Daniel's Churro
Wut. So apparently, this is a churro whose insides have been filled with whiskey awesomeness, then the whole thing is covered in bacon, then fried, then covered in sugar, then served with syrup. Read that sentence again. Buy fair tickets immediately.
Chicken Charlie's Deep-Fried Chicken Skin
An idea so genius, its shocking it's never been done before: chicken skin chicharones. That's it. And that's all you need it to be.
Texas Donuts' Banana Chocolate Cream Donut
These XL sweet-bombs are exactly what they sound like -- slathered in chocolate, topped with fresh banana, loaded with cream, and absolutely delectable.
Texas Donuts' Cherry Pop Rocks Donut
Have you ever eaten one of the best donuts in LA and thought to yourself, "Self, wouldn't this taste better with some Pop Rocks on it"? Because you should've. Not only is this thing explosive, but it's also massive -- it's about four times the size of a regular donut.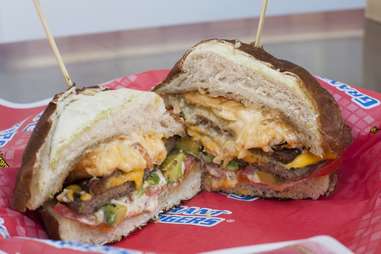 Grantburgers' Chile Relleno Burger
This is literally an already great burger, made greater with a cheese-stuffed chili relleno, some chorizo, some jalapeños, and a pretzel bun.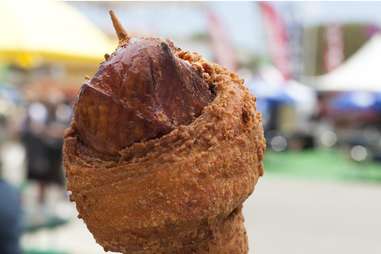 Bacon A-Fair's Cave Man Club
This? This is only the GREATEST THING THAT'S EVER EXISTED. Yes, it is a smoked turkey leg, totally wrapped in bacon, and -- you guessed it -- deep-fried. If there was ever another, better thing that ever existed, it hasn't, so stop lying about it.
Jeff Miller is Thrillist LA's Senior City Editor and wonders on a daily basis why there isn't a single restaurant in LA that serves smoked turkey legs year-round. He's at @jeffmillerla on the Instagrams and @ThrillistLA on Twitter.