Orange County Fair - 10 Craziest New Foods at the OC Fair - Thrillist Los Angeles
Because no one there's even heard of a salad, we hit the OC Fair to find out which of their newest fried/ bacon/ bacon-fried eats can be crowned the truest, most glorious heart-stopper. SPOILER ALERT: The winner might be fried. And involve bacon.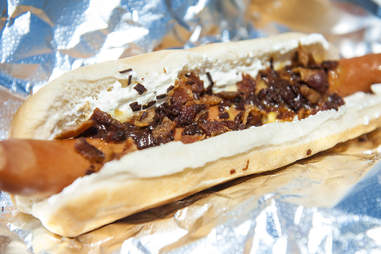 10. Pink's Ghirardelli Hot Dog: The legendary La Brea stand's known for going wild with their wieners (!), and this one doesn't disappoint on that end, seeing as how it's topped with cream cheese and honey mustard, plus crumbled bacon and, um, dark chocolate. Though it burst with flavor, there was too much richness -- a phrase no one in LA has ever said before.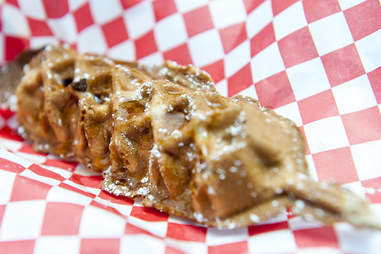 9. Chicken Charlie's Waffle Dog on a Stick: You're pretty much looking at a corn dog made with waffle batter (!) in place of the usual dough. Pro Tip: Place your order with a request for extra EXTRA syrup and powdered sugar on top -- I mean, you ARE at a fair, right?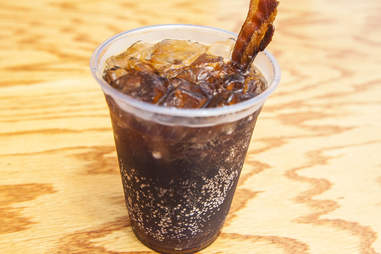 8. Bacon A-Fair's Bacon Beer: Knocked down at least five rungs for a misleading name that seemed to insinuate booze, this is fizzy root beer with (brace yourself) a good inch of hearty bacon grease at the bottom. Refreshing? Yes-ish. Bacony-y? YES-ISH!
7. Ten Pound Buns' Bacon Nutella Bun: Imagine sourdough flatbread pizza crust... topped with whipped butter.... Nutella... and ground bacon. Potential for deliciousness downgraded by the overwhelming taste of salt.
6. Chicken Charlie's Krispy Kreme Sloppy Joe: Sugary donut bun? Splendid! Sloppy Joe meat? Bland! Add some BBQ sauce to make this puppy roar.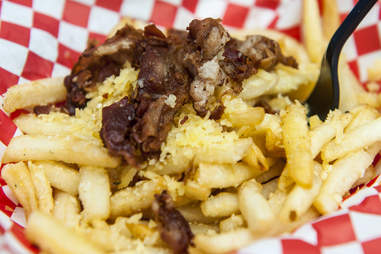 5. Bacon A-Fair's Truffle Gouda Bacon Fries: A smattering of bacon bits blends perfectly with a shload of savory Gouda cheese "truffles" (let's call a spade a spade: "shaved Gouda") on top of golden-crisped French fries. Though, to be honest, it'd be hard to eff up bacon-and-Gouda-topped French fries.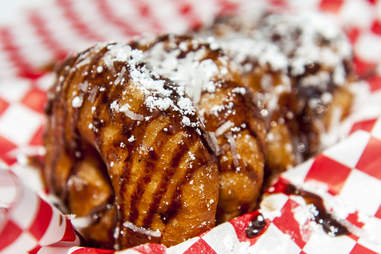 4. Chicken Charlie's Deep-Fried Pineapple: There're also new deep-fried strawberries, but we wanted to get tropical with these pancake batter-y rings of healthiness. And it was worth it, because they're better than your mom's best breakfast, unless your mom founded the Cracker Barrel and is MAYBE A MILLIONAIRE!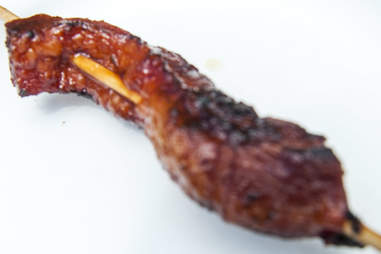 3. Bacon A-Fair's Wild Boar Bacon on a Stick: Like a turkey leg, except there's no bone, and it's bacon, and it's from a wild boar, and it's amazing.
2. Biggie's Meat Market's Biggie Sausage: This home-wrecker is TWO FRIKKING FEET LONG and comes with your choice of sauce: Smoky BBQ, Zesty Garlic, and Spicy BBQ. En garde, indeed.
1. Chicken Charlie's Deep-Fried Bacon-Wrapped Pickles: The surprise winner? These unsuspecting little guys. Supremely bacon-y on the outside. INSANELY juicy on the inside. Should be the appetizer of choice at EVERY SINGLE WEDDING EVER.