Behold: The New Pop-Tart/Donut Hybrid of Your Dreams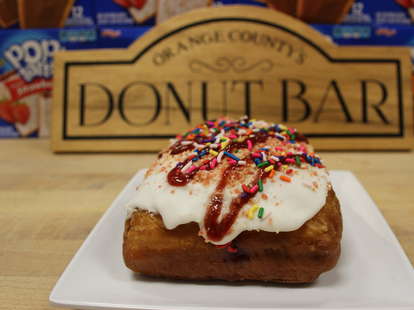 WILDER SHAW/THRILLIST
WILDER SHAW/THRILLIST
You know how every time you have a Pop-Tart you're all, "Sure, this is good -- I mean, approaching very good -- but, I mean, it doesn't even weigh one full pound, and it's not also a donut"? WELL, THOSE DAYS ARE TOTALLY OVER, 'CAUSE THERE'S NOW A PLACE SELLING ONE-POUND POP-TART DONUTS. That place is Donut Bar, that glorious creation is called the Big Poppa-Tart, and we went ahead and taste-tested one (OK, a bunch) to make sure they were as good as they sound. (Spoiler alert: THEY WERE BETTER.)
They come in strawberry and s'mores flavors -- and if you're trying to grab one (read: WAY MORE THAN ONE), you'd better hurry: they usually sell out in under an hour. Here're the basics: the strawberry Poppa-Tart is a gigantic donut stuffed with crushed strawberry Pop-Tarts and house-made strawberry jam, topped with marshmallow glaze, drizzled with more jam, and yes, topped with more crushed Pop-Tarts. Oh, and sprinkles. 'Cause duh. Same routine goes for the s'mores -- it's stuffed with s'mores Pop-Tarts and house-made chocolate fudge.
So how does it taste? Like both a donut AND a Pop-Tart. But here's the thing: before I bit into this behemoth, if you'd told me you preferred untoasted Pop-Tarts, I would have punched you straight in the ear. However, it works here -- it's soft enough on the inside not to take away from the doughy goodness of the donut. (FWIW, I fancy myself a strawberry Pop-Tart fan over the s'mores, and the same goes for the Poppas. The house-made fudge is killer, but in the end you're dealing with an inferior Pop-Tart.)
Also, you'll probably want to bring a napkin, or a bib, or a hazmat suit because the strawberry jam shoots straight at your face if you bite right into it. And what, are you gonna eat it with a fork? NOT TODAY. NOT IN MY TOWN.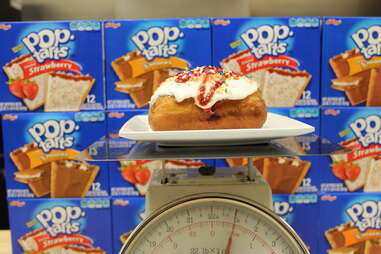 "Surely this miracle snack must cost a fortune!" you're probably shouting. Well, stop shouting, 'cause it's ONLY FOUR BUCKS. Now quit drooling all over your computer or smart phone (or smart watch? We have those now, right?), and get over to Donut Bar (they've got locations in Orange County and San Diego) and start believing in miracles.
Sign up here for our daily LA email and be the first to get all the food/drink/fun Los Angeles has to offer.

Wilder Shaw is a writer and comedian who definitely didn't eat an entire Big Poppa-Tart. No, definitely not. Talk about your favorite Pop-Tart flavor with him on Twitter at @WilderShaw_ and Instagram at @wildershaw.