Liquid nitrogen otter pops + cheeseburger dumplings = best festival ever
Returning for its fourth incarnation at the Rose Bowl this Saturday is the LA Street Food Festival, which, this year, has drastically expanded its scope, inviting pop-ups, restaurants, and carts to join its previously truck-only vendors. They've also got drinks from master barmen and three bands rocking the Rose Bowl. So, what exactly does $50 get you? All you can...
Eat: There're over 100 vendors doling out tastes of insanity, but here're three fat-dude must-tries: the new mostly-catering truck Bling Bling Dumpling's gonna be serving up cheeseburger dumplings, Short Order's got mini pork belly BLTs, and Starry Kitchen's rocking crab gumbo. In addition, they've got a shload of vendors from Mexico amazingly dodging cartel bullets to come up for the fest, w/ totally legit operations slinging oxtail tacos and pico de gallo fruit bowls.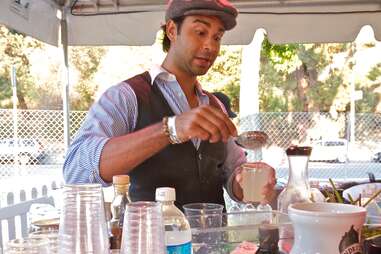 Drink: You'll get unlimited Singha and booze from Sailor Jerry, as well as also-unlimited artisan cocktails, w/ local booze blogger Caroline on Crack curating sippers from the Black Market and Bar 1886 guys, plus a team of top mixologists from the collective Soigne (including Julian Cox, above) busting out otter pops made w/ liquid nitro.
Rock: They're bringing back a live music stage after a couple-year hiatus, with the rising, Killers-esque, Santa Barbara band Tommy & The High Pilots closing the day out; there's also music from soul-singing Voice contestant Jessica Childress and indie-rock tribute band Black Crystal Wolf Kids.