Panda Express Is Now Serving Orange Chicken Burritos at Four LA Locations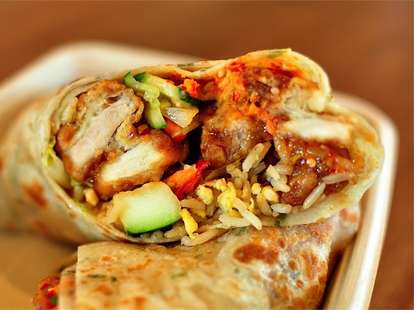 Panda Express
Panda Express
Update: Panda Express has heeded the demands of its fans, and now offers burrito options at its new Panda + Tea locations in Westwood, Monterey Park, and Hacienda Heights (in addition to its Pasadena-based Innovation Kitchen). What are you waiting for?
The mythical Panda Express burrito is now officially a thing, and it's a thing only in LA, thanks to Panda's Innovation Kitchen in Pasadena -- an open-to-the-public testing lab for new concepts. Like orange chicken burritos.
The dilly's set up just like a Chipotle: you can choose a plate, bowl, salad, or wrap (so... wrap), then move on to proteins. They have four classic Panda Express fillings to choose from (orange chicken, honey-walnut shrimp, Beijing beef, and Kung pao chicken)...
... or you can build your own creation by combining stir-fried chicken or angus beef with one of three veggies (string beans, broccoli, or grilled veggies). Oh, and there's also just plain grilled chicken or grilled steak, but, uh, you're not getting that.
Once your burrito is built, you'll get to finish it off with one of six sauces plus an assortment of toppings. There's papaya salad, pickled cukes, and all the crunchies (fried wontons, fried shallots, and peanuts), all available in little containers on the side if you want.
The combinations here are honestly endless. Want a chow mein-/orange chicken-stuffed wrap with Kung pao chicken, crunchy wontons, peanuts, and papaya salad? You can have it. Have you always wished you could cover their Beijing beef in grilled veggies and sweet & sour sauce? You can. And they'll even let you go half-and-half with the chow mein and fried rice... because why wouldn't they?
Oh, and they don't just use any old flour tortilla to hold your special creation together. Imagine if a moo shu pancake and a scallion pancake had sex, and then -- nine months later -- had a baby that turned out more gigantic than either of its parents. That's what they're wrapping your 'rrito in.
The most impressive part, though? It stands up to the ultimate burrito test: no forks or knives needed.
Zach Brooks is the host of the podcast "Food Is The New Rock" and the founder of Midtown Lunch. You can find him on Twitter at @foodisthenewrock.