Wagyu beef brisket in The Langham's dining room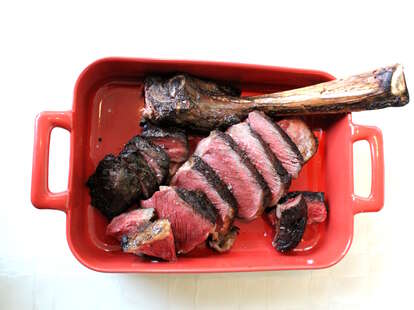 Currently occupying the same fancified dining room that once gave ink.'s Michael Voltaggio his start, The Royce: Wood-Fired Steakhouse is definitely the wrong place to go if you only eat charcoal-grilled tofu.
The starkly white interior, with its plush, very stainable white chairs and tiny loveseats, doesn't exactly look like a place where you're about to crush…
… saucy dishes from a Craft-trained chef, like this 12hr-smoked Wagyu beef brisket with soy ginger Bordelaise, or that monstrous tomahawk chop, pictured up top.
If Kanye and J.T.'s faux-feud has made you renounce beef, opt instead for this seared bigeye tuna w/ cucumber and aged soy.
You know what pairs horribly with charcoal-grilled tofu? Red wine. So those eating it will not be invited into the Red Wine Room above, a drinking nook where you can take down glasses or bottles of vino, either before or after dinner.