We're giving away 100 free sausages at LA's awesomest new sausage shop
It's true. We really are giving away ONE HUNDRED free sausages, but we'll get to that in a minute. First we're going to tell you about the brand-new spot that's grilling them up, because it's pretty rad.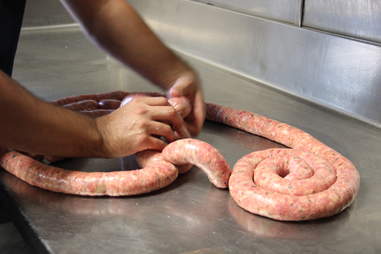 Jen Jones
It's called Picnik, and it's from the team behind the super-acclaimed Bell Latin spot Corazon Y Meil, with one minor difference: they've added a sausage dude to the roster who used to deal with hand-case meats daily at Bouchon, and'll be on full display here, thanks to a closed-circuit camera that'll stream footage directly from the butcher shop to a TV in the front of house.
Jen Jones
And even though sausages are their specialty, they're trying to use the entirety of the pigs they butcher, too, which means crazy-good, non-link dishes like this pork belly three-bean stew...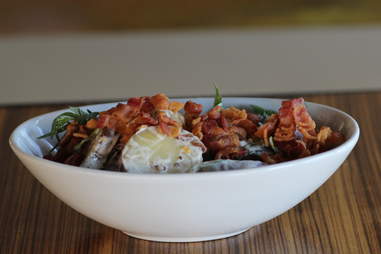 Jen Jones
... and this potato salad, which usually would have nothing to do with pork, except duh, it's topped with house-cured bacon.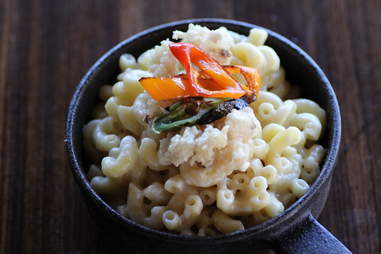 Jen Jones
And if, for some reason, you don't want to go HAM, you're gonna end up with this crazy-good mac and cheese, which's topped with fried hominy.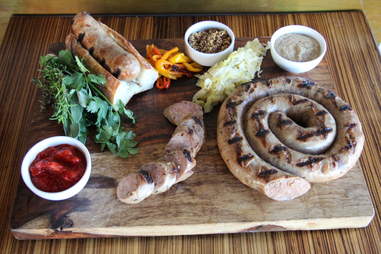 Jen Jones
But you want one of those 100 free sausages, which range from lamb merguez to sweet & spicy Italian to a smoked onion-and-garlic Jagerwurst, so here's what to do: Tweet THIS and/or email here, and if you're lucky/include really good bribes, you'll be invited to the sausage party.
Jeff Miller is the Senior City Editor of Thrillist LA, and is not a vegetarian. Hit him on Twitter at @thrillistla or on Instagram at @jeffmilllerla.