Wait. LA has a mac & cheese croque now??
Short answer: yes. Longer answer: yes, it's incredible, and it's being served at Ledlow -- the totally renovated new vision of Pete's Downtown from the dude behind Bar Ama and Baco Mercat -- now 100% more mac & cheese croque-ier.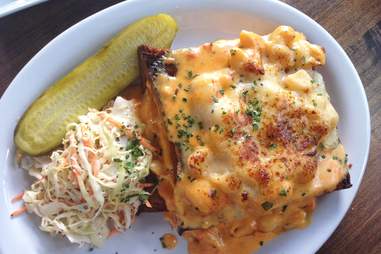 Zach Brooks
Yep, this unholy brioche bastard isn't just stuffed WITH brûléed Emmental cheese AND homemade shelly mac & cheese (with "optional" egg), but is actually TOPPED WITH THE STUFF TOO, because yes. Because so much yes. Because all the yes. It's on the breakfast and brunch menu, but the chef says he'll make it for you at lunch too if you tell them you heard about it on Thrillist... but, wait, here's the thing: if your mouth isn't watering yet, just scroll down because...
Pete's Los Angeles
... GOOD GOD THIS IS THE NEW BURGER, which they've got for lunch and dinner. And this isn't even, like, some artist's interpretation of the burger; this is the real thing, and it's griddled, and gooey, with Grafton cheddar and American cheeses, and topped with garlic aioli. BUT WAIT, THERE'S MORE...
Pete's Los Angeles
This is the chicken club. You may notice it's fried. And covered with cheese. You may not notice the thin slice of ham or the crispy chicken crackling that are on it, though, because there's so much stuff.
That's it. We're done.
Sign up here for our daily LA email and be the first to get all the food/drink/fun Los Angeles has to offer.
Jeff Miller's Instagram at @jeffmillerla has another incredible shot of the burger. He's also on Twitter at @ThrillistLA.