The Magic Behind an Outstanding in the Field Dinner in California
West African chef Tolu "Eros" Erogbogbo shines at this pop-up restaurant at Coachella. Plus, how to attend a similar experience this year.
Full-fledged feasts, picnic table affairs, and galas involving multi-course meals are innate cultural reactions to celebratory moments. Outstanding in the Field homes in on those shared scenes of joy with organized farm-to-table events where guests are seated with local artisans and farmers for a community-based, full-service experience.
Founded in 1999, land artist and Californian Jim Denevan was inspired by his farmer brother's craft and the diverse California terrain, so he decided to showcase local ingredients from the natural grounds of the scenic farming regions where the meals would be served. Escaping urban landscapes, Denevan's foremost philosophy is returning diners to the fruit-bearing roots of the produce they are devouring by setting a memorable meal directly at the source.
After over two decades of operation, Denevan's dream Outstanding in the Field dinner has expanded into an international tour. The annual programming brings folks of different generations, cultures, and languages to a gigantic table to eat authentic dishes and enjoy the magical communal quality of it all.
"Traditionally held in inspiring natural locales, every detail is considered to create an experience in harmony with its environment," an Outstanding in the Field representative told Thrillist, adding, "Each individual dinner is a story of its place and the unique group of people who gathered there for one moment to share the most universal human conversation: a meal."
In Indio, California, Coachella, the multicultural music and arts festival, has a similar philosophy to Outstanding In The Field. Both offer attendees insightful glimpses of culture, and both saw some exciting firsts this year. Bad Bunny was the first Spanish-language artist to headline, and Blackpink became the first Korean-language artists to headline. In addition, Outstanding in the Field's eight-year collaboration with Coachella saw the first West African chef to prepare an evening dinner for guests who purchased VIP-level wristbands.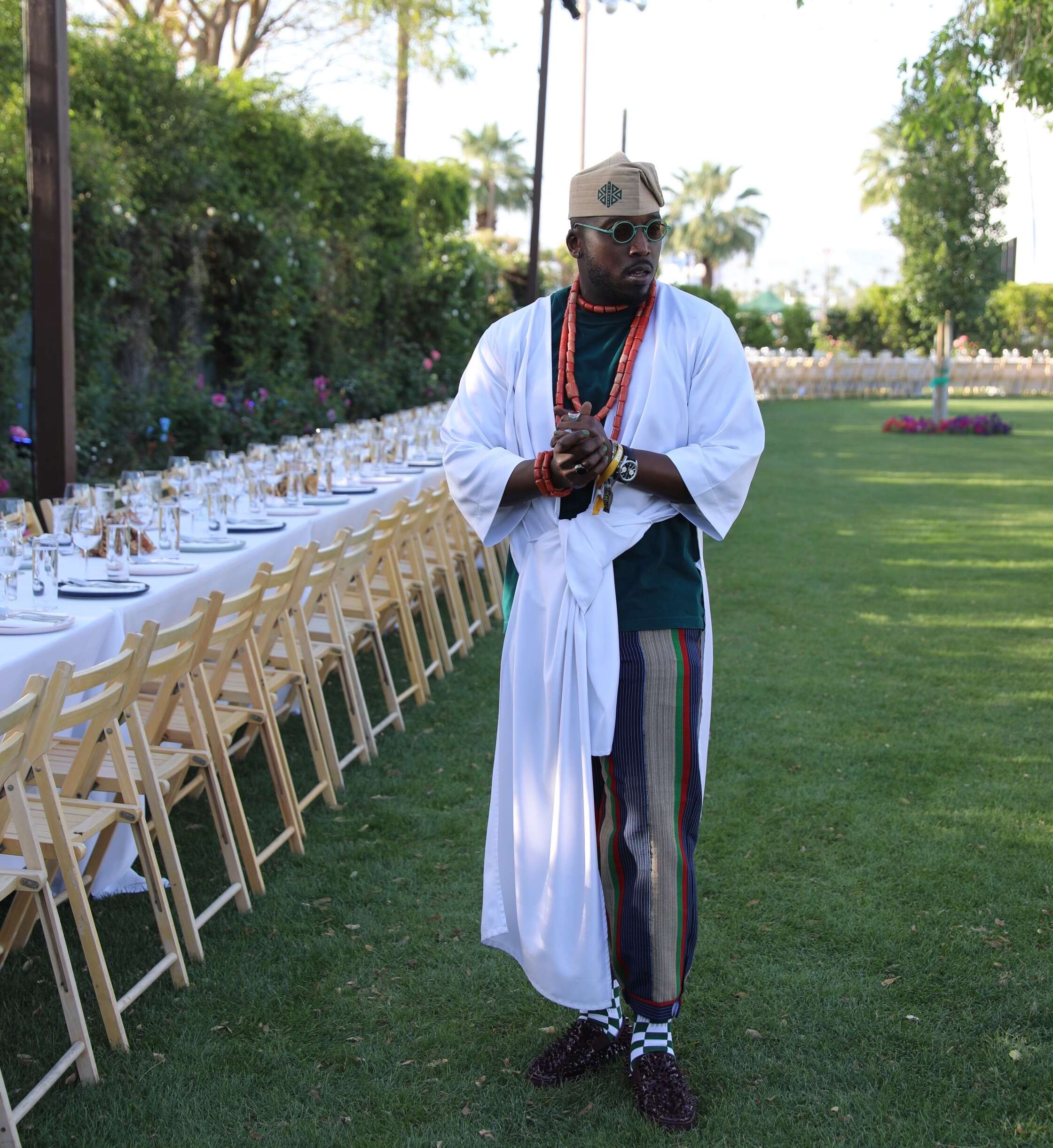 In March, Chef Tolu "Eros" Erogbogbo opened two restaurants in Los Angeles. He named both ILÉ. One is a bistro in Culver City, and another is a private experiential dinner, which caught Outstanding in the Field's attention.
"We've wanted to share our passion for the flavors of the African continent with an even wider audience following our magical tour stops last year in Stellenbosch, Accra and Fez," an Outstanding in the Field representative told Thrillist, adding, "So when we heard the buzz around ILÉ, chef Tolu's tasting table in Hollywood and then had the chance to see how he engages his guests, we jumped at the opportunity to introduce him to our Coachella family."
Eros said he was "most excited to celebrate [his] Nigerian roots in a beautiful outdoor setting with new and existing friends who [came] together to enjoy a menu that honors [his] background while supporting local farmers in the desert."
The values of an Oustanding in the Field experience rests on the natural beauty of the land we live on. Instead of orchestrating an over-the-top spectacle of a dinner, the community event focuses on the simple act of human connection through the ubiquitous language of food and talk.
"The table is positioned relative to its geographical surroundings, reflecting the curve of the coast or interacting with a mountain ridge. The open-air culinary experiences are often choreographed by Denevan to feature fleeting natural wonders like golden hour toasts, clouds that swirl around the table, and sunsets that disappear over the horizon as if on cue," said an Outstanding in the Field representative.
At the Coachella festival grounds on Saturday, April 15, 2003, West African drumming guided guests to secluded seats surrounded by lush hedges and string lights. The storied 200-person table sat on the VIP Rose grounds, set with hundreds of wine glasses and plates for guests to claim before receiving Nigerian fare helmed by Eros. In the grass field, I sat across from an older couple from England as we tried four courses of family-style West African food together, including Eros's popular pepper soup recipe and hearty jollof rice. Afterward, I stayed in touch with Kathy, the 70-year-old woman who talked to me about how she met her husband, who was sitting alongside her. It's safe to say the dinner was a hit, accomplishing what its organizer set out to do, with most everyone complimenting Eros as he walked around and fielded guests's questions.
It's not just about the guests, though. Outstanding in the Field gives everyone a seat at the table, including those who created the meals. The dining menus included farmer blurbs, and each server described each dish's story, highlighting ingredients and farm origins. Eros even came by to grind spices on the patron's proteins, and the farmers who produced the vegetables on our plates walked by to ask how our garnishes and salads tasted.
"Outstanding in the Field was founded to exalt those who raise and grow our food in a way that respects the land and earth, ​​closely paralleling Denevan's practice as a land artist," the community organization states. "The goal is to connect diners to the origins of their food while celebrating the hardworking hands that feed us: chefs, farmers, fisherpeople, cheesemakers, vintners, brewers and many more."
You can see all of this in action for yourself. Scheduled engagements are reservable online. And while past experiences have included tables set in grape farms outside of Cape Town, a French chateau in central Loire Valley, and even the pink sand beaches of Bermuda, Outstanding in the Field 2023 includes Africa, the Pacific Northwest, California, Canada, Italy, France, and more.