If you're old enough to know Lori Loughlin as someone other than the criminal mom of an influencer, you've probably experienced a lot of Thanksgiving dinners over the years. Maybe you're ready to buck the home-cooked tradition and actually rely on professional chefs for your meal? If so, LA's the perfect place to do it: the weather is lovely (hello patio dining!), our culinary scene continues to dominate, and traffic is gloriously light this one day a year. Drop that carving knife (did you even have one anyway?), and let someone else handle this year's Thanksgiving dinner. Below, you'll find a variety of restaurants around the city to consider for the big day. 
Note: Prices listed do not include tax and gratuity at most venues.
Recommended Video
This Restaurant Reinvented the McGriddle
Burbank 
This hill-perched restaurant reopened last year after a massive $10 million facelift, with its formerly nautical kitsch decor swapped out for a modern look and multi-level seating giving every table a killer view of the valley. Take it in over a brunch buffet with carving stations, a raw bar, and traditional sides. Castaway will be open for dinner, too, serving its regular a la carte menu in addition to some Thanksgiving special additions and themed cocktails. 
Details: Brunch, $79 Adults, $35 Children. Reservations via OpenTable.
Santa Monica 
Chef Brendan Collins has been wowing Westsiders with his brand-new project, a coastal Cal-Italian menu in the revamped space that formerly housed his last restaurant, Wilshire. Since most of the country can't dine outside in late November without suffering frostbite, take advantage of the eatery's rustic-glam patio for your Turkey Day dinner. Fia is planning two seatings (2pm or 5pm) with family-style feast of butternut squash soup and salad, followed by a choice of traditional roast organic turkey with cranberry sauce and gravy, slow roast prime strip loin with popovers, or a baked Ora King salmon, all accompanied by market veggie sides and choice of pie. Look for some fun Thanksgiving-inspired cocktails at the bar, as well.
Details: $75 for adults, $35 children. Reservations via OpenTable.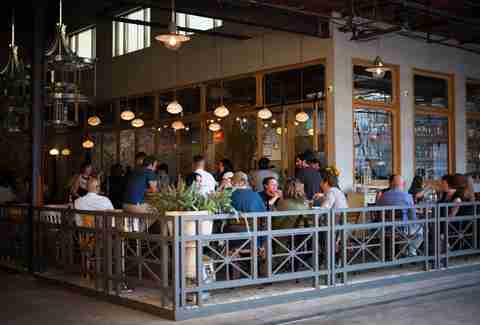 Downtown 
If the only thing stopping you from leaving football, nap time, and a sink full of pans behind is guilt about your poor pup being stuck home alone, bring them along for dinner on the patio at one of LA's dog-friendliest restaurants. Chef Kris Tominaga will be cooking up a Southern-meets-Californian fare multi-course family-style menu with options including the kitchen's fabled cream biscuits, market lettuce-and-apple salad, smoked heritage turkey, honey-glazed ham, and a mushroom-and-pumpkin rye pot pie. Look for sweet potato pie with coconut sorbet among the desserts. Vegans and vegetarians just need to make mention of their dietary needs when making the res and Manuela will accommodate. 
Details: $65 adults, $35 children. Reservations via Resy.
West Hollywood
When you really want to blow your out-of-town guests minds, nothing beats a massive steak rolled out on a lawn mower, deviled eggs served in a mini chicken coop and a neon pink cotton candy pompadour. While all of the above will be on offer as part of the whimsical restaurant's usual a la carte menu, diners can also opt for the more traditional Thanksgiving prix fixe with options like a roasted squash salad, herb-roasted turkey breast with confit leg, apple-and-sage stuffing and maple candied root vegetables; family-style sides of the cranberry-citrus chutney and the you'll-gain-five-pounds-looking-at-it Yukon Gold gratin laced with Swiss cheese, in addition to one of their creative (and gargantuan) shareable desserts. 
Details: 4pm to 10pm; $75 for the prix fixe menu. Reservations via OpenTable.
West Hollywood
The Sofitel restaurant's big-day buffet skews classic American holiday-style, with a spread of butternut squash soup, plenty of salads, roasted turkey and prime rib, and sides of candied sweet potatoes, green bean casserole, and savory bread pudding, in addition to the eatery's signature lobster mac and cheese. If you're still not convinced, consider this: the place is setting up a chocolate fountain. 
Details: 12pm to 7pm. $59 adults, $30 children. Reservations via OpenTable.
Downtown
Yes, Downtown's shiny new hotspots are the talk of the town, but we haven't forgotten about this stalwart steakhouse that's always a solid option when dining DTLA. Its traditional Thanksgiving dinner comes with Diestel Farms turkey and gravy, chestnut stuffing, potato purée, candied butternut squash, and pickled cranberry compote. If you're just not feeling the whole traditional holiday meal thing, the full menu is still there for you, including a 48-ounce Tomahawk Rib Chop in case you want to prove that you can still totally overindulge without going near a turkey on Thanksgiving.
Details: 3pm to 9pm; $55 for traditional turkey dinner. Reservations via OpenTable or by calling (213) 680 0330.
Westlake Village
If you can't get the rest of your crew to agree to a turkey-free Thanksgiving at a vegan joint, try this modern restaurant and bar with menus meant to please both sides of the aisle. Omnivores can opt for the mainstream three-course menu highlighted with beets and burrata, a free-range turkey dinner with proper trimmings, and Petrale sole over lobster risotto. The vivacious vegans will find themselves equally satiated with a plant-based menu of roasted baby beets, butternut squash risotto, and a dairy-free pumpkin crème brulee. 
Details: 4pm to 9pm. Regular menu, $65 adults, $25 children; Vegan menu, $45. Reservations via OpenTable.
Hollywood
This farmer's market-inspired cafe inside the Kimpton Everly will be cooking up its three-course Friendsgiving menu not just on Thanksgiving itself, but every night in November leading up to the big day, too. The set dinner includes squash soup plus crispy sage, turkey and sage meatballs, and an apple crisp dessert. 
Details: 5pm to 10pm; $36. Reservations via OpenTable.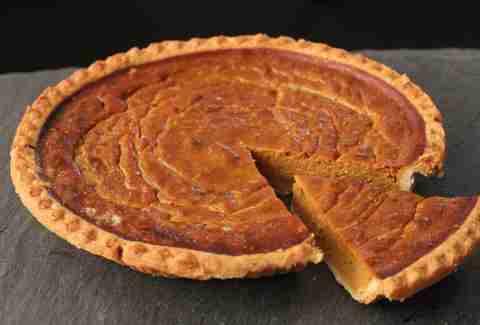 Venice
Josiah Citrin's live-fire-focused spot just off the beach will be doing a tasting menu, featuring signature dishes like that cult-favorite cabbage baked in embers as well as special holiday creations, including a warm green bean salad and a smoked turkey with tons of veggie-heavy sides like braised collard greens, baked yams, and Cipollini onions. The dinner will wrap up with some surprise seasonal pies.
Details: 5:30pm to 11pm, $79 per person. Reservations via Resy.
Koreatown
Citrin is doing lots of shareable seasonal fare over at his greenhouse-esque space inside the Line Hotel, and come Thanksgiving the eatery will offer a three-course holiday menu with family-style sides. Starter options include butternut squash agnolotti and a salad of fall greens, pears, beets, and blue cheese, in addition to entrees of prime rib, mustard-crusted salmon, herb-roasted turkey with pomegranate gravy, and four solid sides including cranberry sauce, two types of potatoes, and Szechuan-style Brussels sprouts. For dessert, you've got your pick of three pies or a chocolate option.
Details: 12pm to 8pm; Adults $79, Children $35; Reservations OpenTable.
Hollywood 
If you're ready for a very Moscow Thanksgiving, find your way to this ornate Eastern European banquet hall (hello chandeliers and neon lights!) that will be doing one of its big, bad over-the-top feasts this year. There'll be more than a dozen Russian specialty appetizers, including assorted smoked fish, liver pate, shrimp cocktail, and blinis with red caviar, along with meaty mains of turkey, fried chicken, chicken kebab, and lamb chops topped off with Russian Napoleon cake and (hopefully) lots of vodka.
Details: $75 person. Reservations at 323.653.7820
Beverly Hills
Choose from multiple elegant options for your holiday meal at two of the SLS Hotel's José Andrés-helmed restaurants. Tres will be offering a buffet brunch filled with luxe offerings like chilled seafood, smoked salmon, and caviar displays, carving stations, and Andres' signature gazpacho, in addition to lots of lots of pastries and a bottomless bubbles option. Later in the day, Tres will shift focus to a three-course prix fixe offering with entree choices of organic turkey or grilled lamb chops. The adjacent Bazaar will be offering a fancy, family-style feast "José's Way" come dinner time, featuring the chef's fabled caprese with liquid mozzarella and a mix of traditional American and Spanish-inspired sides along with a pumpkin cremeux dessert option. 
Details: At Tres, brunch is 11:30am to 4pm ($85 adults, $45 children), and dinner is 5pm to 9pm ($75). Dinner at The Bazaar by José Andrés is from 4pm to 8:30pm ($110 adults, $55 children). Reservations via OpenTable.
Playa del Rey 
If you're looking to go "Top Chef" on Turkey Day, hit up this casual beachside eatery owned by the reality show winner Brooke Williamson and husband Nick Roberts. You'll choose from either turkey or mustard-crusted ham, and then gorge on a serious number of sides including roasted acorn squash, sweet sausage and chestnut stuffing, green beans, and cranberry sauce followed by a slice of house-made holiday pie. 
Details: 3pm to 8pm; $38 adults, $20 children (a special kids' menu will be offered); Reservations via Resy. 
Rancho Palos Verdes
You'll never go hungry at this swanky South Bay resort that's home to nine restaurants and bars, all of which are open on the holiday. While some will simply have their regular menus with supplemental specials, upscale oceanview mar'sel, casual Nelson's, and wellness-focused solviva will offer Thanksgiving prix fixe menus. The resort will also offer a big ballroom buffet set to include a cider station and dessert bar with multiple seatings throughout the afternoon. 
Details: Thanksgiving Ballroom Buffet, $105 adults, $45 children, seatings between 12:30pm and 5pm. Tickets can be purchased here. 
Downtown
This all-day farm-to-table spot's three-course holiday offering includes autumn veggie-heavy starters with choices of roasted squash salad, chicory greens with barley and roasted carrots, and a kombucha-kuri squash soup. Then, diners can choose between a traditional turkey dinner, braised short ribs, or grilled cauliflower steak entree, plus dessert. 
Details: 5pm to close. $40-46 per person depending on entree. Reservations via OpenTable.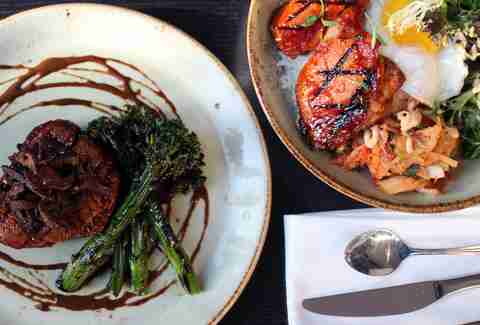 LAX 
If you've got a flight to catch (because traveling on Thanksgiving Day is a much more civilized alternative to the insanity that is LAX the day before) but want to squeeze in a quick and affordable holiday meal, hit up this surprisingly stylish lobby restaurant hidden inside the Sheraton Gateway hotel. The a la carte special menu will feature a roasted butternut squash salad, spiced pumpkin soup garnished with apple and pepita relish, and a turkey breast roulade entree with fixings including buttermilk-boursin mashed potatoes, cornbread stuffing, and more. Plus, pumpkin cheesecake and Dutch apple pie a la mode for dessert. 
Details: 11am to 10pm. A la carte menu items $10-$25 each. Reservations at 213.841.2544
Beverly Hills
As usual, The Peninsula Hotel's uppercrust Thanksgiving dinner comes with unlimited Nicolas Feuillatte Champagne so you can go for broke on bubbly (but take a rideshare, please). Feast on a family-style meal of traditional-with-a-twist dishes like roasted apple-frisee-goat cheese salad, creamed corn chowder with clams and corn fritters, roasted filet of beef with truffles, and a free-range turkey done with some lovely sides. You know you've made it when your cranberry sauce comes laced with Pinot Noir. 
Details: 11:30am to 8pm. $140 adults, $65 children. Reservations at 310.975.2736  
West Hollywood
If want to stave off your food coma until closer to bedtime, hit up this stylish spot on a Melrose rooftop that will be serving its regular, seafood-centric menu, plus some Thanksgiving specials until 9:30pm. Start with fresh white-truffle-laced roasted pumpkin soup, then dig into a persimmon-glazed roasted turkey breast with chestnut-sage, and finish strong with a second dose of pumpkin via a panna cotta topped with salted caramel whipped cream. Bonus: If you don't want to commit, you can stroll in and sit at the bar. 
Details: Dinner served 5pm to 9:30pm. A la carte menu pricing varies. Specials $15-$75. Reservations via OpenTable.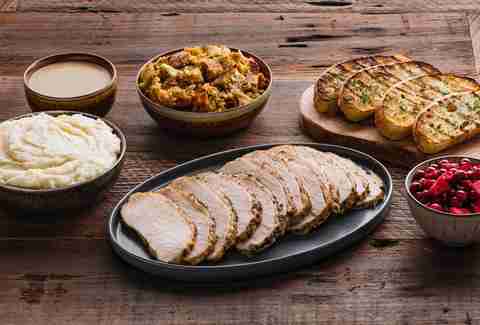 Various 
The flight home to Peoria and all those Secret Santa gifts aren't going to pay for themselves, so rather than go for broke on Thanksgiving dinner, get a real-deal Traditional dinner for sub 20 bucks at this fast-casual spot focused on scratch-made seasonal dishes. In addition to its regular menu, Urban Plates (with locations from Playa Vista to Pasadena) will be selling a turkey plate complete with free-range turkey breast, mushroom stuffing, gravy, cranberry relish, bread, and a bonus side.
Details: 11am to 7pm. Turkey plate, $14.95.
Sign up here for our daily LA email and be the first to get all the food/drink/fun Los Angeles has to offer.