Every Restaurant That LA Needs Immediately
Los Angeles has seen an influx of popular out-of-town restaurants setting up shop recently: the Shake Shack invasion has begun, Andy Ricker's Pok Pok now graces us with its innovative Thai dishes, and fellow Portlandians Salt & Straw and Blue Star Donuts both have multiple LA spots to blast through killer ice cream and donuts. That's not all: you can gorge on that Canadian-favorite gravy & fries thanks to Smoke's Poutinerie, and soon we can have a Nashville hot chicken experience when Howlin' Ray's opens. But there are plenty of places that still haven't made the trip westward that we'd love to see open here -- and though we'd love, say, a Commander's Palace, we're talking about concepts that are either a) already chains or b) easily replicable. C'mon guys, what're you waiting for?
Pittsburgh, PA (& other locations)
This fabled sandwich shop, with locations in Pennsylvania and four other east-of-the-Mississippi states, is the home of one of the most ingenious sandwiches known to man. Instead of serving fries and coleslaw on the side, these guys stuff them in with the meat and cheese between two slices of Italian bread -- sorta like Fat Sal's, but, uh, WAY more legendary. This perfect on-the-go meal would be great for LA's on-the-go life, whether at noon or (even better!) midnight.
New York, NY
Since opening his Noodle Bar in 2004, chef (and former Phish-head!!) David Chang has created a Momofuku empire built out of pork belly buns and ramen bowls that are as wonderful to eat as they are to look at. He has also effortlessly expanded from the savory to the sweet with the much-adored Milk Bar (where you can find Cereal Milk Crack Pie and birthday cake balls). Chang has over a dozen restaurants now, even one in Sydney, Australia, and when he was recently in LA for a Lucky Peach event, he waxed poetic over our ethnic food scene. Dude: get here and add to it. Now.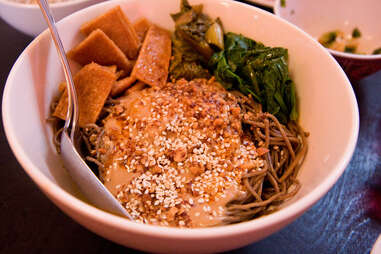 San Francisco, CA and New York, NY
Mission is one of those restaurants that seems like it's a work of fiction. A chef, self-taught in Chinese cooking, opens a Chinese restaurant in a run-down takeout storefront and winds up with a James Beard Award. However, it's all true. Danny Bowien is the man behind such incredibly imaginative and incredibly delicious dishes as kung pao pastrami and a mapo tofu burrito, and while Mission now has a place in New York City, Bowien so far has resisted the temptation of making the shorter trip down the I-5 to Los Angeles. C'mon.
New Haven, CT (& other locations)
Pizza has long been a point of contention in Los Angeles. Are there any pizzerias here that are as good as those in New York or Chicago? Often lost in this debate is another pizza style: New Haven. The don of New Haven pizza is Frank Pepe's and its most famous creation is the white clam pizza. This combo of clams, Pecorino Romano cheese, a little garlic, and other seasonings is so good that you won't miss the traditional tomato sauce and mozzarella. Known as "apizza," this Neapolitan pie is admired for its very thin crust that's made crisp and ever-so-slightly charred in a coal oven; it's not just good enough for CT -- it's got locations all over the Northeast, including one just north of NYC.
Portland, OR (& other ;ocations)
The concept at this Portland-/Maui-/Asian-based restaurant is simple, delicious, and would totally travel: pancakes you make at your table. You pick a batter flavor and your "fixin's," then cook them on a griddle in the middle of your table. You make them how you want them, and you don't have to clean up. Want some protein? How about a side of chicken-fried bacon? It's a great place for families or friends to have fun, plus having a bar earns it bonus points.
Philadelphia, PA
Sure, Los Angeles has fried chicken and waffles (thank you, Roscoe's) but it doesn't have a fried chicken-and-donuts restaurant. Especially not a place serving up one-of-a-kind donuts (Indian cinnamon, anyone?) and luscious, double-fried, Korean-style fried chicken created by James Beard Award-winning chef Michael Solomonov. Add in the custom-blended coffee and you get a culinary trifecta that would be unequaled in LA -- and easy to export here.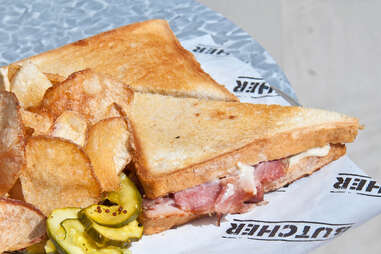 New Orleans, LA and Nashville, TN
An expert butcher shop, a killer sandwich spot, and a lauded bistro wine bar. You might be lucky to find two of these under the same roof, but it's rare to get all three. That is exactly what you discover at Cochon Butcher. This carnivore paradise started in New Orleans and now has a Nashville outpost too, where it transforms its small-farm-sourced, house-made meats into memorable creations, with menu stars including white boudin sausage, a muffaletta, and an all-pork burger called "Le Pig Mac."
Sign up here for our daily LA email and be the first to get all the food/drink/fun Los Angeles has to offer.
Michael Berick is a freelance writer living in Los Angeles who writes about music, food, and travel. He was born in Ohio but can't think of any hometown restaurants he'd like to see in Southern California. You can find him on Twitter and Instragram.